Goodwin, Rosie
Most widely held works by Rosie Goodwin
Crying shame
by
Rosie Goodwin
( Book )
9 editions published between
2008
and 2016 in
English
and
Undetermined
and held by 329 WorldCat member libraries worldwide
Claire Nightingale is haunted by the memory of childhood abuse and the painful choices she was forced to make. Longing to find peace, she knows she must first confront her demons. Moving to Solihull with her adopted daughter Nikki, she tries to make amends with the family she left behind. But Claire is not the only one hurting: Nikki is scarred by her own abusive past, and their relationship, once loving, becomes fraught with tension and resentment. Struggling to come to terms with their pain, it is not long before ghosts from the past bring a new threat that jeopardises the possibility of any future happiness...A heartbreaking tale of abuse, courage and, above all, the redemptive power of love
The soldier's daughter
by
Rosie Goodwin
( Book )
10 editions published between
2014
and 2015 in
English
and held by 311 WorldCat member libraries worldwide
Bryony Valentine lives at home with her mother Lois, father James and two younger siblings. For as long as Bryony can remember, she has been soft on the boy next door, Eddie, but her best friend Ruth has feelings for him too. When the Luftwaffe begin their bombing campaign of the midlands, Eddie is called up to serve, as is James, and Bryony's world is torn apart. Each day the telegrams pour in to different families along their street and Bryony can only pray for their safety. Lois' family disowned her when she met Bryony's father, but when the wartime evacuees need a safe home - Lois' parents open their doors. The three Valentine children are dispatched to Cornwall - far from the bombs and far from the only world they've ever known. A family displaced. Futures in the hands of enemy bombs. Will the Valentine family ever unite and will Bryony ever see Eddie again?
The bad apple
by
Rosie Goodwin
( Book )
6 editions published between
2004
and 2005 in
English
and held by 288 WorldCat member libraries worldwide
Louise Hart has endured a great deal of pain from her callous husband Paul, but one December night in 1959 she and her son Davey escape their Coventry high-rise flat and flee to Tanglewood, the dilapidated mansion where her mother Dolly runs an animal sanctuary. Louise longs to turn her back on the past and create a new life for Davey, but Paul is in trouble with men more dangerous than himself. He blackmails Louise and her family, and even the arrival of Charlie Fox, a stranger who becomes a true friend, cannot guarantee that the future will be safe
Moonlight and ashes
by
Rosie Goodwin
( Book )
8 editions published between
2006
and 2007 in
English
and held by 255 WorldCat member libraries worldwide
Maggie Bright feels she's blessed with her eight-year-old twins, Danny and Lizzie, and baby Lucy, but when World War two is declared Maggie knows that her blessings may be about to run out. Although the war means that Maggie can escape her abusive husband when he's sent to the front line, the twins are evacuated to Wales and separated for the first time in their young lives. As Maggie and Lucy struggle to survive the German bombings, the twins face danger of a different kind. It feels as though only a miralce will bring Maggie's family back together
Tilly Trotter's legacy
by
Rosie Goodwin
( Book )
1 edition published in
2007
in
English
and held by 198 WorldCat member libraries worldwide
With Steve by her side, Tilly attempts to help her disturbed children but Steve's mother's machinations complicate matters for her
The sand dancer
by
Rosie Goodwin
( Recording )
4 editions published between
2008
and 2009 in
English
and held by 82 WorldCat member libraries worldwide
Despite her success as a writer, Maisie's life has never been easy but now, married to Tommy, she hopes it will be third time lucky. Her dreams are shattered when Tommy becomes so jealous and controlling that it affects her relationship with her adopted son, Harold. Tommy suggests a fresh start in Maisie's home town on Tyneside, and at first all is well, but one of Tommy's employees, a strange young man nicknamed the Sand Dancer, strikes fear into her heart and she avoids Tommy's place of work, and even Tommy himself, little knowing he is concealing a terrible secret
Yesterday's shadows
by
Rosie Goodwin
( Recording )
3 editions published between
2008
and 2009 in
English
and held by 80 WorldCat member libraries worldwide
"When Kate Cleary's father is killed in the pit, her first emotion is one of relief. A nasty bully, he has made her life hell since her mother died when Kate was a small child. At last she feels free, even is she must still care for her sister Nuala, who depends on Kate for everything. After finding a mysterious collection of letters hidden by their father, Kate discovers an unknown aunt who offers them a home and for the first time Kate feels loved and safe. But her peace is shattered by an astonishing revelation from Nuala, and a series of brutal attacks on local women. Kate turns to a handsome widower Martin Denby, but is his kindness too good to be true?"--Pub. description
The misfit
by
Rosie Goodwin
( Recording )
5 editions published in
2013
in
English
and held by 69 WorldCat member libraries worldwide
Rebecca's adopted, but her new father can't warm to her, and her mother can't succeed in turning her into the princess she longs for. When her adoptive mother dies, her aunt takes her in, and soon Rebecca's life is worse than ever. She longs to escape to the circus that visits her town - but will she ever find happiness?
Dilly's Hope
by
Rosie Goodwin
( Book )
4 editions published in
2016
in
English
and held by 62 WorldCat member libraries worldwide
Hardworking widow Dilly Carey has struggled out of poverty to make a successful life for herself. Surrounded by her children and grandchildren, Dilly should be content, but she is still troubled by the one secret she must never share. Olivia, the daughter Dilly gave away at birth, cannot find out the real truth about her parentage. It's time for Dilly to make her peace with the choice that she was forced to make. As Dilly finds the strength and courage to visit her son's grave on the battlefields of the Great War, will she also find a way to a new happiness - and a new love?
Bad apple
by
Rosie Goodwin
( Recording )
4 editions published between
2004
and 2005 in
English
and held by 61 WorldCat member libraries worldwide
Coventry 1959. Louise Hart and her son Davey, escape from her callous husband Paul and flee to Tanglewood, a dilapidated mansion where her mother runs an animal sanctuary. She hopes to create a new life for herself and her son, but Paul is in trouble and begins to blackmail Louise and all who love her
more
fewer
Audience Level
0

1
Kids
General
Special
Audience level: 0.75 (from 0.36 for Splendid c ... to 0.77 for Tilly Trot ...)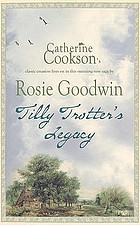 Alternative Names
Languages
Covers