Ridley, Matt
Most widely held works about Matt Ridley
Most widely held works by Matt Ridley
Genome : the autobiography of a species in 23 chapters
by
Matt Ridley
( Book )
62 editions published between
1976
and 2011 in 7 languages and held by 3,843 WorldCat member libraries worldwide
The human genome, the complete set of genes housed in twenty-three pairs of chromosomes, is nothing less than an autobiography of our species. Spelled out in a billion three-letter words using the four-letter alphabet of DNA, the genome has been edited, abridged, altered and added to as it has been handed down, generation to generation, over more than three billion years. With the first draft of the human genome due to be published in 2000, we, this lucky generation, are the first beings who are able to read this extraordinary book and to gain hitherto unimaginable insights into what it means to be alive, to be human, to be conscious or to be ill
Nature via nurture : genes, experience, and what makes us human
by
Matt Ridley
( Book )
51 editions published between
2003
and 2011 in 4 languages and held by 2,420 WorldCat member libraries worldwide
Publisher's description: Following his highly praised and bestselling book Genome: The Autobiography of a Species in 23 Chapters, Matt Ridley has written a brilliant and profound book about the roots of human behavior. Nature via Nurture explores the complex and endlessly intriguing question of what makes us who we are. In February 2001 it was announced that the human genome contains not 100,000 genes, as originally postulated, but only 30,000. This startling revision led some scientists to conclude that there are simply not enough human genes to account for all the different ways people behave: we must be made by nurture, not nature. Yet again biology was to be stretched on the Procrustean bed of the nature-nurture debate. Matt Ridley argues that the emerging truth is far more interesting than this myth. Nurture depends on genes, too, and genes need nurture. Genes not only predetermine the broad structure of the brain, they also absorb formative experiences, react to social cues, and even run memory. They are consequences as well as causes of the ill. Published fifty years after the discovery of the double helix of DNA, Nature via Nurture chronicles a revolution in our understanding of genes. Ridley recounts the hundred years' war between the partisans of nature and nurture to explain how this paradoxical creature, the human being, can be simultaneously free-willed and motivated by instinct and culture. Nature via Nurture is an enthralling, up-to-the-minute account of how genes build brains to absorb experience
The Red Queen : sex and the evolution of human nature
by
Matt Ridley
( Book )
48 editions published between
1993
and 2014 in
English
and held by 1,665 WorldCat member libraries worldwide
Evolutionary theory provides the clues to help us understand fundamental facts about human beings, from our fashion consciousness to our "system of monogamy plagued by adultery." Ridley's probing mind asks a series of provocative questions. Is mankind naturally polygamous like most of our ape relatives? Are men and women mentally different as well as physically, and if so why? Why do people share so many sexual habits with swallows? Are our notions of human beauty arbitrary, or is there method in them?
The origins of virtue : human instincts and the evolution of cooperation
by
Matt Ridley
( Book )
69 editions published between
1996
and 2015 in 12 languages and held by 1,662 WorldCat member libraries worldwide
"If evolution by natural selection relentlessly favors self-interest, why do human beings live in complex societies and show so much cooperative spirit? In The Origins of Virtue, Matt Ridley, a zoologist and former American editor of the Economist, shows that recent research in a number of fields has suggested a resolution of the apparent contradiction between self-interest and mutual aid. Brilliantly orchestrating the new findings of geneticists, psychologists, and anthropologists, The Origins of Virtue re-examines the everyday assumptions upon which we base our actions towards others, whether we are nurturing parents, siblings, or trade partners." "The Origins of Virtue searches for the roots of that capacity for trust, contrasts it with the social instincts of ants, baboons, and naked mole rats, and draws provocative conclusions for our understanding of politics. Ridley not only traces the evolution of society but shows us how breakthroughs in computer programming, microbiology, and economics have all played their role in providing us with a unique perspective on how and why we relate to each other."--Jacket
The rational optimist : how prosperity evolves
by
Matt Ridley
( Book )
41 editions published between
2010
and 2014 in 7 languages and held by 1,482 WorldCat member libraries worldwide
The "New York Times"--Bestselling author of "Genome" and "The Red Queen" offers a provocative case for an economics of hope, arguing that the benefits of commerce, technology, innovation, and change--cultural evolution--will inevitably increase human prosperity
Francis Crick : discoverer of the genetic code
by
Matt Ridley
( Book )
28 editions published between
2006
and 2015 in 4 languages and held by 1,466 WorldCat member libraries worldwide
A portrait of scientist Francis Crick, the co-discoverer of the double helix structure of DNA, traces his life from a middle-class English upbringing and lackluster education to his ultimate history-making journey into the field of biology
The evolution of everything : how new ideas emerge
by
Matt Ridley
( Book )
12 editions published between
2015
and 2016 in
English
and held by 986 WorldCat member libraries worldwide
"A book that makes the case for evolution over design and skewers a widespread but dangerous myth: that we have ultimate control over our world"--
The agile gene : how nature turns on nurture
by
Matt Ridley
( Book )
10 editions published between
2004
and 2014 in
English
and
Turkish
and held by 454 WorldCat member libraries worldwide
Documents the 2001 discovery that there are fewer genes in a human genome than previously thought and considers the argument that nurture elements are also largely responsible for human behavior
The Best American science writing 2002
( Book )
2 editions published in
2002
in
English
and held by 238 WorldCat member libraries worldwide
"The Best American Science Writing 2002 gathers top writers and scientists covering the latest developments in the fastest-changing, farthest-reaching scientific fields, such as medicine, genetics, computer technology, evolutionary psychology, cutting-edge physics, and the environment. Among this year's selections: In "The Made-to-Order Savior," Lisa Belkin spotlights two desperate families seeking an unprecedented cure by a medically and ethically unprecedented means -- creating a genetically matched child. Margaret Talbot's "A Desire to Duplicate" reveals that the first human clone may very likely come from an entirely unexpected source, and sooner than we think. Michael Specter reports on the shock waves rippling through the field of neuroscience following the revolutionary discovery that adult brain cells might in fact regenerate ("Rethinking the Brain"). Christopher Dickey's "I Love My Glow Bunny" recounts with sly humor a peculiar episode in which genetic engineering and artistic culture collide. Natalie Angier draws an insightful contrast between suicide terrorists and rescue workers who risk their lives, and finds that sympathy and altruism have a definite place in the evolution of human nature, David Berlinski's "What Brings a World into Being?" ponders the idea of biology and physics as essentially digital technologies, exploring the mysteries encoded in the universe's smallest units, be they cells or quanta. Nicholas Wade shows how one of the most controversial books of the year, The Skeptical Environmentalist, by former Greenpeace member and self-described leftist Bjorn Lomborg, debunks some of the most cherished tenets of the environmental movement, suggesting that things are perhaps not as bad as we've been led to believe. And as a counterpoint, Darcy Frey's profile of George Divoky reveals a dedicated researcher whose love of birds and mystery leads to some sobering discoveries about global warming and forcefully reminds us of the unsung heroes of science: those who put in long hours, fill in small details, and take great trouble."--Publisher description
more
fewer
Audience Level
0

1
Kids
General
Special
Audience level: 0.29 (from 0.07 for TEDTalks : ... to 0.79 for Genoma : l ...)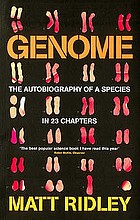 Alternative Names
Matt Ridley britischer Zoologe und Politiker

Matt Ridley Brits bankier

Ridley, Matt

Ridley Matthew White 1958-....

Мат Ридли

Мэтт Ридли

מאט רידלי

רידלי, מאט. כרמל, עמוס

مات ريدلي، 1958-

مت ریدلی بانکدار بریتانیایی

ম্যাট রিডলি

리들리, 매트 1958-

맷 리들리

マット・リドレー

リドレー, マット

里徳雷麦特

Languages
Covers