Ribic, Esad
Most widely held works about Esad Ribic
Most widely held works by Esad Ribic
Secret wars
by
Jonathan Hickman
( Book )
32 editions published between
2013
and 2021 in 7 languages and held by 653 WorldCat member libraries worldwide
"The Marvel Universe is no more! The interdimensional Incursions have eliminated each and every dimension one by one - and now, despite the best eff orts of the scientists, sages and superhumans of both dimensions, the Marvel Universe and Ultimate Universe have collided with one another ... and been destroyed! Now, all that exists in the vast empty cosmos is a single titanic patchwork planet, made of the fragmented remains of hundreds of devastated dimensions: Battleworld! And the survivors of this multiversal catastrophe must learn to survive in this strange new realm! What strange creatures inhabit this world? Which familiar faces will make their return? And what happens when the various realms go to war? The Marvel Universe is dead ... and the victors of the Secret Wars will determine what comes next!"--Provided by publisher
Thor : god of thunder
by
Jason Aaron
( Book )
2 editions published in
2013
in
English
and held by 412 WorldCat member libraries worldwide
Thor follows a trail of blood that threatens to consume his past, present and future. Thor must unravel the mystery of the God Butcher. In the distant past, Thor follows the wake of murdered gods across space. In the present, the Thunder God discovers a cave that echoes with the cries of tortured gods ... himself among them! And thousands of years from now, the last god-king of a Asgard makes his final stand against the God Butcher's legions. As three Thors race to stop the God Butcher, as his vicious scheme takes a terrifying shape!
The unworthy Thor
by
Jason Aaron
( Book )
7 editions published in
2017
in
English
and
Spanish
and held by 372 WorldCat member libraries worldwide
"Unfit to lift his hammer, and with someone else now wielding the power of Thor, the Odinson's desperate quest to regain his worthiness takes him out into the cosmos - where he's learned of the existence of a mysterious other Mjolnir! This ultimate weapon, a relic from a dead universe, is the key to his redemption - but some of the greatest villains of the Marvel Universe are anxious to get their hands on it, including The Collector and Thanos!"--Back cover
X-Men
by
Brian Michael Bendis
( Book )
4 editions published in
2014
in
English
and held by 329 WorldCat member libraries worldwide
"The past, present and future of the X-Men collide in an uncanny event 50 years in the making! Charles Xavier is dead. Cyclops and Wolverine each lead their own team of X-Men. Mutantkind is divided like never before. In a desperate bid to save Xavier's dream, the Beast brought the original X-Men forward to the present. Now, with the timeline -- and all of existence -- in jeopardy from their presence, they must go back. But faced with the horror of what fate would have in store for them, young Jean Grey and Scott Summers are intent on staying and forging their own destiny. And as debate rages and tempers flare, the X-Men of the furue arrive with a dire warning, seeking to prevent history's greatest mistake." -- page 4 of cover
Ultimate X-men
by
Mark Millar
( Book )
9 editions published between
2002
and 2019 in
English
and held by 315 WorldCat member libraries worldwide
The X-Men embark on their first-ever field trip trying to follow Professor Xavier's dream to spread peace. But, while traveling the world on his author tour, Professor Xavier's greatest secret is exposed. And they soon learn that human hostility towards mutants is not limited to American soil
Thor: God of thunder
by
Jason Aaron
( Book )
11 editions published between
2014
and 2018 in
English
and held by 286 WorldCat member libraries worldwide
"Thor battles to save Earth, but who can he fight when the planet itself is dying? S.H.I.E.L.D. agent Roz Solomon has a suggestion: the world's most nefarious energy company, Roxxon, and its ruthless new CEO known as "the Minotaur!" Has Thor met his match in the form of a multinational super-corporation? Meanwhile, many millennia from now, a future Thor faces a very different battle to save what remains of the earth -- from Galactus! King Thor and the Goddesses of Thunder are all that stand between Galactus and the planet he's been dying to eat for a very long time. But even if Thor wins, is the Earth still doomed? And in the present, Thor makes a final stand against the Minotaur, Ulik the Troll and Roxxon's forces -- but not even a god can save everyone."--Amazon.com
Thor : God of thunder
by
Jason Aaron
( Book )
17 editions published between
2013
and 2019 in
English
and held by 265 WorldCat member libraries worldwide
Thor follows a bloody wake of disappearing and murdered gods to seek out and battle the God Butcher and his legions
Ultimate Comics
by
Jonathan Hickman
( Book )
9 editions published between
2012
and 2013 in
English
and held by 234 WorldCat member libraries worldwide
"Iron Man, Thor and Hawkeye form the core of the Ultimates-- S. HiI. E.L.D.'s finest fighting force, all too often the only thing keeping the world from total disaster. But when the walls of the mysterious City open up and the hyper-evolved Children of Tomorrow spill out, the Ultimates suddenly find themselves powerless against an unbeatable enemy. As even Thor's Asgardian brethren fall before the Children, the God of Thunder makes a startling discovery about this incredible new threat-- which might not be such a new threat after all"--Page 4 of cover
Eternals
by
Kieron Gillen
( Book )
2 editions published in
2021
in
English
and held by 229 WorldCat member libraries worldwide
"What's the point of an eternal battle? For milions of years, one hundred Eternals have roamed the Earth, secret protectors of humanity. Without them, mankind would be smears between the teeth of the demon-like Deviants. Their war has waged for all time, echoing in our myths and nightmares. But today, the Eternals face something new: change! Can they--or anyone on Earth--survive their discovery? An Eternal has been murdered by one of their own, and this may not be the last such killing. But Sersi's number one suspect is...Thena?"--Back cover
Marvel legacy
by
Jason Aaron
( Book )
7 editions published between
2018
and 2019 in 3 languages and held by 227 WorldCat member libraries worldwide
"The past, present and future of the Marvel universe! At the dawn of humanity, they assemble. Odin. The Phoenix. The Starbrand. The Spirit of Vengeance. The Black Panther. The Iron Fist. Agamotto, Sorcerer Supreme. Together, these prehistoric Avengers fell a cosmic giant - and for one million years, it lays buried. But when the Ghost Rider and the Starbrand of today are drawn to South Africa, a battle begins - and something terrible awakens. As Earth's heroes find their place in a brave new world, one of the very best makes a triumphant return. And at the far reaches of space, a child shares her hope for tomorrow. This is the epic tale that sets the stage for the next great era of Marvel! Plus: A complete collection of Primer Pages reveal everything you need to know about the world's greatest heroes, super-team, vigilantes - and the occasional villain! And the feature-packed FOOM Magazine completes this ultimate celebration of the Legacy of Marvel Comics!"--Back cover
more
fewer
Audience Level
0

1
General
Special
Audience level: 0.00 (from 0.00 for Secret war ... to 0.00 for Secret war ...)
Related Identities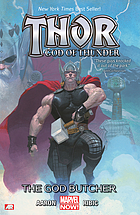 Covers
Alternative Names
Esad Ribić chorwacki autor komiksów

Esad Ribić Comic book artist

Esad Ribić dessinateur de bandes dessinées

Esad Ribić fumettista croato

Esad Ribić historietista croata

Esad Ribić striptekenaar uit Kroatië

Ribić, Esad

Ribić Esad 1972-....

Ribić, Esad T.

Ribic, Essad

Есад Рибић

Есад Рібіч хорватський автор коміксів

리비치, 에사드 1972-

에사드 리비치 크로아티아의 만화가

エッサド・リビック

リビック, イサド

リビッチ, エサッド

埃斯德·雷比奇

Languages