Langfeld, Herbert Sidney 1879-1958
Most widely held works about Herbert Sidney Langfeld
more
fewer
Most widely held works by Herbert Sidney Langfeld
Psychological review
by
American Psychological Association
( )
in
English
and held by 1,986 WorldCat member libraries worldwide
Issues for 1894-1903 include the section: Psychological literature
The æsthetic attitude
by
Herbert Sidney Langfeld
( Book )
32 editions published between
1920
and 2010 in
English
and held by 886 WorldCat member libraries worldwide
"Book Abstract: A book on aesthetics is of value in so far as it assists the reader in enriching his aesthetic experience. With this in mind I have laid particular emphasis upon a description of the nature of appreciation, for I believe that it is through such knowledge that our world of beauty is most effectively enlarged. Less attention has been given to the act of creation because a description of the special technique of the several arts, which is the chief factor in artistic production, lies beyond the scope of aesthetics. However, even though the main emphasis has been placed on appreciation, it cannot be said that the interests of the artist have been entirely neglected, for it must be remembered that it is necessary for him to appreciate before he can produce. In maintaining the view that aesthetics should be pragmatic, that is, useful to all those who desire a deeper knowledge of beauty, I hold a position opposed to that of certain philosophers who think that aesthetics should remain entirely theoretical. Such writers generally believe that the chief characteristic of beauty is its uselessness. I have tried to show, on the contrary, that the perception of beauty is one of the most useful of man's experiences. In order to establish the book on an empirical basis I have attempted a description of the mental processes involved in appreciation, and this psychological treatment of aesthetics predominates, although some attention has been given to the analysis of certain art forms. The principle which underlies the psychological study is that of the motor theory of mind, namely, that to every stimulus which the organism receives from without, it makes a definite response, the nature of which depends upon both the stimulus and the past experience of the organism. That there are bodily responses to certain forms of art has been demonstrated. Although the exact nature of the responses to every form of art has not as yet been ascertained, it has seemed safe, considering the amount of data already at hand, to make certain generalizations concerning the reactions of the organism to objects of beauty. (PsycINFO Database Record (c) 2006 APA, all rights reserved)."
Foundations of psychology
by
Edwin Garrigues Boring
( Book )
46 editions published between
1948
and 2005 in
English
and held by 844 WorldCat member libraries worldwide
Originally intended as a revision of the editors' Introduction to psychology, but the rearrangement and the new material added make this substantially a new work
Introduction to psychology
by
Edwin Garrigues Boring
( Book )
20 editions published between
1939
and 1947 in
English
and held by 465 WorldCat member libraries worldwide
"In contemplating a revision of our Psychology: a Factual Textbook, we turned for criticisms and suggestions to the psychologists who were known to be using the book. Very soon it became evident, with their replies in hand for analysis, that something more than a revision would be necessary to satisfy the needs of many teachers. Our aim in this new text has been to respond to the temper of the times without losing the authority that comes with multiple authorship by experts, and equally without diminishing, we hope, the seriousness of the scientific approach to the problems of psychology. This new book is so much more than a revision of the old that we have given it a new title. In it we have turned the old book hind part to, beginning with the consideration of conduct and ending with the treatment of perception. The book is considerably enlarged, with some new chapters and some new collaborators. As was the case in the first book, these expert authors have formulated in the first instance the content of the chapters, but thereafter we as editors have freely exercised our right to alter their texts in the interests of unity in the whole." (PsycINFO Database Record (c) 2006 APA, all rights reserved)
An elementary laboratory course in psychology
by
Herbert Sidney Langfeld
( Book )
16 editions published between
1916
and 2012 in
English
and
Undetermined
and held by 347 WorldCat member libraries worldwide
"The experimental exercises include units on sensation, perception, attention, motor processes, association, memory, imagery, and affection"--Publisher. (PsycINFO Database Record (c) 2005 APA, all rights reserved)
Psychology ; a factual textbook
by
Edwin Garrigues Boring
( )
16 editions published between
1935
and 2011 in
English
and held by 166 WorldCat member libraries worldwide
"Experimental psychology has reached the stage of maturity. There is a vast amount of well-substantiated fact which forms the foundation of the science, and we have felt that these facts should be presented to the young student of psychology in terms free from the bias of metaphysical presuppositions or of psychological systems. In short, our aim has been to present such a factual text as one should expect from a science. Accordingly, theoretical discussions have been to a great extent omitted and controversial points avoided. Our purpose has been to achieve, not a handbook encumbered with a mass of detailed information, dates, the names of investigators and the titles of monographs, but a generalized statement of fundamental facts in so far as generalization is possible at this time"--Preface. (PsycINFO Database Record (c) 2011 APA, all rights reserved)
A history of psychology in autobiography
( )
3 editions published in
1952
in
English
and held by 110 WorldCat member libraries worldwide
"It is now fifteen years since the third volume of History of Psychology in Autobiography appeared. These preceding volumes, modelled after the German series Die Philosophie der Gegenwart in Selbstdarstellungen and edited by Carl Murchison, consist of short autobiographies of prominent psychologists who had been asked by the editors to write their "intellectual histories." We felt that this series ought not to be allowed to lapse, especially now that a new generation has reached the age from which looking backward becomes profitable. The reader of this volume will see how much our autobiographers differ from one another in the nature of their efforts. Perhaps they differ most in the degree with which they find unity in their lives. Presumably every one of them would like to see his intellectual history as the evolution of a single purpose, for integrity is good and simplicity is elegant. No one, of course, fully succeeds in this undertaking, for the story of every life is constrained by the exigencies of its owner's environment. Some of these accounts are more intellectualistic than others, and it may be that they show the greater unity, either because some irrelevancies are omitted from the life history or because irrelevancies are actually, at least to a certain degree, omitted from the actual living. Other accounts are more environmentalistic, because social and institutional events and accidents have figured so largely in them. The environmentalistic autobiographer may have had a chief long-term goal, have pursued it, have achieved it with some fair degree of success, yet he may feel that the unforeseeable accidents of living have determined much of his life and have perhaps even altered his goal. The intellectualist, if such we may call him, may, on the other hand, have suffered disruption of plans less than his colleague, but it is probable that he has also been less interested in the effect of external forces upon himself"--Preface. (PsycINFO Database Record (c) 2006 APA, all rights reserved)
A study of prolonged fasting
by
Francis Gano Benedict
( )
3 editions published in
1915
in
English
and held by 44 WorldCat member libraries worldwide
"In this book special reports are made by H. W. Goodall on the physical condition of the subject during the fast, his subjective impressions and mental attitude toward the fast, and the microscopy of the urine and the tests for albumin; by Dr. J. E. Ash on the blood; by Dr. H. S. Langfeld on the psycho-physiology of the fast; by Dr. A. I. Kendall on bacterial intestinal flora; and by Mr. H. L. Higgins on alveolar air."--Pref
more
fewer
Audience Level
0

1
Kids
General
Special
Audience level: 0.41 (from 0.35 for Psychologi ... to 1.00 for Papers, 19 ...)
Related Identities
Associated Subjects
Aesthetics
Aesthetics, Modern
Allport, Gordon W.--(Gordon Willard),
Angell, James Rowland,
Art
Boring, Edwin Garrigues,
Cattell, James McKeen,
Child psychology
Dallenbach, Karl M.,
Dodge, Raymond,
Doll, Edgar A.--(Edgar Arnold),
Dunlap, Knight,
Eugenics
Fasting
Fernberger, Samuel Weiller,
Freud, Sigmund,
Gault, Robert H.--(Robert Harvey),
George Washington University
Hull, Clark Leonard,
Külpe, Oswald,
Langfeld, Herbert Sidney,
Metabolism
Münsterberg, Hugo,
Murchison, Carl,
Pater, Walter,
Personality
Philosophy
Pillsbury, W. B.--(Walter Bowers),
Prince, Morton,
Psychoanalysis
Psychological literature
Psychologists
Psychology
Psychology, Pathological
Psychology--Research
Psychology--Study and teaching
Psychophysiology
Rhine, J. B.--(Joseph Banks),
Seashore, Carl E.--(Carl Emil),
Spiritualism
Stevens, S. S.--(Stanley Smith),
Terman, Lewis M.--(Lewis Madison),
Thorndike, Edward L.--(Edward Lee),
Titchener, Edward Bradford,
United States
Visual perception
Warren, Howard C.--(Howard Crosby),
Watson, John B.--(John Broadus),
Whitney, Leon F.--(Leon Fradley),
Yerkes, Robert M.--(Robert Mearns),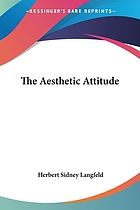 Covers
Alternative Names
Lanfeide 1879-1958

Langfeld, Herbert S.

Langfeld, Herbert S. 1879-1958

Langfeld, Herbert Sidney 1879-

Langfeld, Herbert Sidney b. 1879-

Langfield, Herbert Sidney 1879-1958

Sidney Langfeld, Herbert 1879-1958

Герберт Лангфельд американский психолог

蘭費德 1879-1958

Languages