Hulme, Amanda
Most widely held works by Amanda Hulme
Mates, dates and inflatable bras
by
Cathy Hopkins
( Recording )
10 editions published between
2001
and 2010 in
English
and
Undetermined
and held by 139 WorldCat member libraries worldwide
A turning point is exactly what Lucy does not want. Everything is changing around her, and suddenly she is required to make all sorts of decisions. Everyone else knows who and what they want to be, except her. Izzy has become friends with the glamorous Nesta and Lucy isn't certain she likes this new threesome. Nesta and Izzy look sixteen, but Lucy, at 14, can easily pass for a 12 year old. But then the day Lucy sees the most wonderful boy crossing the street, things start to change - in all areas of her life
Mates, dates and cosmic kisses
by
Cathy Hopkins
( Recording )
14 editions published between
2001
and 2009 in
English
and held by 136 WorldCat member libraries worldwide
Perhaps, perhaps, perhaps. It's time to consult the stars. Izzie is cool, bright and sassy. And when she meets gorgeous Mark, she's on a real high. He's divine. And he likes her! But why doesn't he call when he says he will? Desperate to make sense of things, Izzie spends her time checking her horoscope. And stays at home, just in case he calls. When Izzie loses her perspective and her sense of fun, best friends Lucy and Nesta try to give her a reality check. But there are some things you'd rather not hear
Abomination
by
Robert E Swindells
( Recording )
7 editions published between
2001
and 2010 in
English
and
Undetermined
and held by 105 WorldCat member libraries worldwide
Martha is twelve and very different from other kids. No TV. No computer. No cool clothes. Especially no friends. It's all because of her parents. Strict members of a religious group, their rules dominate Martha's life
Diving in
by
Kate Cann
( Recording )
8 editions published between
2002
and 2011 in
English
and held by 67 WorldCat member libraries worldwide
Coll is a 16-year-old with an active fantasy life, especially when it comes to the opposite sex ... and one boy in particular. Her real life includes a domineering, overweight, feminist mother, a weak father, and a poisonous kid sister. But her biggest problem is her confusion and uncertainty about sex
Getting there
by
Sue Williams
( Recording )
2 editions published in
2002
in
English
and held by 15 WorldCat member libraries worldwide
When Sue Williams set out on a ten-year series of journeys around the world, she expected glamour, excitement, a leisurely education. She simply didn't bargain for disaster, spine-tingling terror and the kind of mind-numbing embarrassment that confronted her at nearly every turn. In fact, if she'd known she would wake up naked inside a sleeping bag, with all her belongings vanished, on a patch of wasteland in Central African Republic; get lost on a dark mountain top in Malawi; be stalked by a wife-hungry politician in Mexico; hitch 1000 kilometres in the wrong direction in Argentina; and discover, too late, she'd just eaten dog stew in China, she would have never left home in the first place!Getting There is the hilarious, terrifying and, most of all, inspiring account of Sue's travels across the globe over twenty years. It isn't about destinations or pleasant arrivals, but journeys and the battle to get there, fuelled by curiosity, faith in humanity, naivety and even extraordinary ineptitude - the tales of the true traveller
Mates, dates and inflatable bras, Cathy Hopkins
by
Cathy Hopkins
( Recording )
1 edition published in
2004
in
English
and held by 10 WorldCat member libraries worldwide
Considers the adolescent nightmares of being 14 and having to make decisions that will shape your life
Abomination
by
Robert E Swindells
( Book )
1 edition published in
2001
in
Undetermined
and held by 0 WorldCat member libraries worldwide
Twelve-year-old Martha's life is made miserable by the strict rules of the religious sect that her parents belong to. She is forbidden to bring anyone home in case they discover the terrible secret that they are hiding, a secret that Martha decides she can no longer live with
Abomination
by
Robert E Swindells
( )
1 edition published in
2004
in
English
and held by 0 WorldCat member libraries worldwide
Martha, the youngest daughter of fanatically religious parents, is all too aware that her family is unusual. Taunted and bullied at school, and lonely at home with only postcards from her elder sister to keep her sane, Martha knows there has to be some other way of living. But it is only when she is befriended by the new boy, Scott, that she decides to reveal the terrible secret that has so far kept her in emotional chains
Ready?
by
Kate Cann
( Book )
1 edition published in
2002
in
English
and held by 0 WorldCat member libraries worldwide
Coll daydreams all the time about meeting the gorgeous bloke she sees at her local swimming pool. Then, one afternoon, he asks her out. Close-up, he's even more good-looking- but he's also very pushy. As Coll struggles to get what she wants from their relationship, she begins to wonder just how far she could go. Can she cope with a boyfriend who's much more experienced than her? How much should she suppress what she's increasingly feeling? Will she turn out like her man-hating mum - or like Art's sad last girlfriend who suddenly got dumped? Just how fast should Coll be diving into love?
Mates, dates and cosmic kisses
by
Cathy Hopkins
( )
1 edition published in
2004
in
English
and held by 0 WorldCat member libraries worldwide
Wednesday night: no call. Thursday night: no call. Friday morning: NO CALL! I'm going out of my mind. Perhaps he lost my number? Perhaps he put the card in his jeans and his mum washed them and it got soaked? Perhaps saying he'd phone was a way of getting rid of me? Perhaps, perhaps, perhaps. It's time to consult the stars. Izzie is cool, bright and sassy. And when she meets gorgeous Mark, she's on a real high. He's divine. And he likes her! But why doesn't he call when he says he will? Desperate to make sense of things, Izzie spends her time checking her horoscope. And stays at home, just in case he calls. When Izzie loses her perspective and her sense of fun, best friends Lucy and Nesta try to give her a reality check. But there are some things you'd rather not hear
Mates, dates and inflatable bras
by
Cathy Hopkins
( )
1 edition published in
2004
in
English
and held by 0 WorldCat member libraries worldwide
I flopped on the beanbag next to her. I felt happy. Iz and me. Me and Iz talking about stuff and Iz predicting my future. 'What does it say, Madam Rose?' 'Oh interesting, ' Iz murmured. 'Very interesting, the card that crosses you is the Wheel of Fortune. It signifies a new chapter. A turning point.' But a turning point is exactly what Lucy does NOT want. Everything is changing around her, and suddenly she is required to make all sorts of decisions. Everyone else knows who and what they want to be except her. Izzy has become friends with the glamorous Nesta and Lucy isn't certain she likes this new threesome. Nesta and Izzy look sixteen, but Lucy, at fourteen, can easily pass for a twelve-year-old. But then the day Lucy sees the most wonderful boy crossing the street, things start to change - in all areas of her life
more
fewer
Audience Level
0

1
Kids
General
Special
Audience level: 0.44 (from 0.36 for Mates, dat ... to 1.00 for Mates, dat ...)
Related Identities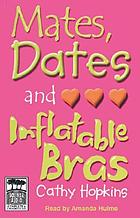 Languages
Covers