Guerrero, Javier
Most widely held works by Javier Guerrero
The Martian : a novel
by
Andy Weir
( Book )
4 editions published between
2014
and 2015 in
Spanish
and held by 308 WorldCat member libraries worldwide
"Seis días atrás, el astronauta Mark Watney se convirtió en uno de los primeros hombres en caminar por la superficie de Marte. Ahora está seguro de que será el primer hombre en morir allí. La tripulación de la nave en que viajaba se ve obligada a evacuar el planeta a causa de una tormenta de polvo, dejando atrás a Mark tras darlo por muerto. Pero él está vivo, y atrapado a millones de kilómetros de cualquier ser humano, sin posibilidad de enviar señales a la Tierra. De todos modos, si lograra establecer conexión, moriría mucho antes de que el rescate llegara. Sin embargo, Mark no se da por vencido; armado con su ingenio, sus habilidades y sus conocimientos sobre botánica, se enfrentará a obstáculos aparentemente insuperables. Por suerte, el sentido del humor resultará ser su mayor fuente de fuerza. Obstinado en seguir con vida, incubará un plan absolutamente demencial para ponerse en contacto con la NASA."--Dust jacket
Nine dragons : a novel
by
Michael Connelly
( Book )
2 editions published between
2010
and 2011 in
Spanish
and held by 205 WorldCat member libraries worldwide
"Harry Bosch y su compañero Ignacio Ferras investigan el asesinato del señor Li, anciano propietario de Fortune Liquors, una tienda china de licores de Los Ángeles. Las cámaras de seguridad del local invalidan la teoría de atraco y dejan la puerta abierta a que el crimen esté relacionado con una posible extorsión por parte de la mafia china ..."--Dust jacket cover
The narrows : a novel
by
Michael Connelly
( Book )
3 editions published between
2006
and 2010 in
Spanish
and held by 199 WorldCat member libraries worldwide
Tejiendo las líneas de la poesía en sus crímenes horribles, el asesino en serie conocido por millones como el poeta vuelve. Rachel Walling, el agente del FBI que años antes había intentado localizar, no se ha olvidado de él, y tampoco tiene el ex policía de Los Ángeles detective Harry Bosch, que recibe una llamada de un viejo amigo cuyo marido había muerto recientemente. A pesar de que su muerte parecía natural, las relaciones del hombre a la caza de la poeta que Harry mirar dos veces, inevitablemente, poniéndolo en el camino del asesino más despiadado e ingenioso en la historia de Los Ángeles
The brass verdict : a novel
by
Michael Connelly
( Book )
1 edition published in
2009
in
Spanish
and held by 125 WorldCat member libraries worldwide
"Reúne por primera vez a Harry Bosch y Mickey Haller."
Echo Park : a novel
by
Michael Connelly
( Book )
1 edition published in
2008
in
Spanish
and held by 124 WorldCat member libraries worldwide
Detective Harry Bosch, now in the Open-unsolved Unit, receives a call from the DA telling him a serial killer has confessed to several murders. Harry must interview the man about a case he couldn't crack involving the murder of a 22-year-old woman whose body was never found
The overlook : a novel
by
Michael Connelly
( Book )
1 edition published in
2007
in
Spanish
and held by 107 WorldCat member libraries worldwide
Despues de aclararse el desastre policial de Echo Park, Harry Bosch ha dejado Casos Abiertos y pertenece a la unidad Especial de Homicidios; tiene nuevo jefe, Larry Gandle; y nuevo compaero, Iggy Ferras. A medianoche, mientras escucha un disco de jazz en la oscuridad, recibe la llamada para investigar el primer caso en su nuevo destino. El Doctor Santely Kent ha sido hallado muerto en el mirador sobre el pantano de Mulholland. Cuando el detective llega al lugar, encuentra a dos personas conocidas: Jerry Edgar, su antiguo compaero en Homicidios de Hollywood; y Rachel Walling, agente del FBI y antigua amante suya. Pronto Harry Bosch se irrita porque Rachell tiene mas informacion que el sobre el caso: el Doctor era especialista en medicina nuclear y hay sospechas de que ha sido robado material radiactivo. En efecto, las primeras investigaciones confirman que treinta y dos capsulas de cesio han desaparecido de un hospital y todo apunta al terrorismo islamista. El FBI intenta apoderarse de la investigacion, pero Bosch nunca se ha dejado apartar de uno de sus casos
The Lincoln lawyer : a novel
by
Michael Connelly
( Book )
1 edition published in
2007
in
Spanish
and held by 105 WorldCat member libraries worldwide
Representing the system's most unsavory characters in his work as a criminal defense lawyer, jaded attorney Mickey Haller takes on his first high-paying and possibly innocent client in years, but finds the case complicated by sinister events that suggest the workings of a particularly evil perpetrator
The wolves of midwinter : a novel
by
Anne Rice
( Book )
2 editions published between
2014
and 2015 in
Spanish
and held by 92 WorldCat member libraries worldwide
It is the beginning of December. Oak fires are burning in the stately flickering hearths of Nideck Point. It is Yuletide. For Reuben Golding, now infused with the wolf gift and under the loving tutelage of the Morphenkinder, this Christmas promises to be like no other ... as he soon becomes aware that the Morphenkinder, steeped in their own rituals, are also celebrating the Midwinter Yuletide festival deep within Nideck forest. From out of the shadows of the exquisite mansion comes a ghost - tormented, imploring, unable to speak yet able to embrace and desire with desperate affection ... As Reuben finds himself caught up with the passions and yearnings of this spectral presence and the preparations for the Nideck town Christmas reach a fever pitch, astonishing secrets are revealed, secrets that tell of a strange netherworld, of spirits - centuries old - who possess their own fantastical ancient histories and taunt with their dark, magical powers
The Jesus family tomb : the discovery, the investigation, and the evidence that could change history
by
Simcha Jacobovici
( Book )
1 edition published in
2007
in
Spanish
and held by 67 WorldCat member libraries worldwide
Recounts the events surrounding the discovery of the family tomb of Jesus of Nazareth, in which archaeologists discovered ten ossuaries with markings indicating they belonged to the family of Jesus, his parents, wife, and children, and explores what the discovery may mean for religion and history
A darkness more than night : a novel
by
Michael Connelly
( Book )
2 editions published between
2003
and 2004 in
Spanish
and held by 66 WorldCat member libraries worldwide
Terry McCaleb, the retired FBI agent who starred in the bestseller "Blood Work," is asked by the LAPD to help them investigate a series of murders that have them baffled. They are the kind of ritualized killings McCaleb specialized in solving with the FBI, and he is reluctantly drawn from his peaceful new life back into the horror and excitement of tracking down a terrifying homicidal maniac. More horrifying still, the suspect who seems to fit the profile that McCaleb develops is someone he has known and worked with in the past: LAPD homicide detective Harry Bosch
more
fewer
Audience Level
0

1
Kids
General
Special
Audience level: 0.16 (from 0.11 for The two mi ... to 0.35 for On Dublin ...)
Related Identities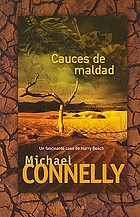 Alternative Names
Guerrero Alonso, Francisco J.

Guerrero Alonso, Francisco Javier

Languages
Covers