Swanson, Denise
Most widely held works by Denise Swanson
Murder of a stacked librarian : a Scumble River mystery
by
Denise Swanson
( Book )
147 editions published between
2000
and 2015 in
English
and
Undetermined
and held by 10,348 WorldCat member libraries worldwide
School psychologist Skye Denison reluctantly agrees to act as maid of honor in her California cousin's over-the-top platinum-style wedding- and is also expected to assist the control-freak wedding planner. But when Skye discovers the planner dead, just one week before the big event, Skye is suddenly working double-duty. While overseeing every nuptial detail, she's also helping the police find out who hated the bridal consultant enough to kill her. Can Skye get her cousin to the church on time-and save herself from a killer who may actually be on the guest list?
Little shop of homicide : a Devereaux's dime store mystery
by
Denise Swanson
( Book )
15 editions published in
2012
in
English
and held by 985 WorldCat member libraries worldwide
Dev Sinclair is the happy new owner of the old-fashioned five-and-dime shop in her small Missouri town. When her ex's fiancée is murdered ... and Dev's fingerprints are all over the weapons ... she may find herself serving twenty-to-life!
Nickeled-and-dimed to death
by
Denise Swanson
( Book )
12 editions published in
2013
in
English
and held by 830 WorldCat member libraries worldwide
"Dev's five-and-dime may be doing well, but her love life is in turmoil. She's torn between Deputy U.S. Marshal Jake Del Vecchio, who is on an undercover assignment, and her ex-beau Noah Underwood, the local doctor from a high-society family. So she welcomes the distraction when Elise Whitmore offers her a great deal on antique chocolate molds that would be perfect for her Easter gift baskets. But do the molds actually belong to Elise's soon-to-be ex-husband? In buying them, has Dev committed a felony? When Elise is found shot to death, the mystery deepens-and Dev's good friend Boone, who discovered the body, is taken into custody. With the help of her best buds, Dev must clear Boone's name and find the real killer. Good thing that when it comes to amateur sleuths, they broke the mold with Dev Sinclair."--Page 4 of cover
Murder of a royal pain
by
Denise Swanson
( Book )
8 editions published in
2009
in
English
and held by 826 WorldCat member libraries worldwide
When school psychologist Skye Denison stumbles over the body of pushy "Promfest" chairperson Annette Paine during a Halloween fundraiser, it looks like a clear-cut case of promicide. Annette was not the only prom mom desperate to see her daughter crowned queen. But she was also wearing the same witch costume as Skye, so which witch was the intended victim?
Dead between the lines
by
Denise Swanson
( Book )
6 editions published in
2014
in
English
and held by 794 WorldCat member libraries worldwide
To keep her new business in the black, Dev opens up her shop to local clubs. But in the first meeting of the Stepping Out Book Club, the speaker storms out after members attack his poetry's sexism and scorn for small towns. Later that night, the poet's body is found outside Dev's store. Dev can't afford for the murder to close her down, so she does a little stepping out of her own to investigate, with help from her two sexy suitors, Dr. Noah Underwood and Deputy U.S. Marshal Jake Del Vecchio. But when the killer threatens Dev, they will have to use every trick in the book to solve the case before she becomes the final chapter in this murder mystery
Murder of an open book
by
Denise Swanson
( Book )
14 editions published between
2015
and 2016 in
English
and held by 685 WorldCat member libraries worldwide
"Her honeymoon may have been less than relaxing, but Skye Boyd née Denison is still high on marital bliss with her new husband, Wally. The fact that their family is about to get bigger is even more exciting, even if Skye is dealing with morning sickness--and trying to hide the news from her ever-meddling mother, May. But Skye quickly comes crashing down from cloud nine when the body of one of her coworkers, science teacher and volleyball coach Blair Hucksford, is found in the school swimming pool. The troublesome trainer was on the bad side of almost everyone on staff and many of the girls on her team, leaving Skye to sort through a huge roster of suspects. Now she must figure out which wronged party was mad enough to kill, and quickly--before someone else in town gets bumped off"--
Dying for a cupcake
by
Denise Swanson
( Book )
11 editions published between
2015
and 2016 in
English
and held by 671 WorldCat member libraries worldwide
Returning home to Shadow Bend, Missouri where she hopes to launch her new line of cupcakes, Kizzy Cutler finds her plans derailed by the strange death of her assistant and several attempts on her own life, which makes her realize that someone is not so sweet on her return
Between a book and a hard place
by
Denise Swanson
( Book )
6 editions published in
2016
in
English
and held by 626 WorldCat member libraries worldwide
"Shadow Bend's library closed years ago because of budgetary problems, so when a wealthy benefactor offers to reopen it, everyone, including Dev, is thrilled. But Dev's excitement wanes when she realizes the mysterious donor is actually her runaway mother Yvette's latest husband, Jett Benedict. Dev suspects that Yvette and Jett's intentions aren't as noble as they appear, but before she can discover what they're really up to, Jett turns up dead--and all clues point to Yvette as the prime suspect. Even though Dev has no loyalty to Yvette, she's in a bind. Setting the record straight could prove her mother is a killer. But doing nothing might get her mother booked for a crime she didn't commit ..."--Page 4 of cover
Murder of a needled knitter
by
Denise Swanson
( Book )
5 editions published between
2014
and 2015 in
English
and held by 412 WorldCat member libraries worldwide
Skye Denison's honeymoon cruise with her new husband, Wally Boyd, is interrupted first by the presence of Skye's mother and her knitting group, and then when Skye becomes the prime suspect in the murder of a knitting expert
Murder of a creped suzette : a Scumble river mystery
by
Denise Swanson
( Book )
11 editions published between
2011
and 2012 in
English
and held by 400 WorldCat member libraries worldwide
When mega-millionaire and imitation cowboy Rex Taylor proposes building a country music theater in Scumble River, everyone's ready to do the boot-scootin' boogie except school psychologist Skye Denison. She's been asked by Suzette Neal, Rex's assistant and a rising country star, to investigate her mother's suspicious death twenty-seven years earlier. No sooner does Skye agree to help than she finds Suzette literally flattened -- and very dead. Now there are two mysterious deaths -- a mother and twenty-seven years later, her daughter. Suspicion seems to be hovering over Suzette's inner circle: Rex's jealous wife, a mysterious man in a black pickup truck, and the sizzling-hot singer Flint James, who also happens to have been Suzette's bitter rival for country-western fame. With a honky-tonk full of suspects and a tangled web of motives that stretches back two decades, Skye already knows too much. She must rise to the occasion or she could be the next one to end up flat as a crãepe suzette. (Bestseller)
more
fewer
Audience Level
0

1
Kids
General
Special
Audience level: 0.15 (from 0.13 for Little sho ... to 0.65 for Murder of ...)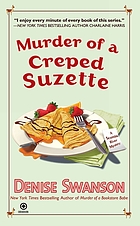 Alternative Names
Languages
Covers