Truman, Wayne
Most widely held works about Wayne Truman
Most widely held works by Wayne Truman
Fullmetal alchemist
by
Hiromu Arakawa
( Book )
16 editions published between
2002
and 2011 in
English
and held by 2,074 WorldCat member libraries worldwide
A homunculus manages to breach impenetrable Fort Briggs, and the Elric brothers discover a terrible alchemical secret that pervades every corner of the world as they know it. Meanwhile, Major Kimblee and a ruthless General Raven make Major General Olivier Mira Armstrong an offer she can't refuse. Whose side is she on, really? And how far is she willing to go?"
Fullmetal alchemist
by
Hiromu Arakawa
( Book )
10 editions published between
2002
and 2009 in
English
and held by 1,169 WorldCat member libraries worldwide
The brothers pursue fugitive May Chang to solve the mystery of why their alchemical powers were rendered inert while she and Scar continued to be able to wield them. Meanwhile, Scar enlists some unlikely help to delve into the secrets of his brother's alchemical knowledge. And the newest, most horrifying homunculus makes an appearance--!
Fullmetal alchemist
by
Hiromu Arakawa
( Book )
45 editions published between
2002
and 2011 in
English
and held by 818 WorldCat member libraries worldwide
When an alchemical ritual goes awry causing Edward Elric to lose limbs and his brother to become trapped in a suit of armor, Edward begins a quest to recover the one thing that can restore them, the legendary Philosopher's Stone
Fullmetal alchemist
by
Hiromu Arakawa
( Book )
1 edition published in
2005
in
English
and held by 760 WorldCat member libraries worldwide
As young boys, Edward & Alphonse Elric dabbled in alchemy to try to resurrect their dead mother. As a result, Ed lost one arm and one leg, while Al lost his entire body and had his spirit sealed into a suit of armor. Now, they are searching for the fabled Philosopher's Stone to restore what they've lost
Fullmetal alchemist
by
Hiromu Arakawa
( Book )
14 editions published between
2002
and 2016 in
English
and held by 757 WorldCat member libraries worldwide
Edward and Alphonse continue their quest for the Philosopher's Stone, the ultimate alchemical treasure. The stone's formula may be found in the catacombs of the central library ... if the mysterious figures named Lust and Gluttony don't get there first
Fullmetal alchemist
by
Hiromu Arakawa
( Book )
6 editions published between
2002
and 2016 in
English
and held by 686 WorldCat member libraries worldwide
In an alchemical ritual gone wrong, Edward Alric lost his arm and his leg. He was lucky--his brother Alphonse lost his entire body. With Alphonse's soul grafted into a suit of armor, and Edward equipped with mechanical limbs, they become government alchemists, serving the state on deadly missions and fighting the evil alchemists called the Seven Deadly Sins. (Graphic Novels)
Fullmetal alchemist
by
Hiromu Arakawa
( Book )
3 editions published in
2005
in
English
and held by 685 WorldCat member libraries worldwide
Edward, Alphonse and Winry head south in search of Izumi Curtis, the master alchemist who taught the two brothers the art. An encounter with a pickpocket in Rush Valley starts them down a different path in search of an auto-mail blacksmith who Winry declares is the best he's ever seen
Fullmetal alchemist
by
Hiromu Arakawa
( Book )
4 editions published between
2006
and 2009 in
English
and held by 681 WorldCat member libraries worldwide
Lieutenant Colonel Maes Hughes has been murdered--and second Lieutenant Maria Ross is the prime suspect! Homunculi must come out of the shadows to deal with the mess and find out about the truth of his best Friend Maes Hughes murder
Fullmetal alchemist
by
Hiromu Arakawa
( Book )
9 editions published between
2002
and 2011 in
English
and held by 661 WorldCat member libraries worldwide
When an alchemical ritual goes awry causing Edward Elric to lose limbs and his brother to become trapped in a suit of armor, Edward begins a quest to recover the one thing that can restore them, the legendary Philosopher's Stone
Fullmetal alchemist
by
Hiromu Arakawa
( Book )
2 editions published in
2006
in
English
and held by 654 WorldCat member libraries worldwide
A group of outcasts is determined to discover the alchemical secrets of Alphonse Elric's creation. Now, Ed must go into the Devil's Nest to rescue his brother and face an artificial human being called a homunculus
more
fewer
Audience Level
0

1
Kids
General
Special
Audience level: 0.15 (from 0.10 for Fullmetal ... to 0.73 for Wayne Trum ...)
Related Identities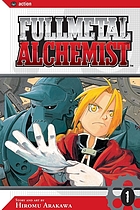 Covers
Languages