Orszag, Peter R.
Most widely held works by Peter R Orszag
Does the Social Security earnings test affect labor supply and benefits receipt?
by
Jonathan Gruber
( Book )
13 editions published in
2000
in
English
and held by 89 WorldCat member libraries worldwide
Abstract: The Social Security earnings test, a version of which still applies to those ages 62-64, reduces immediate payments to beneficiaries whose labor income exceeds a given threshold. Although benefits are subsequently increased to compensate for any such reduction, the earnings test is typically perceived as a tax on working. As a result, it is considered by many to be an important disincentive to paid work for older Americans. Yet there is little evidence to suggest an economically significant effect of the earnings test on hours of work, and almost no research on the effect of the test on the decision to work at all. We investigate these issues using the significant changes in the structure of the earnings test over the past 25 years, using data over the past 25 years, using data over the 1973-1998 period from the March Supplement to the Current Population Survey (CPS), which provide large samples of observations on the elderly. Our analysis suggests two major conclusions. First, the earnings test exerts no robust influence on the labor supply decisions of men. Neither graphical analyses of breaks in labor supply trends, nor regression estimates that control for underlying trends in labor supply by age group, reveal any significant impact of changes in earnings test parameters on aggregate employment, hours of work, or earnings for men. For women, there is more suggestive evidence that the earnings test is affecting labor supply decisions. Second, loosening the earnings test appears to accelerate benefits receipt among the eligible population, lowering benefits levels, and heightening concerns about the standard of living of these elderly at very advanced ages. Our findings suggest some cause for caution before rushing to remove the earnings test at younger ages
An assessment of the proposals of the President's Commission to Strengthen Social Security
by
Peter A Diamond
( Book )
11 editions published in
2002
in
English
and held by 80 WorldCat member libraries worldwide
Abstract: The President's Commission to Strengthen Social Security proposed three reform plans. Two, analyzed here, restore actuarial balance in the absence of individual accounts. One achieves this balance solely through benefit reductions. The other uses new dedicated revenue to cover one-third of the actuarial deficit, reducing benefits to close the rest. Both plans cut disability and young survivor benefits in step with retirement benefits, while bolstering benefits for long-career low earners and surviving spouses with low benefits. The plans both include voluntary individual accounts that replace part of the scaled-back Social Security system. Payroll taxes are diverted to the accounts and one of the plans also requires a (subsidized) add-on contribution for those choosing accounts. Under both models, any payroll tax deposited in an individual account is also recorded in a 'liability account' for the worker. The liability account tracks the diverted payroll revenue (with interest) and is paid off by reducing traditional benefits. The individual accounts are subsidized through a sub-market interest rate on the liability accounts. This subsidy worsens the financial position of the Trust Fund. The accounts also create a cash-flow problem. Consequently, by themselves, the individual accounts make Social Security's solvency problems worse both in the short run and over the long run. To offset the adverse impact of the accounts, the plans call for large transfers of general revenues (despite substantial projected budget deficits). If all (two-thirds of) eligible workers opted for the accounts, the new revenues required over the next 75 years would amount to between 1.2 and 1.5 (0.8 and 1.1) percent of payroll. Holding the disabled harmless from the benefit reductions would raise the required transfers to between 1.5 and 1.7 (1.1 and 1.3) percent of payroll (compared to a projected actuarial deficit of 1.9 percent of payroll under current law). Despite requiring this much general revenue relative to paying scheduled benefits, the plans would produce significant reductions in expected combined benefits. At the end of 75 years, however, assets in the accounts would amount to between 53 and 66 (35 and 44) percent of GDP, and the value to Social Security of the accumulated liabilities that reduce later benefits would amount to more than 20 (15) percent of GDP
The conditions of life
by
Andrej N Illarionov
( Book )
3 editions published between
1992
and 1993 in
English
and held by 11 WorldCat member libraries worldwide
Saving incentives for low- and middle-income families : evidence from a field experiment with H&R Block
by
Esther Duflo
( Book )
4 editions published in
2005
in
English
and held by 7 WorldCat member libraries worldwide
This paper analyzes the effects of a large randomized field experiment carried out with H&R Block, offering matching incentives for IRA contributions at the time of tax preparation. About 14,000 H&R Block clients, across 60 offices in predominantly low- and middle-income neighborhoods in St. Louis, were randomly offered a 20 percent match on IRA contributions, a 50 percent match, or no match (the control group). The evaluation generates two main findings. First, higher match rates significantly raise IRA participation and contributions. Take-up rates were 3 percent for the control group, 8 percent in the 20 percent match group, and 14 percent in the 50 percent match group. Average IRA contributions (including non-contributors, excluding the match) for the 20 percent and 50 percent match groups were 4 and 7 times higher than in the control group, respectively. Second, several additional findings are inconsistent with the full information, rational-saver model. In particular, we find much more modest effects on take-up and amounts contributed from the existing Saver's Credit, which provides an effective match for retirement saving contributions through the tax code; we suspect that the differences may reflect the complexity of the Saver's Credit as enacted, and the way in which its effective match is presented. Taken together, our results suggest that the combination of a clear and understandable match for saving, easily accessible savings vehicles, the opportunity to use part of an income tax refund to save, and professional assistance could generate a significant increase in contributions to retirement accounts, including among middle- and low-income households
American economic policy in the 1990s
by
Jeffrey A Frankel
( Book )
2 editions published in
2002
in
English
and held by 7 WorldCat member libraries worldwide
This text attempts to write the history of the making of American economic policy during the 1990s. One way to view it is as a "debriefing" of those who made the decisions. Each chapter is devoted to a particular area of economic policy and consists of a background paper written by leading academic economists together with short essays by prominent policymakers, many of whom served in the Clinton administration or previous administrations, and by independent observers. The questions asked about each policy area include: What were the pros and cons of alternative options under consideration? What decision was made? What were the relevant economic arguments for that decision, and what political interests were served? Were other options missing from consideration? Is it possible to judge whether the decision was the right one? Are there lessons for the future?
more
fewer
Audience Level
0

1
Kids
General
Special
Audience level: 0.41 (from 0.00 for Estimated ... to 1.00 for Reducing b ...)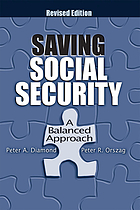 Alternative Names
Orszag, P.

Orszag, P. 1968-

Orszag, P. (Peter)

Orszag Peter

Orszag, Peter 1968-

Languages
Covers