Sokolski, Henry D.
Most widely held works by Henry D Sokolski
Best of intentions : America's campaign against strategic weapons proliferation
by
Henry D Sokolski
( )
16 editions published in
2001
in
English
and held by 1,310 WorldCat member libraries worldwide
Militærstrategen Sokolski beskriver det historiske forløb af USA's kamp for ikke-spredning af atomvåben igennem de seneste 50 år. I denne bog er ligeledes givet en begrebsforklaring samt en beskrivelse af hvorledes USA's ikke-spredningsanstrengelser undertiden snarere har drejet sig om at begrænse antallet af atomvåben blandt de større atommagter
Reviewing the Nuclear Nonproliferation Treaty (NPT)
by
Henry D. Sokolski Army War College
( )
12 editions published between
2010
and 2012 in
English
and held by 593 WorldCat member libraries worldwide
"As currently interpreted, it is difficult to see why the Nuclear Nonproliferation Treaty (NPT) warrants much support as a nonproliferation convention. Most foreign ministries, including that of Iran and the United States, insist that Article IV of the NPT recognizes all states' "inalienable right" of all states to develop "peaceful nuclear energy". This includes money-losing activities, such as nuclear fuel reprocessing, which can bring countries to the very brink of acquiring nuclear weapons. If the NPT is intended to ensure that states share peaceful "benefits" of nuclear energy and to prevent the spread of nuclear bomb making technologies, it is difficult to see how it can accomplish either if the interpretation identified above is correct."--Page 3
Falling behind : international scrutiny of the peaceful atom
by
Henry D Sokolski
( )
7 editions published in
2008
in
English
and held by 499 WorldCat member libraries worldwide
If possible, it would be useful to enhance the International Atomic Energy Agency?s ability to detect and prevent nuclear diversions. This would not only reduce the current risk of nuclear proliferation, it would make the further expansion of nuclear power much less risky
Pakistan's nuclear future : reining in the risk
by
Henry D Sokolski
( )
8 editions published between
2009
and 2012 in
English
and held by 493 WorldCat member libraries worldwide
Unfortunately, a nuclear terrorist act is only one-- and hardly the most probable-- of several frightening security threats Pakistan now faces or poses. We know that traditional acts of terrorism and conventional military crises in Southwest Asia have nearly escalated into wars and, more recently, even threatened Indian and Pakistani nuclear use. Certainly, the war jitters that attended the recent terrorist attacks against Mumbai highlighted the nexus between conventional terrorism and war. For several weeks, the key worry in Washington was that India and Pakistan might not be able to avoid war. Similar concerns were raised during the Kargil crisis in 1999 and during the Indo-Pakistani conventional military tensions that arose in 2001 and 2002-- crises that most analysts (including those who contributed to this volume) believe could have escalated into nuclear conflicts. The intent of this book is to conduct a significant evaluation of these threats. Its companion volume, Worries Beyond War, published in 2008, focused on the challenges of Pakistani nuclear terrorism. These analyses offer a window into what is possible and why Pakistani nuclear terrorism is best seen as a lesser included threat to war, and terrorism more generally. Could the United States do more with Pakistan to secure Pakistan's nuclear weapons holdings against possible seizure? It is unclear. This book argues that rather than distracting our policy leaders from taking the steps needed to reduce the threats of nuclear war, we would do well to view our worst terrorist nightmares for what they are: subordinate threats that will be limited best if the risk of nuclear war is reduced and contained.--
Underestimated : our not so peaceful nuclear future
by
Henry D Sokolski
( )
11 editions published between
2015
and 2019 in
English
and
Undetermined
and held by 407 WorldCat member libraries worldwide
"With the world focused on the nuclear crisis in Iran, it is tempting to think that addressing this case, North Korea, and the problem of nuclear terrorism is all that matters and is what matters most. Perhaps, but if states become more willing to use their nuclear weapons to achieve military advantage, the problem of proliferation will become much more unwieldy. In this case, U.S. security will be hostage not just to North Korea, Iran, or terrorists, but to nuclear proliferation more generally, diplomatic miscalculations, and wars between a much larger number of possible players. This, in a nutshell, is the premise of Underestimated: Our Not So Peaceful Nuclear Future, which explores what nuclear futures we may face over the next 3 decades and how we currently think about this future. Will nuclear weapons spread in the next 20 years to more nations than just North Korea and possibly Iran? How great will the consequences be? What can be done?"--Publisher's web site
Nuclear heuristics : selected writings of Albert and Roberta Wohlstetter
by
Albert Wohlstetter
( )
6 editions published in
2009
in
English
and held by 393 WorldCat member libraries worldwide
Pioneers of nuclear-age policy analysis, Albert Wohlstetter (1913-1997) and Roberta Wohlstetter (1912-2007) emerged as two of America's most consequential, innovative and controversial strategists. Through the clarity of their thinking, the rigor of their research, and the persistence of their personalities, they were able to shape the views and aid the decisions of Democratic and Republican policy makers both during and after the Cold War. Although the Wohlstetters' strategic concepts and analytical methods continue to be highly influential, no book has brought together their most important essays--until now
Getting ready for a nuclear-ready Iran
by
HENRY. CLAWSON, PATRICK SOKOLSKI
( )
12 editions published between
2004
and 2005 in
English
and held by 363 WorldCat member libraries worldwide
Little more than a year ago, the Nonproliferation Policy Education Center (NPEC) completed its initial analysis of Iran's nuclear program, Checking Iran's Nuclear Ambitions. Since then, Tehran's nuclear activities and public diplomacy have only affirmed what this analysis first suggested: Iran is not about to give up its effort to make nuclear fuel and, thereby, come within days of acquiring a nuclear bomb. Iran's continued pursuit of uranium enrichment and plutonium recycling puts a premium on asking what a more confident nuclear-ready Iran might confront us with and what we might do now to hedge against these threats. These questions are the focus of this volume. The book is divided into four parts. The first presents the endings of the NPEC's working group on Iran. It reflects interviews with government officials and outside specialists and the work of some 20 regional security experts whom NPEC convened in Washington to discuss the commissioned research that is contained in this book. Some of this report's endings to keep Iran and others from overtly deploying nuclear weapons or leaving the Nuclear Nonproliferation Treaty (NPT) are beginning to gain official support. The U.S. Government, the International Atomic Energy Agency (IAEA), and an increasing number of allies now support the idea that states that violate the NPT be held accountable for their transgressions, even if they should withdraw from the treaty. There also has been increased internal governmental discussion about the need to clarify what should be permitted under the rubric of "peaceful" nuclear energy as delineated under the NPT. The remaining report recommendations, which were presented in testimony before Congress in March of 2005, remain to be acted upon
Fighting proliferation : new concerns for the nineties
( Book )
8 editions published in
1996
in
English
and held by 362 WorldCat member libraries worldwide
The authors of this collection of essays examine such issues as devising effective strategy against the proliferation of nuclear weapons, coping with the spread of space technology, and curbing Iran's and North Korea's strategic programs. The contributors address these challenges and their implications for US policy in the book's five divisions. Part 1 explores how best to reform existing nonproliferation efforts. Part 2 considers new high-leverage systems likely to threaten the US in the near future. Parts 3 and 4 focus on two new truculent proliferators--North Korea and Iran. Part 5 discusses the need to develop a long-term diplomatic, political, economic, and military strategy against proliferation. Fighting Proliferation places itself in the mainstream of opposition to proliferation and the search for practical, policy-relevant approaches to dealing with it
Checking Iran's nuclear ambitions
by
HENRY. CLAWSON, PATRICK. INSTITUTE, STRATEGIC STUDIES SOKOLSKI
( )
11 editions published in
2004
in
English
and held by 355 WorldCat member libraries worldwide
Were Iran to acquire nuclear weapons, there is a grave risk it would be tempted to provide them to terrorists. After all, mass casualty terrorism done by proxies has worked well for Iran to date. The fear about what Iran might do with nuclear weapons is fed by the concern that Tehran has no clear reason to be pursuing nuclear weapons. The strategic rationale for Iran's nuclear program is by no means obvious. Unlike proliferators such as Israel or Pakistan, Iran faces no historic enemy who would welcome an opportunity to wipe the state off the face of the earth. Iran is encircled by troubled neighbors, but nuclear weapons does nothing to help counter the threats that could come from state collapse in Afghanistan, Pakistan, Iraq, or Azerbaijan. Achieving trans-Atlantic consensus on how to respond to Iran's nuclear program will be difficult. This is a remarkably bad time for the international community to face the Iran nuclear problem, because the tensions about the Iraq WMD issue still poison relations and weaken U.S. ability to respond. Nevertheless, Iran's nuclear program poses a stark challenge to the international nonproliferation regime. There is no doubt that Iran is developing worrisome capabilities. If the world community led by Western countries is unable to prevent Iranian proliferation, then it is unclear that there is much meaning to global nonproliferation norms. Iran's nuclear program raises stark shortcomings with the global nonproliferation norms. The basic deal behind the Treaty on the Non-Proliferation of Nuclear Weapons (NPT) is that countries are allowed to acquire a wide range of troubling capabilities in return for being open and transparent. The NPT gives Iran every right to have a full closed fuel cycle, with large uranium enrichment facilities and a reprocessing plant that can extract substantial amounts of plutonium-capabilities which would permit Iran at any time to rapidly "break out" of the NPT, building a considerable number of nuclear weapons in a short time. Had Iran been fully transparent about its nuclear activities, then even if Iran had gone so far as to operate a full closed fuel cycle, the international community would have been split deeply about how to react. It is fortunate indeed that Iran decided to cheat on its NPT obligations by hiding some of what is doing, because that has made much easier the construction of an international consensus that Iran's nuclear program is troubling. But the experience with Iran should lead to reflection about whether the basic NPT deal needs to be revisited
more
fewer
Audience Level
0

1
Kids
General
Special
Audience level: 0.30 (from 0.01 for United Sta ... to 0.47 for Getting MA ...)
Related Identities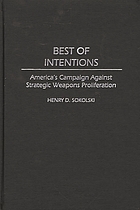 Covers
Alternative Names
Sokolski, Henry.

Sokolski Henry D.

Languages