Pavón Cuéllar, David
Most widely held works by David Pavón Cuéllar
From the conscious interior to an exterior unconscious : Lacan, discourse analysis, and social psychology
by
David Pavón Cuéllar
( )
18 editions published between
2010
and 2019 in
English
and
Undetermined
and held by 1,679 WorldCat member libraries worldwide
"This striking Lacanian contribution to discourse analysis is also a critique of contemporary psychological abstraction, as well as a reassessment of the radical opposition between psychology and psychoanalysis. This original introduction to Lacans work bridges the gap between discourse-analytical debates in social psychology and the social-theoretical extensions of discourse theory. David Pavon Cuellar provides a precise definition and a detailed explanation of key Lacanian concepts, and illustrates how they may be put to work on a concrete discourse, in this case a fragment of an interview obtained by the author from the Mexican underground Popular Revolutionary Forces (EPR)." "Throughout the book, Lacanian concepts are compared to their counterparts in psychology. Such a comparison reveals insuperable incompatibilities between the two series of concepts. The author shows that Lacan's psychoanalytical terminology can neither be translated nor assimilated to the terms of current psychology. Among the notions in actual or potential competition with Lacanian concepts, the book deals with those proposed by semiology, Marxism, phenomenology, constructionism, deconstruction, and hermeneutics. Taking a stand on those theoretical positions, each chapter includes detailed discussion of the contribution of classical approaches to language; including Barthes, Bakhtin, Althusser, Politzer, Wittgenstein, Berger and Luckmann, Derrida, and Ricoeur. There is sustained reference in the body of the text to the arguments of Lacan and Lacanians, of Miller, Milner, Soler, and Zizek. At the same time, in the extensive notes accompanying the text, there is a systematic reappraisal and reinterpretation of debates and pieces of research work in social psychology, especially in a discursive and critical domain that has incorporated elements of psychoanalytic theory."--Jacket
Lacan, discourse, event : new psychoanalytic approaches to textual indeterminacy
by
Ian Parker
( Book )
8 editions published between
2013
and 2014 in
English
and held by 181 WorldCat member libraries worldwide
Lacan, Discourse, Event: New Psychoanalytic Approaches to Textual Indeterminacy is an introduction to the emerging field of Lacanian Discourse Analysis. It includes key papers that lay the foundations for this research, and worked examples from analysts working with a range of different texts. The editors Ian Parker and David Pav n-Cu llar begin with an introduction which reviews the key themes in discourse analysis and the problems faced by researchers in that field of work including an overview of the development of discourse analysis
Marxism and psychoanalysis : in or against psychology?
by
David Pavón Cuéllar
( )
13 editions published between
2016
and 2017 in
English
and held by 168 WorldCat member libraries worldwide
The intellectual traditions initiated by Freud and Marx have enabled a range of scholars to critically reflect upon the ideological foundations upon which modern and now postmodern western societies rest. In this intriguing book, the discipline of Psychology itself is screened through the twin dynamics of Marxism and psychoanalysis. David Pavon-Cuellar asks to what extent the terms, concerns and ambitions of Psychology reflect, in fact, the dominant bourgeois ideology that has allowed it to flourish. The book charts a gradual psychologisation within society and culture dating from the 19th century, and examines how the ideals within mainstream psychology - creating good citizens or productive workers - sit uneasily against Marx and Freud's ambitions of revealing fault-lines and contradictions within individualist and consumer-oriented social structures. The aspiration of Psychology as positivist nature science has been the source of extensive debate, critical voices asserting the social and cultural contexts through which the human mind and behavior should be understood. This challenging new book provides another voice that, in addressing two of the most influential intellectual traditions of the past 150 years, widens the debate still further to examine the foundations of Psychology itself
The Marx through Lacan vocabulary : a compass for libidinal and political economies
by
Christina Soto van der Plas
( )
3 editions published in
2022
in
English
and held by 87 WorldCat member libraries worldwide
"This text explores a set of key concepts in Marxist theory as developed and read by Lacan, demonstrating links and connections between Marxist thought and Lacanian practice. The book examines the complexity of these encounters through the structure of a comprehensive vocabulary which covers diverse areas, from capitalism and communism to history, ideology, politics, work, and family. Offering new perspectives on these concepts in psychoanalysis, as well as in the fields of political and critical theory, the book brings together contributions from a range of international experts to demonstrate the dynamic relationship between Marx and Lacan, as well as illuminating 'untranslatable points' which may offer productive tension between the two. The entries trace the trajectory of Lacan's appropriation of Marx's concepts and analyses how they were questioned, criticized and reworked by Lacan, accounting for the wide reach of two thinkers and worlds in constant homology. Each entry also discusses psychoanalytic debates relating to the concept and seeks to refine the clinical scope of Marx's work, demonstrating its impact on the social and individual dimensions of Lacanian clinical practice. With a practical and structured approach, The Marx Through Lacan Vocabulary will appeal to psychoanalysts and researchers in a range of fields, including political science, cultural studies, and philosophy"--
Lacan, discurso, acontecimiento : nuevos análisis de la indeterminación textual
by
Ian Parker
( )
9 editions published between
2013
and 2014 in
Spanish
and
Undetermined
and held by 82 WorldCat member libraries worldwide
Se ofrece aquí una profunda incursión en el campo emergente del análisis lacaniano de discurso. El lector encontrará las primeras traducciones al español de los textos fundamentales que inauguran este campo de investigación, así como reflexiones actuales en torno a él y ejemplos de su aplicación en diversos discursos políticos, históricos, biográficos, periodísticos, cinematográficos, literarios, clínicos, filosóficos y científicos
Capitalismo y psicología crítica en Latinoamérica : del sometimiento neocolonial a la emancipación de subjetividades emergentes
( Book )
3 editions published in
2017
in
Spanish
and held by 9 WorldCat member libraries worldwide
El capital desgarra nuestros entramados comunitarios, nos arranca nuestra propia médula cultural, nos ahueca para colmarnos de ideología, nos hace competir unos con otros y explotarnos unos a otros, nos hace actuar como comerciantes de todo y de nosotros mismos, reduce nuestras vidas a fuerzas de trabajo y de consumo, individualiza y contrae nuestra subjetividad, hunde sus raíces dentro de nosotros y reduce nuestro pensamiento a unos cálculos estratégicos lucrativos que terminan imponiéndose como normas de salud y de inteligencia. Tales consecuencias psicosociales del capitalismo, así como sus expresiones teóricas en las concepciones psicológicas dominantes, han sido impugnadas y cuestionadas por la psicología crítica, la cual, en el contexto latinoamericano, busca resistir contra el actual sometimiento subjetivo neocolonial y contribuir de algún modo a la emancipación de subjetividades emergentes como las de los nuevos movimientos populares, barriales, juveniles, indígenas y feministas. La orientación hacia la práctica emancipatoria es un denominador común de los capítulos de la presente obra colectiva. Todos ellos han sido escritos por psicólogos críticos latinoamericanos con proyectos revolucionarios, transformadores y liberadores. Los autores, provenientes de Argentina, Brasil, Perú, Venezuela, Colombia, Guatemala, Cuba y México, sitúan su trabajo en corrientes críticas potencialmente radicales y subversivas como el marxismo, el feminismo, el zapatismo, la teoría decolonial, el psicoanálisis politizado y la psicología social comunitaria o de la liberación. Las ideas que aquí fluyen y confluyen comparten su visión anticapitalista, su apego a las tierras y las culturas latinoamericanas, su opción por los pueblos incesantemente oprimidos y explotados, su oposición a la psicología dominante y su denuncia de las funciones cruciales que tal psicología desempeña en el capitalismo: la despolitización de los problemas, la disolución de las comunidades y su conversión en recursos humanos explotables, la colonización y mercantilización de la subjetividad, la estandarización y la normalización disciplinaria de trabajadores y consumidores, la patologización de la inconformidad, la readaptación a la sociedad y la transformación individual que posibilite una reproducción del sistema socioeconómico
more
fewer
Audience Level
0

1
General
Special
Audience level: 0.00 (from 0.00 for From the c ... to 0.00 for From the c ...)
Related Identities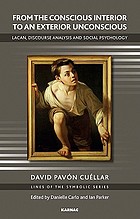 Covers
Alternative Names
Cuéllar, David Pavón-.

Cuéllar, David Pavón 1974-...

David Pavón Cuéllar Mexican psychologist

David Pavón Cuéllar psicòleg mexicà

David Pavón Cuéllar psicólogo mexicano

David Pavón Cuéllar psicólogu mexicanu

Pavón-Cuéllar, David

Pavón-Cuéllar, David 1974-

Pavón, David

Pavón, David 1974-

Pavón, David (David Pavón Cuéllar)

Languages