Cort, Julia
Most widely held works by Julia Cort
The elegant universe
by
B Greene
( Visual )
13 editions published between
2003
and 2006 in
English
and held by 1,804 WorldCat member libraries worldwide
Physicist Brian Greene discusses the historical quest for a grand unified theory in physics which will reconcile quantum physics and general relativity, and considers the possibility that superstring theory may bring an end to that search
Life's greatest miracle
by John, 1945- ; Nilsson, Lennart, 1922-; Cort, Julia. ; PBS Home Video Lithgow
( Visual )
7 editions published between
2001
and 2011 in
English
and held by 1,407 WorldCat member libraries worldwide
The development of a child from conception to birth, using both microimagery and the story of a young couple preparing for their first child
Cracking the code of life
( Visual )
10 editions published between
2001
and 2004 in
English
and held by 1,296 WorldCat member libraries worldwide
This documentary examines the complex race to decode the human genome. Examines the work of, and contains interviews with: Francis Collins, director of the National Center for Human Genome Research; J. Craig Venter, head of its rival, the private Celera Genomics; and the Whitehead Institute's Eric Lander, one of the leaders of the Human Genome Project
Origins fourteen billion years of cosmic evolution
( Visual )
2 editions published in
2004
in
English
and held by 991 WorldCat member libraries worldwide
Who would have predicted that a hot spot left over from the Big Bang would eventually lead to our galaxy, the solar system, the Earth, - and to us? Origins explores how the universe and our planet began amid chaos and eventually gave birth to the first stirrings of life. Join cutting-edge scientists on a voyage deep into the Earth to find analogs to the earliest life on our planet, and travel a million miles from Earth with a space probe designed to capture the earliest observable "snapshot" of the Big Bang. Then watch as astronomers test an ingenious new way to detect distant planets that may harbor life, and discover that every atom in our bodies, and practically every bit of matter in the Earth, was made in the heart of stars. Hosted by astrophysicist Neil deGrasse Tyson, director of the Hayden Planetarium at the American Museum of Natural History, Origins presents startling new findings that attempt to explain just how Earth, life, and the universe all began. - Container
The fabric of the cosmos
by
B Greene
( Visual )
4 editions published between
2011
and 2013 in
English
and held by 884 WorldCat member libraries worldwide
Using humor, everyday examples and computer animation for the more abstract concepts, author and physicist Brian Greene explains complex theories of the universe and the focus of his research, string theory
Runaway universe
( Visual )
6 editions published between
2000
and 2011 in
English
and held by 615 WorldCat member libraries worldwide
"[P]resents the dramatic quest to unlock the secrets of the universe as two rival astronomy teams search for exploding stars, map gigantic cosmic patterns of galaxies, and grapple with the ultimate question: what is the fate of the universe? With the use of stunning three-dimensional cosmic simulations captured with revolutionary high-definition technology, NOVA presents the first attempt to explore the riddle of 'dark energy' -- the mysterious repulsive force that some scientists believe counteracts gravity."--Container
How smart are animals?
( Visual )
2 editions published in
2011
in
English
and held by 542 WorldCat member libraries worldwide
Four short documentaries detailing amazing advancements in scientific research on the intelligence of animals, like the discovery that the dog brain is remarkably similar to a human's, observations revealing that dolphins are capable of advanced communication, and more. Episodes include: Dog genius, Creative dolphins, Octopus & cuttlefish, and a profile of Irene Pepperberg and her talking parrot, Alex
Monster of the Milky Way
( Visual )
8 editions published between
2006
and 2007 in
English
and held by 523 WorldCat member libraries worldwide
Join NOVA on a mind-bending hunt for a monster lurking at the heart of our Milky Way galaxy. Astronomers are closing in on one of the most destructive objects in the universe - a supermassive black hole - and it's hiding right in the center of our own galaxy. Eventually, it will blast jets of radiation millions of miles into space, incinerating everything in its neighborhood, including planet Earth. For a long time, black holes were dismissed as pure science fiction. Even Albert Einstein could not bring himself to accept them, despite pioneering the theory of relativity that predicted their existence. But recently, scientists have found convincing evidence that black holes are not only real but are crucial to the life and death of galaxies everywhere in the cosmos. From the explosive birth of a black hole to its cannibalistic death throes, NOVA investigates one of the universe's darkest secrets. With striking special effects, Monster of the Milky Way takes viewers on a scientifically accurate voyage into the belly of a supermassive black hole. When will it erupt and destroy the Milky Way? - Container
Hunt for the supertwister
( Visual )
4 editions published in
2004
in
English
and held by 463 WorldCat member libraries worldwide
Little on earth can withstand the violent fury of an F5 tornado. A churning vortex with wind speeds over 300mph, these tornadoes create immense swaths of death and destruction in a matter of seconds. Today, experts are exploring the supertwister's complex inner workings in bold new ways in the hopes of one day being able to accurately predict the occurrences of tornadoes. Top scientists and meteorologists work within miles of these furocious twisters to gather data and create forcasting models that may someday save countless lives
What makes us human?
by
Toby Macdonald
( Visual )
1 edition published in
2012
in
English
and held by 399 WorldCat member libraries worldwide
Scientists have struggled for centuries to pinpoint the qualities that distinguish humans from the millions of other animal species with which we share the vast majority of our DNA. Now, we explore those traits once thought to be uniquely human to discover their evolutionary roots
more
fewer
Audience Level
0

1
Kids
General
Special
Audience level: 0.19 (from 0.16 for Life's gre ... to 0.24 for Parallel w ...)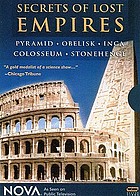 Languages
Covers