Godden, Lee
Most widely held works by Lee Godden
Sharing the costs and benefits of energy and resource activity : legal change and impact on communities
by
Lila Katz Barrera-Hernández
( )
8 editions published in
2016
in
English
and held by 247 WorldCat member libraries worldwide
"A new phase is emerging in the relationship between energy and resource activities and the communities that are affected by them. Any energy or resource project - a mine, a wind farm, a dam for hydroelectricity, or a shale gas development - will involve a mix of impacts and benefits for communities. For many years, the law has mediated impacts on communities and provided for the distribution of financial benefits. Now, there is growing awareness of the need to consider not only a wider range of costs and benefits for communities from energy and resource projects, but also the effects on communities at multiple scales and in complex ways. Sharing the costs and benefits of natural resource activity has now become a legal requirement for energy and resource projects operating in many jurisdictions, particularly in developing countries. This book uses cases studies from across the globe to examine the emergence of such legal measures, their advantages and disadvantages, and the improvements that may be feasible in the legal frameworks used to distribute the costs and benefits of energy and resources activity. the book has three parts: Part I considers general legal and conceptual frameworks; Part II addresses the mechanisms available to distribute costs and benefits; and Part III considers the role of public engagement and participation in the sharing of the costs and benefits from energy and resource projects"--Jacket
Innovation in energy law and technology : dynamic solutions for energy transitions
by
Donald N Zillman
( )
10 editions published in
2018
in
English
and held by 245 WorldCat member libraries worldwide
As energy innovation becomes imperative for the environment and energy security, the law must be fleet-footed to evolve in an unwieldy area of policy. This much-needed text assembles experts to analyse the most recent developments, and to postulate how human rights, sustainable development, and the eradication of energy poverty could be achieved
Energy justice and energy law
by
I. del Guayo
( )
5 editions published in
2020
in
English
and held by 196 WorldCat member libraries worldwide
Energy justice has emerged over the last decade as a matter of vital concern in energy law, which can be seen in the attention directed to energy poverty, and the United Nations Sustainable Development Goals. There are energy justice concerns in areas of law as diverse as human rights, consumer protection, international law and trade, and in many forms of regional and national energy law and regulation. This edited collection explores in detail at four kinds of energy justice. The first, distributive justice, relates to the equitable distribution of the benefits and burdens of energy activities, which is challenged by the existence of people suffering from energy poverty. Secondly, procedural (or participation) justice consists of the right of all communities to participate in decision-making regarding energy projects and policies that affect them. This dimension of energy justice often includes procedural rights to information and access to courts. Under the concept of reparation (or restorative) justice, the book looks at even-handed enforcement of energy statutes and regulations, as well as access to remedies when legal rights are violated. Finally, the collection addresses social justice, with the recognition that energy injustice cannot be separated from other social ills, such as poverty and subordination based on race, gender, or indigeneity. These issues feed into a wider conversation about how we achieve a 'just' energy transition, as the world confronts the urgent challenges of climate change
The impact of climate change mitigation on indigenous and forest communities : international, national and local law perspectives on REDD+
by
Maureen Tehan
( )
6 editions published between
2017
and 2018 in
English
and held by 193 WorldCat member libraries worldwide
"The international legal framework for valuing the carbon stored in forests, known as 'Reducing Emissions from Deforestation and Forest Degradation' (REDD+), will have a major impact on indigenous peoples and forest communities. The REDD+ regime contains many assumptions about the identity, tenure and rights of indigenous and local communities who inhabit, use or claim rights to forested lands. The authors bring together expert analysis of public international law, climate change treaties, property law, human rights and indigenous customary land tenure to provide a systemic account of the laws governing forest carbon sequestration and their interaction. Their work covers recent developments in climate change law, including the Agreement from the Conference of the Parties in Paris that came into force in 2016. The Impact of Climate Change Mitigation on Indigenous and Forest Communities is a rich and much-needed new contribution to contemporary understanding of this topic"
Australian climate law in global context
by
Alexander Zahar
( Book )
10 editions published between
2012
and 2013 in
English
and held by 175 WorldCat member libraries worldwide
Comprehensive guide to the nature and scope of current climate change law in Australia and internationally. Zahar is at Macquarie Uni, Peel and Godden are at Uni of Melbourne
Environmental law : scientific, policy and regulatory dimensions
by
Lee Godden
( Book )
5 editions published between
2009
and 2019 in
English
and held by 125 WorldCat member libraries worldwide
Environmental law equips students with the tools to understand environmental law in Australia. The text introduces the framework and fundamental concepts of environmental law, whilst challenging the reader to think broadly and deeply about the inter-connected issues associated with this area of law."--Publisher description
A guide to overseas precedents of relevance to native title
by
Shaunnagh Dorsett
( Book )
1 edition published in
1998
in
English
and held by 80 WorldCat member libraries worldwide
Outlines relevant case law from the United States, Canada and New Zealand and its applicability in the Australian legal system in relation to recognition of Aboriginal title; evolution of native title rights; offshore rights and rights to water; extinguishment and regulation of native title; fiduciary duty; compensation
more
fewer
Audience Level
0

1
General
Special
Audience level: 0.62 (from 0.51 for Energy jus ... to 1.00 for Comparativ ...)
Related Identities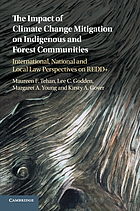 Covers
Alternative Names
Godden, Lee C.

Godden, Lee C., 1958-

Languages