Elsea, Jennifer
Most widely held works by Jennifer Elsea
Security in Iraq
by
James L Jones
( )
7 editions published between
2009
and 2010 in
English
and held by 940 WorldCat member libraries worldwide
Terrorism and the law of war
by
Jennifer Elsea
( )
2 editions published in
2008
in
English
and held by 689 WorldCat member libraries worldwide
International Criminal Court : overview and selected legal issues
by
Jennifer Elsea
( )
13 editions published between
2002
and 2006 in
English
and held by 332 WorldCat member libraries worldwide
On April 11, 2002, the Rome Statute of the International Criminal Court received its sixtieth ratification, meaning it will come into effect July 1, 2002, establishing the first global permanent international court with jurisdiction to prosecute individuals for [beta]the most serious crimes of concern to the international community.[gamma] The United Nations, many human rights organizations, and most democratic nations have expressed support for the new court. The Bush Administration firmly opposes it and has formally renounced the U.S. obligations under the treaty. At the same time, however, the Administration has stressed that the United States shares the goal of the ICC[alpha]s supporters ₁ promotion of the rule of law ₁ and does not intend to take any action to undermine the ICC. The primary objection given by the United States in opposition to the treaty is the ICC[alpha]s possible assertion of jurisdiction over U.S. soldiers charged with [beta]war crimes[gamma] resulting from legitimate uses of force. The main issue faced by the current Congress is whether to adopt a policy aimed at preventing the ICC from becoming effective or whether to continue contributing to the development of the ICC in order to improve it. This report provides an historical background of the negotiations for the Rome Statute, outlines the structure of the ICC as contained in the final Statute, and describes the jurisdiction of the ICC. The report identifies the specific crimes enumerated in the Rome Statute as supplemented by the draft elements of crime. A discussion of procedural safeguards follows, including reference to the draft procedural rules. The report then discusses the implications for the United States as a non-ratifying country when the ICC comes into being, and outlines some legislation enacted and proposed to regulate U.S. relations with the ICC, including versions of the American Servicemembers[alpha] Protection Act (ASPA) contained in H.R. 1646 and H.R. 4775, the American Servicemember and Citizen Protection Act, H.R. 4169, and the American Citizens[alpha] Protection and War Criminal Prosecution Act of 2001, S. 1296/H.R. 2699
Treatment of battlefield detainees in the war on terrorism
by
Jennifer Elsea
( Book )
28 editions published between
2002
and 2007 in
English
and held by 264 WorldCat member libraries worldwide
In June 2004, the U.S. Supreme Court ruled in Rasul v. Bush that U.S. courts have jurisdiction to hear challenges on behalf of persons detained at the U.S. Naval Station in Guantanamo Bay, Cuba, in connection with the war against terrorism. The Court overturned a ruling that no U.S. court has jurisdiction to hear petitions for "habeas corpus" on behalf of the detainees because they are aliens detained abroad, but left questions involving prisoners' rights and status unanswered. The 9/11 Commission recommended a common coalition approach to such detention. Congress enacted the Detainee Treatment Act of 2005 to establish standards for interrogation and to deny detainees access to federal courts to file "habeas" petitions (S. Amdt. 2524 to S. 1042, "Graham-Levin Amendment") but allow limited appeals of status determinations and final decisions of military commissions. The Bush Administration earlier deemed all of the detainees to be "unlawful combatants," who may, according to Administration officials, be held indefinitely without trial or even if they are acquitted by a military tribunal. Fifteen of the detainees have been designated as subject to the President's Military Order of November 13, 2001, making them eligible for trial by military commission. In answer to the Rasul decision, the Pentagon instituted Combatant Status Review Tribunals to provide a forum for detainees to challenge their status as "enemy combatants." The Pentagon had earlier announced a plan for annual reviews to determine whether detainees may be released without endangering national security. This report provides an overview of the law of war and the historical treatment of wartime detainees, in particular the U.S. practice; describes how the detainees' status might affect their rights and treatment; and summarizes activity of the 108th and 109th Congresses related to detention in connection with the war against terrorism (H.R. 3038, S. 12, H.R. 2863, S. 1042, H.R. 3003)
Detention of American citizens as enemy combatants
by
Jennifer Elsea
( Book )
15 editions published between
2003
and 2008 in
English
and held by 160 WorldCat member libraries worldwide
The Supreme Court in 2004 issued three decisions that related to the detention of "enemy combatants," including two that deal with U.S. citizens in military custody on American soil. In Hamdi v. Rumsfeld, a plurality held that a U.S. citizen allegedly captured during combat in Afghanistan and incarcerated at a Navy brig in South Carolina is entitled to notice and an opportunity to be heard by a neutral decision-maker regarding the government's reasons for detaining him. The Court in Rumsfeld v. Padilla overturned a lower court's grant of habeas corpus to another U.S. citizen in military custody in South Carolina on jurisdictional grounds. The decisions affirm the President's powers to detain "enemy combatants," including those who are U.S. citizens, as part of the necessary force authorized by Congress after the terrorist attacks of September 11, 2001. However the Court appears to have limited the scope of individuals who may be treated as enemy combatants pursuant to that authority, and clarified that such detainees have some due process rights under the U.S. Constitution. This report analyzes the authority to detain American citizens who are suspected of being members, agents, or associates of Al Qaeda, the Taliban and possibly other organizations as "enemy combatants."
Suspected terrorists and what to do with them
by
Jennifer Elsea
( Book )
5 editions published in
2006
in
English
and held by 119 WorldCat member libraries worldwide
Aims to identify some of the legal and practical implications of treating the terrorist acts as war crimes and of applying the law of war rather than criminal statutes to prosecute the alleged perpetrators. This book also describes the procedures used by the World War II military tribunal to try the eight Germans
Enemy combatant detainees habeas corpus challenges in federal court
by
Jennifer Elsea
( Book )
21 editions published between
2006
and 2010 in
English
and held by 64 WorldCat member libraries worldwide
After the U.S. Supreme Court held that U.S. courts have jurisdiction pursuant to 28 U.S.C. section 2241 to hear legal challenges on behalf of persons detained at the U.S. Naval Station in Guantanamo Bay, Cuba, in connection with the war against terrorism (Rasul v. Bush), the Pentagon established administrative hearings, called "Combatant Status Review Tribunals" (CSRTs), to allow the detainees to contest their status as enemy combatants, and informed them of their right to pursue relief in federal court by seeking a writ of habeas corpus. Lawyers subsequently filed dozens of petitions on behalf of the detainees in the District Court for the District of Columbia, where district court judges reached inconsistent conclusions as to whether the detainees have any enforceable rights to challenge their treatment and detention
more
fewer
Audience Level
0

1
Kids
General
Special
Audience level: 0.51 (from 0.35 for Terrorism ... to 0.94 for Proposed c ...)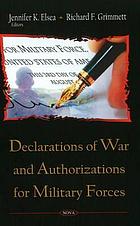 Alternative Names
Elsea, Jennifer

Elsea, Jennifer K.

Languages
Covers