Gardner, John 1965-
Most widely held works about John Gardner
Most widely held works by John Gardner
Action and value in criminal law
( Book )
18 editions published between
1993
and 1996 in
English
and held by 413 WorldCat member libraries worldwide
"In this challenging collection of new essays, leading philosophers and criminal lawyers from the United States, the United Kingdom, and Canada break with the tradition of treating the philosophical foundations of criminal law as an adjunct to the study of punishment. Focusing clearly on the central issues of moral luck, mistake, and mental illness, this volume aims to reorient the study of criminal law. In the process of retrieving valuable material from traditional law classifications, the contributors break down false associations, reveal hidden truths, and establish new patterns of thought. Their always illuminating and sometimes startling conclusions makes this essential reading for all those interested in the philosophy of criminal law."--Publisher's information
Offences and defences : selected essays in the philosophy of criminal law
by
John Gardner
( Book )
22 editions published between
2007
and 2011 in
English
and held by 385 WorldCat member libraries worldwide
This selection of John Gardner's influential pieces in criminal law theory tackles persistent, troublesome questions including : Which wrongs should be crimes and why? Should crimes ever be excused, and if so on what basis? What are the conditions of criminal responsibility, and how do they relate to conditions of moral responsibility?
Law as a leap of faith : essays on law in general
by
John Gardner
( Book )
21 editions published between
2012
and 2014 in
English
and held by 353 WorldCat member libraries worldwide
"How do laws resemble rules of games, moral rules, personal rules, rules found in religious teachings, school rules, and so on? Are laws rules at all? Are they all made by human beings? And if so how should we go about interpreting them? How are they organized into systems, and what does it mean for these systems to have 'constitutions'? Should everyone want to live under a system of law? Is there a special kind of 'legal justice'? Does it consist simply in applying the law of the system? And how does it relate to the ideal of 'the rule of law'? These and other classic questions in the philosophy of law form the subject-matter of Law as a Leap of Faith. In this book John Gardner collects, revisits, and supplements fifteen years of celebrated writings on general questions about law and legal systems - writings in which he attempts, without loss of philosophical finesse or insight, to cut through some of the technicalities with which the subject has become encrusted in the late twentieth century. Taking his agenda broadly from H.L.A. Hart's The Concept of Law (1961), Gardner shows how the key ideas in that work live on, and how they have been and can still be improved in modest ways to meet important criticisms - in some cases by concession, in some cases by circumvention, and in some cases by restatement. In the process Gardner engages with key ideas of other modern giants of the subject including Kelsen, Holmes, Raz, and Dworkin. Most importantly he presents the main elements of his own unique and refreshingly direct way of thinking about law, brought together in one place for the first time"--Provided by publisher
Evaluation and legal theory
by
Julie Dickson
( Book )
7 editions published in
2001
in
English
and held by 255 WorldCat member libraries worldwide
"If Raz and Dworkin disagree over how law should be characterised, how are we, their jurisprudential public, supposed to go about adjudicating between the rival theories which they offer us? To what considerations would those theorists themselves appeal in order to convince us that their accounts of law are accurate and successful? Moreover, what is it that makes an account of law successful?" "Evaluation and Legal Theory tackles methodological or meta-theoretical issues such as these, and does so via attempting to answer the question: to what extent, and in what sense, must a legal theorist make value judgements about his data in order to construct a successful theory of law?" "Dispelling the obfuscatory myth that legal positivism seeks a 'value-free' account of law. The author attempts to explain and defend Joseph Raz's position that evaluation is essential to successful legal theory, whilst rejecting John Finnis and Ronald Dworkin's contentions that the legal theorist must morally evaluate and morally justify the law in order to properly explain its nature. The book does not claim to solve the many mysteries of meta-legal theory but does seek to contribute to and engender rigorous and focused debate on this topic."--BOOK JACKET
Relating to responsibility : essays for Tony Honoré on his eightieth birthday
by
Peter Cane
( Book )
13 editions published in
2001
in
English
and held by 249 WorldCat member libraries worldwide
A collection of eight essays presented at two workshops, one in Canberra in November 1999, and the other in New York City in March 2000, that are reactions to Tony Honoré's Responsibility and fault. A ninth essay by Tony Honoré is included in which he replies to the criticisms
Law and aesthetics
by
Adam Gearey
( Book )
7 editions published in
2001
in
English
and held by 226 WorldCat member libraries worldwide
Law and Aesthetics draws on the work of poets as well as philosophers. Taking as its starting point Shelleys assertion that poets are unacknowledged legislators, the book suggests that there is a way of thinking that, as yet, has not been taken up by those who make use of literary aesthetics to understand law. The book tracks this aesthetic thinking through the failures of critical legal studies and stages an encounter with psychoanalysis, before suggesting that an aesthetics of law can be exhumed from Nietzsches work. The aesthetic is a call to the creative: fashion new law. A review of contemporary legal theory that makes use of aesthetic perspectives suggests that dissident and radical Nietzschean energies continue to animate legal thought. In the final chapter, an aesthetics of law is shown to make for an interruption of legal categories, and the generation of new legal relationships. The book concludes with a further meditation on Shelleys poetry, and a call to continue in the spirit of aesthetic reinvention
From personal life to private law
by
John Gardner
( )
10 editions published in
2018
in
English
and held by 188 WorldCat member libraries worldwide
Mounting a lawsuit against someone who has wronged you is a prospect no less fearful than being on the receiving end of such a lawsuit. Litigation in the courts has a reputation for being a byzantine process far removed from ordinary life, often failing to address people's real grievances while adding to their pain. Yes, there is money to be had if you win. But beyond that, what is it all in aid of? In this book John Gardner argues that, in spite of their legal intricacy, many of the questions that perennially occupy the courts in civil cases are actually timeless puzzles about the human condition. The architecture of the law of torts and the law of contract turns out to track the contours of personal life much more closely than you might expect. Using a wide range of examples from literature and life as well as law, Gardner explores big questions about our relationships to our own pasts and our own futures as well as to other people. What are friends for? Why does it matter how your actions turn out? What is the good of saying sorry? Why regret your mistakes? How can anyone be compensated for an irreversible loss? Why would you want to hold onto the life you already have? And what does any of this have to do with all those protracted legal disputes about damaged cars, ruined holidays, and leaky roofs?--
Kelsen revisited : new essays on the pure theory of law
by
Luís Duarte d'Almeida
( Book )
13 editions published between
2013
and 2014 in
English
and held by 187 WorldCat member libraries worldwide
Forty years after his death, Hans Kelsen (1881-1973) remains one of the most discussed and influential legal philosophers of our time. This collection of new essays takes Kelsen's Pure Theory of Law as a stimulus, aiming to move forward the debate on several central issues in contemporary jurisprudence. The essays in Part I address legal validity, the normativity of law, and Kelsen's famous but puzzling idea of a legal system's 'basic norm.' Part II engages with the difficult issues raised by the social realities of law and the actual practices of legal officials. Part III focuses on conceptual features of legal systems and the logical structure of legal norms. All of the book's contributors are internationally renowned scholars, including Uta Bindreiter, Jes Bjarup, Pierluigi Chiassoni, Eugenio Bulygin, Riccardo Guastini, Pablo E. Navarro, Stanley L. Paulson, Bert van Roermund, and Richard Tur
Oxford studies in philosophy of law
by
Leslie Green
( )
7 editions published in
2018
in
English
and
Undetermined
and held by 115 WorldCat member libraries worldwide
Présentation de l'éditeur : "Oxford Studies in Philosophy of Law is a forum for some of the best new philosophical work on law, by both senior and junior scholars from around the world. The essays range widely over issues in general jurisprudence (the nature of law, adjudication, and legal reasoning), the philosophical foundations of specific areas of law (from criminal law to evidence to international law), the history of legal philosophy, and related philosophical topics that illuminate the problems of legal theory. OSPL will be essential reading for philosophers, academic lawyers, political scientists, and historians of law who wish to keep up with the latest developments in this flourishing field."
more
fewer
Audience Level
0

1
Kids
General
Special
Audience level: 0.66 (from 0.24 for Le morte D ... to 0.94 for Discrimina ...)
Related Identities
Associated Subjects
Accountants--Malpractice
Appellate procedure
Arthur,--King
Arthurian romances
Canada
Canada.--Immigration and Refugee Board
Concept of law (Hart, H.L.A.)
Contracts--Philosophy
Corporation law
Criminal law
Criminal law--Philosophy
Criminal liability
Emigration and immigration law
Ethics
Examinations
Great Britain
Honoré, Tony,
Jurisprudence
Justification (Law)
Kelsen, Hans,
Kings and rulers in literature
Knights and knighthood in literature
Law (Philosophical concept)
Law and aesthetics
Law and ethics
Law--Methodology
Law--Moral and ethical aspects
Law--Philosophy
Liability (Law)
Morte d'Arthur (Malory, Thomas, Sir)
Normativity (Ethics)
Punishment
Punishment--Philosophy
Reine Rechtslehre (Kelsen, Hans)
Responsibility
Risk
Romances, English
Sentences (Criminal procedure)
Social responsibility of business--Law and legislation
Strict liability
Torts
Torts--Philosophy
Values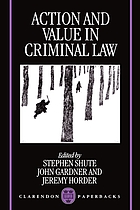 Covers
Alternative Names
Gardner, John

Gardner, John 1965-

Gardner, John B.

Gardner John B. 1965-....

Gardner, John (John B.)

Gardner, John (John B.), 1965-

John Gardner britischer Rechtsphilosoph

John Gardner Brits jurist

Τζον Γκάρντνερ

Джон Гарднер

جان گاردنر

جون غاردنر

Languages