United States Department of Homeland Security
Most widely held works about United States
more
fewer
Most widely held works by United States
Breaching the fortress wall : understanding terrorist efforts to overcome defensive technologies
by
Brian A Jackson
( )
6 editions published in
2007
in
English
and held by 1,965 WorldCat member libraries worldwide
Technology systems play a key role within a larger, integrated strategy to target groups' efforts and protect the public from the threat of terrorist violence. This study draws on relevant data from the history of a variety of terrorist conflicts to understand terrorists' counter-technology efforts. Fully exploring adversaries' counter-technology behaviors can help make the best choices to protect from the nation from the threat of terrorism
Exploring terrorist targeting preferences
by
Martin C Libicki
( )
3 editions published in
2007
in
English
and held by 1,927 WorldCat member libraries worldwide
Governments spend billions to protect against terrorism. Might it help to understand what al Qaeda would achieve with each specific attack? This book examines various hypotheses of terrorist targeting: is it (1) to coerce, (2) to damage economies, (3) to rally the faithful, or (4) a decision left to affiliates? This book analyzes past attacks, post hoc justifications, and expert opinion to weigh each hypothesis
National response plan
by
United States
( )
6 editions published in
2004
in
English
and held by 1,082 WorldCat member libraries worldwide
"The NRP will be updated periodically as required to incorporate new Presidential directives, legislative changes, and procedural changes based on lessons learned from exercises and actual events"--P. 59
Civics and citizenship toolkit : a collection of educational resources for immigrants
by
U.S. Citizenship and Immigration Services
( Visual )
2 editions published in
2007
in
English
and held by 854 WorldCat member libraries worldwide
Contains a comprehensive collection of official U.S. government publications designed to help new permanent residents prepare for the naturalization process. Includes: Welcome to the United States; Bienvenidos a los Estados Unidos; Civics Flash Cards; Learn About the United States, Quick Civics Lessons; the Citizen's Almanac; the Declaration of Independence and the Constitution pocket edition; A Promise of Freedom, Introduction to U.S. History (DVD); and Library Services for Immigrants
BioWatch PCR assays : building confidence, ensuring reliability / Committee on PCR Standards for the BioWatch Program, Board on Life Sciences, Division on Earth and Life Studies, Board on Health Sciences Policy, Institute of Medicine and National Research Council of the National Academies
by
National Research Council (U.S.)
( )
3 editions published in
2015
in
English
and held by 772 WorldCat member libraries worldwide
"BioWatch is an air monitoring system deployed in jurisdictions around the country with the goal of detecting the presence of certain high risk pathogenic microorganisms. It relies on a network of federal and nonfederal collaborative relationships to be successful, and is one part of a larger array of disease surveillance, intelligence-gathering, and biomonitoring activities in support of public safety and health. The assays used in the BioWatch system to detect the presence of pathogens in collected samples rely on the technique of polymerase chain reaction (PCR) to sensitively and specifically amplify target nucleic acid sequences. BioWatch PCR Assays evaluates and provides guidance on appropriate standards for the validation and verification of PCR tests and assays in order to ensure that adequate performance data are available to public health and other key decision makers with a sufficient confidence level to facilitate the public health response to a BioWatch Actionable Response. This report discusses principles of performance standards, reviews information from several existing guidance documents and standards that might be applicable to BioWatch, and discusses assay testing efforts that have occurred or are ongoing. BioWatch PCR Assays provides recommendations on general principles and approaches for a performance standard and validation framework to meet BioWatch's mission. The report also considers how developments in technology, particularly in multiplex PCR and next-generation sequencing, can contribute to the ability of the BioWatch program to meet current and future challenges. This report has been determined to contain information exempt from disclosure under 5 U.S.C. 552(b). Section 15 of the Federal Advisory Committee Act provides that the National Academies shall make its final report available to the public unless the National Academies determines that the report would disclose matters described in one or more of the exemption provisions under the Freedom of Information Act (FOIA). In such case, the National Academies "shall make public an abbreviated version of the report that does not disclose those matters." This unrestricted, abbreviated version of the report represents, in so far as possible, the committee's findings, recommendations, and other substantive material without disclosing materials described in 5 U.S.C. 552(b)"--Publisher's description
Notice of change to the National Response Plan
( Book )
3 editions published in
2006
in
English
and held by 579 WorldCat member libraries worldwide
Update to the National response plan, incorporating new Presidential directives, legislative changes, and procedural changes based on lessons learned from exercises and real world incidents
more
fewer
Audience Level
0

1
Kids
General
Special
Audience level: 0.16 (from 0.01 for Maintainin ... to 0.51 for Multi-agen ...)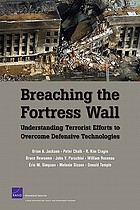 Covers
Alternative Names
United States. Office of Homeland Security
ABD Kamu Güvenlik Teşkilatı

Ameerika Ühendriikide Sisejulgeolekuministeerium

Ameriketako Estatu Batuetako Segurtasun Nazionalerako Saila

ASV Tēvzemes drošības departaments

Bộ An ninh Nội địa Hoa Kỳ

D.H.S.

Departament Bezpieczeństwa Krajowego Stanów Zjednoczonych

Departamento de Segurança Interna dos Estados Unidos

Departamento de Seguridad Nacional de los Estados Unidos ministerio estadounidense

Departemen Keamanan Dalam Negeri Amerika Serikat

département de la Sécurité intérieure des États-Unis département de l'administration fédérale américaine chargé de la sécurité nationale

Department of Homeland Security

Department of Homeland Security United States

Dept. of Homeland Security.

Det amerikanske sikkerhetsdepartementet

DHS.

Dipartimento della Sicurezza Interna degli Stati Uniti d'America dipartimento del Gabinetto del Governo federale

Homeland Security Dept.

Jabatan Keselamatan Tanah Air Amerika Syarikat

Jungtinių Valstijų nacionalinio saugumo departamentas

Ministarstvo domovinske sigurnosti Sjedinjenih Američkih Država

Ministerium für Innere Sicherheit der Vereinigten Staaten

Ministerium für Innere Sicherheit der Vereinigten Staaten US-Ministerium

Ministerstvo vnitřní bezpečnosti Spojených států amerických

National Biosurveillance Integration Center

Office of the Federal Coordinator for Gulf Coast Rebuilding

Spojené státy americké Department of Homeland Security

Spojené státy americké. Dept. of Homeland Security

United States Departament nat︠s︡ionalʹnoĭ bezopasnosti

United States Department of Homeland Security

United States Department of Homeland Security een Amerikaans ministerie dat in 2003 werd ingesteld door de Amerikaanse President George W. Bush

United States Dept. of Homeland Security

United States. Homeland Security, Department of

United States Homeland Security, Dept. of

US. Department of Homeland Security

USA:s inrikessäkerhetsdepartement

Υπουργείο Εσωτερικής Ασφάλειας των ΗΠΑ

АҚШ ішкі кауіпсіздік департаменті

Департамент внутрішньої безпеки США

Министерство внутренней безопасности

Министерство за внатрешна безбедност на САД

Министерство на вътрешната сигурност на САЩ

היימלאנד זיכערהייט

המחלקה לביטחון המולדת של ארצות הברית

وزارة الأمن الداخلي في الولايات المتحدة

وزارت امنیت داخلی ایالات متحده آمریکا

กระทรวงความมั่นคงแห่งมาตุภูมิ

미국 국토안보부

アメリカ合衆国国土安全保障省 アメリカ合衆国連邦政府の行政機関

美國國土安全部

Languages