Naudé, Wim A.
Most widely held works by Wim A Naudé
Vulnerability in developing countries
by
Wim A Naudé
( Book )
15 editions published in
2009
in
English
and
Undetermined
and held by 197 WorldCat member libraries worldwide
More than a billion people live in extreme poverty, and many face the possibility of never escaping from it. Millions more may be at risk of falling into poverty. These risks are exacerbated by natural hazards, ill-health, and macroeconomic volatility. This massive, widespread vulnerability to poverty has become one of the defining challenges of our times. To effectively combat it, we need to better understand vulnerability, particularly in developing countries where people do not have the same bulwarks against risks as those in more developed nations. Through essays from leading scholars, this volume focuses on critical dimensions of vulnerability in developing countries, such as its relationship with poverty, and vulnerability arising from poor health and external shocks. Reflecting the multidimensionality of vulnerability, it showcases a variety of methodologies that offer new perspectives on the notion of vulnerability in economic development. Case studies range from some of the largest countries in the world, such as China and India, to countries in transition, small island states, and failing states. This book is a timely reminder of what remains to be done to reduce the risk of poverty
Entrepreneurship and economic development
by
Wim A Naudé
( Book )
22 editions published between
2010
and 2013 in
English
and held by 187 WorldCat member libraries worldwide
This paper provides an overview of the state of the art of the intersection of development and entrepreneurship. Given the neglect of entrepreneurship by development scholars it deals with (i) recent theoretical insights from the intersection of entrepreneurship and development studies; (ii) the empirical evidence on that relationship between entrepreneurship and development; and (iii) fresh insights for entrepreneurship policy for development that emerges from recent advanced in this area, including female entrepreneurship in developing countries
Entrepreneurship, innovation, and economic development : a study prepared for the World Institute for Development Economics Research of the United Nations University (UNU-WIDER) and Maastricht Economic and Social Research Institute on Innovation and Technology (UNU-MERIT)
( Book )
15 editions published between
2011
and 2013 in
English
and held by 184 WorldCat member libraries worldwide
"Entrepreneurship and innovation are two of the most pervasive concepts of our times, yet there are still gaps in our understanding of the interactions between entrepreneurship and innovation, particularly in developing countries. This book is an attempt to fill this gap. It focuses on the entrepreneurship-innovation-development nexus, drawing heavily on empirical evidence from developing countries. Cross-country and individual country experiences cover nations as diverse as Ethiopia, India, Turkey, Vietnam, and also examine lessons from advanced economies such as Finland. Three sets of questions are addressed. What is the impact of entrepreneurship and innovation on growth and development? What determines the innovative performance of entrepreneurs in developing countries? What role does the institutional environment play in shaping the extent and impact of innovative activities? A key message is that entrepreneurial innovation, whether through small firms, large national firms, or multinational firms, is often vibrant in developing countries, but does not always realise its full potential. This is due to institutional constraints, the absence of the appropriate mix of different types of small and large and domestic and foreign firms, and insufficiently developed firm capabilities. The contributions provide a better understanding of the determinants and impacts of innovation in developing countries and the policies and institutions that support or hinder innovation."--Publisher's information
Multinational enterprises, foreign direct investment and growth in Africa : South African perspectives
by
Bernard Michael Gilroy
( Book )
15 editions published in
2005
in
English
and
Undetermined
and held by 153 WorldCat member libraries worldwide
How can Africa, the world's most lagging region, benefit from globalisation and achieve sustained economic growth? Africa needs greater investment by Multinational Enterprises (MNEs) to improve competitiveness and generate more growth through positive spill-over effects. Despite the fact that Africa's returns on investment averaged 29 per cent since 1990, Africa has gained merely 1 per cent of global Foreign Direct Investment (FDI) flows. The challenge for African countries is how to be a more desirable destination for FDI. The study integrates three currents of economic research, namely from the literature on (endogenous) economic growth, convergence and regional integration, the explanations for Africa's poor growth and the growing understanding of the role of MNEs in a global economy. The empirical side of the book is based on an econometric study of the determinants of FDI in Africa as well as a detailed firm-level survey conducted in 2000
Fragile states : causes, costs, and responses : a study prepared by the World Institute for Development Economics Research of the United Nations University (UNU-WIDER)
( Book )
5 editions published in
2011
in
English
and held by 126 WorldCat member libraries worldwide
"Overcoming state fragility is one of the most important international development objectives of the 21st century. Many fragile states have turned into failed states, where millions of people are caught in deprivation and seemingly hopeless conditions. Fragile states lack the authority, legitimacy, and capacity that a modern state needs to advance the development of its peoples, and present deep challenges for the design and implementation of development policy. For instance, how is aid to be designed and delivered in a way that will help people in fragile states if their governments lack capacity to absorb and use aid? And what can be done about adverse side-effects of fragile states on their neighbours and the global community, such as heightened insecurity, rising out-migration, displaced populations, and the destruction of natural resources? This book documents the far reaching global repercussions of state fragility and provides a timely contribution to the international discourse on three dimensions of fragile states: their causes, costs, and the responses required. It will appeal to scholars, policymakers, and donors who are concerned about conflict and development. Its aim is to contribute to our understanding of how strong and accountable states can be fostered-states where government and civil society progressively advance human wellbeing, underpin households' resilience in the face of shocks, and form effective partnerships to maximize the benefits of development assistance."--Publisher's website
Pathways to industrialization in the twenty-first century : new challenges and emerging paradigms
by
Adam Szirmai
( Book )
9 editions published between
2013
and 2017 in
English
and held by 96 WorldCat member libraries worldwide
This text deals with the importance of industrialization and the development of manufacturing in the economic development process. It focuses specifically on new challenges such as global value chains, the rise of China, climate change, and the role of state versus private sector entrepreneurs in forging appropriate industrial policies
Fragile states causes, costs, and responses
by
Wim A Naudé
( Book )
15 editions published in
2011
in
English
and held by 75 WorldCat member libraries worldwide
Fragile states are often mired in civil conflict. This volume focuses on the relationship between conflict and state stability and illustrates the causes and effects of fragile states on neighbouring countries and the global community
Structural change and industrial development in the BRICS
by Wim Naud&eacute
( Book )
14 editions published in
2015
in
English
and held by 72 WorldCat member libraries worldwide
This book provides a unique and timely analysis of the role of structural change in the economic development of Brazil, Russia, India, China, and South Africa (BRICS) with a consideration for the role of industry, and in particular manufacturing. The emergence of BRICS reflects an ongoing change in the international economic order. BRICS now account for very substantial part of global GDP, global manufactured value added and global manufactured exports. The book examines their economic experiences and structural change in BRICS over the past three decades, identifying both differences and commonalities, and deriving lessons for other industrializing countries. Section I contains comparative studies focusing on the commonalities and differences of the experiences of BRICS. Section II includes six country studies providing a more detailed analysis of the long-run experiences of each of the countries. Section III consists of a set of seven thematic studies focusing on specific topics such as global value chains, the role of transnational corporations in the food chain, the role of foreign versus domestic investment, the role of domestic versus foreign demand in economic growth the diffusion of environmental energy technology and the similarities, and the differences in industrial policies pursued in the five countries. The book contains a summary chapter that provides an integrated perspective of the various contributions from the point of view of poverty reduction and development. It asks, whether the patterns of structural change and industrial development that BRICS experienced, had an impact on poverty outcomes, and if so, what where the channels and the consequences?--
Measuring vulnerability in developing countries : new analytical approaches
by
Wim A Naudé
( Book )
6 editions published between
2012
and 2014 in
English
and held by 55 WorldCat member libraries worldwide
"In all of the major challenges facing the world currently, whether it be climate change, terrorism and conflict, or urbanization and demographic change, no progress is possible without the alleviation of poverty. New approaches in development economics have in recent years started from the premise that we cannot successfully deal with poverty unless we also deal with vulnerability - but not only vulnerability to income poverty but also vulnerability to various others hazards - such as climate, conflict, macroeconomic shocks and natural disasters. This book provide insights into new approaches in conceptualising and measuring vulnerability. It includes chapters dealing with advanced issues such as the compilation of economic vulnerability indices (EVIs) on a macro-level, of conceptualizing and measuring local vulnerability across regions in a country, and of measuring the flip-side of vulnerability, namely resilience. The book also explores the sensitivities of the various measurements of vulnerability to vulnerability lines, poverty lines, and permanent income, with consideration to some of the most vulnerable groups in developing countries. Overall, the contributions in the book consolidate new approaches as far as the concept and measurement of vulnerability on different levels and outcomes are concerned, and note directions for future research"--Publisher description
Understanding small-island developing states : fragility and external shocks
by
Amelia Uliafnova Santos Paulino
( Book )
5 editions published between
2011
and 2016 in
English
and held by 38 WorldCat member libraries worldwide
This text analyses the development prospects of small island developing states in various regions of the world, exploring the sources and consequences of economic, social and political vulnerability
more
fewer
Audience Level
0

1
Kids
General
Special
Audience level: 0.51 (from 0.03 for Vulnerabil ... to 0.87 for Multinatio ...)
Related Identities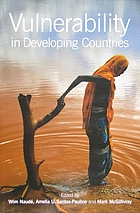 Alternative Names
Naudé, W.

Naudé, W. A.

Naudé, W. A. 1968-

Naudé, W. A. (Willem Adriaan)

Naudé, Willem

Naudé, Willem 1968-

Naudé, Willem A. 1968-

Naudé, Willem Adriaan 1968-

Naudé, Wim.

Naudé, Wim 1968-

Naudé, Wim A.

Naudé, Wim A. 1968-

Wim Naudé Economist, professor, dean director

Wim Naudé Nederlands econoom

Languages
Covers