Moran, Terence P.
Most widely held works by Terence P Moran
Language in America
by
Neil Postman
( Book )
7 editions published between
1969
and 1979 in
English
and
Undetermined
and held by 1,109 WorldCat member libraries worldwide
Selling war to America : from the Spanish American War to the global war on terror
by
Eugene Secunda
( Book )
9 editions published in
2007
in
English
and
Undetermined
and held by 503 WorldCat member libraries worldwide
Since the end of the 19th century, the relative skillfulness of the U.S. government's propaganda efforts have largely determined the American public's willingness to support the wars the United States has waged. The job of informing and persuading America to support its war efforts has become increasingly more challenging as media technologies, like the Internet and the instant global coverage of television news, reach into every American home. Selling War to America begins its examination with the U.S. government's campaign to instigate a war with Spain and ends with a review of the methods the government is using now to encourage support for the War Against Terrorism
Introduction to the history of communication : evolutions & revolutions
by
Terence P Moran
( Book )
4 editions published in
2010
in
English
and held by 188 WorldCat member libraries worldwide
"An Introduction to the History of Communication: Evolutions and Revolutions provides a comprehensive overview of how human communication has changed and is changing. Focusing on the evolutions and revolutions of six key changes in the history of communication--becoming human; creating writing; developing print; capturing the image; harnessing electricity; and exploring cybernetics--the author reveals how communication was generated, stored, and shared. This ecological approach provides a comprehensive understanding of the key variables that underlie each of these great evolutions-revolutions in human communication. Designed as an introduction for history of communication classes, the text examines the past, attempting to identify the key dynamics of change in these human, technical, semiotic, social, political, economic, and cultural structures, in order to better understand the present and prepare for possible future developments."--Jacket
Telling stories at science centers Do visitors of different cultures relate different stories
by Gerald LeBoff
( )
1 edition published in
2012
in
English
and held by 6 WorldCat member libraries worldwide
Storytelling is a foundational part of human communication. Science centers' curators create a story they wish to tell but visitors may construct their own stories as a result of their backgrounds and experiences with the exhibit. With the ever-changing demographics in the United States, the key research question of this study emerged: "Do visitors to a science exhibit create different stories as a function of their varied cultural and ethnic backgrounds?"
Television genres, realism and codes of meanings: A case study examination of "CSI" and "48 Hours Investigates"
by
Michael Grabowski
( )
1 edition published in
2006
in
English
and held by 6 WorldCat member libraries worldwide
American commercial television traditionally has maintained distinctions between fiction, narrative-based programming and non-fiction news programming. Using the theoretical frameworks of Barthes (1974) and Fiske (1987), this study examines the erosion of these distinctions by exploring the extent to which fiction and non-fiction television make use of shared narrative codes. This study takes a case-study approach by examining the police drama CSI: Crime Scene Investigation and the television newsmagazine 48 Hours Investigates. The study begins by examining the economic, political, regulatory, technological and cultural contexts in which the programs CSI and 48 Hours Investigates were produced during the 2002-2003 television season. It examines how these programs represent reality, as well as how they differ from reality, in order to better understand the function of realism in television. The study questions how these programs situate themselves as members of separate genres as well as how they also work to blur genres. It reveals how the medium of television, as it functions within a commercial environment, constrains television programming and influences a program's narrative codes regardless of its genre. The study incorporates and updates theories of realism, semiotics, cultural studies, and medium theory. It explores the implications of blurring television genres, demonstrates the usefulness of narrative codes to denaturalize television texts, and provides insights to understanding the emergence of reality television
McSorley's New York
( Visual )
3 editions published between
1984
and 1987 in
English
and held by 3 WorldCat member libraries worldwide
McSorley's Old Ale House, at 15 East 7th Street, is the oldest bar in New York City. Founded in 1854 by John McSorley, an Irish immigrant, its character and appearance has changed very little over the ensuing years. Perhaps the biggest change came in 1970 when it finally admitted women. This film is an affectionate look at the history and lore of McSorley's and its intimate links with the history of its neighborhood and that of New York City as a whole
Political advertising on television: A critical analysis of the debate in the United States between the determinist and the minimalist perspectives
by Salvatore Joseph Fallica
( )
1 edition published in
1991
in
English
and held by 2 WorldCat member libraries worldwide
Can these scholars and journalists be looking at and discussing the same phenomenon? There appears to be a need to clarify exactly what these different perspectives identify as the central problem and how each tends to examine that problem. This study proposes to conduct a critical analysis of this debate as a first step to try to clarify the bewildering array of past and present research and possibly clear the path for a fundamentally new approach to the field of political advertising on television
The Miss America Pageant: A comparative structural analysis of the pre- and post-television event
by
Armando Riverol
( )
1 edition published in
1989
in
English
and held by 2 WorldCat member libraries worldwide
The findings of this study support the assumption that television is an agent of change, though not always as predicted by theorists. To fully assess the influence of television on the structure of events in general, it is recommended that other live, televised events be probed using a similar methodology
The image of Egypt in the New York Times, 1956, 1967, 1979
by
Sonia A Guirguis
( Book )
1 edition published in
1988
in
English
and held by 2 WorldCat member libraries worldwide
This study tests the validity of the political theory of the presentation of news through a comparative analysis of the image of Egypt presented by The New York Times and U.S./Egypt government relations in three time periods: the Suez crisis of 1956, the Egyptian-Israeli War of 1967 and the Egyptian-Israeli Peace Treaty of 1979. Such testing required an examination of changes in the image of Egypt and in U.S./Egypt government relations in the three time periods, and an identification of the themes which affected U.S./Egypt government relations to see whether they were reflected in the image of Egypt
An analysis of the relationship between the Sherman Antitrust Act and the development of American network television
by Sara-Ann Bermont
( )
1 edition published in
1989
in
English
and held by 2 WorldCat member libraries worldwide
The discussion of the Options Papers by the Subcommittee on Communications presents alternatives to the present television organizational structure in order to insure a competitive marketplace within this industry sector. Proposals toward a comprehensive rewrite of the Communications Act of 1934 include restructuring the television network-affiliate relationship, program distribution services and licensing protocol. These proposals are evaluated in light of the intent of Sections 313 and 314 of the Communications Act of 1934 and the need for revisions of these sections in order to reflect the organizational structure of the broadcast television industry
more
fewer
Audience Level
0

1
Kids
General
Special
Audience level: 0.23 (from 0.03 for Selling wa ... to 0.73 for ["This wee ...)
Related Identities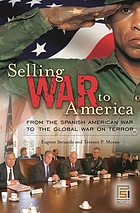 Languages
Covers