Prados, Alfred B.
Most widely held works by Alfred B Prados
Syria : U.S. relations and bilateral issues
by
Alfred B Prados
( Book )
42 editions published between
2001
and 2007 in
English
and held by 352 WorldCat member libraries worldwide
Syria, governed by President Hafiz al-Asad from 1970 until his death in June 2000, is a prominent player in the Middle East scene. Within the region, a number of border disputes, problems of resource allocation, and political rivalries have caused frequent tensions between Syria and its neighbors. In particular, the Syrian Golan Heights territory, which Israel has occupied since 1967, has been one of the most intractable issues in the Arab-Israeli dispute. An array of bilateral issues continue to affect relations between the United States and Syria: the course of Arab-Israeli talks; questions of arms proliferation; Syrian connections with terrorist activity; Syria's role in Lebanon; and Syria's opposition to the U.S. occupation in Iraq. A variety of U.S. legislative provisions and executive directives prohibit direct aid to Syria and restrict bilateral trade relations between the two countries, due largely to Syria's designation by the U.S. State Department as a sponsor of international terrorism. Syria has reportedly cooperated with the United States in investigating Osama bin Laden's Al Qaeda organization in the aftermath of the September 11 attacks but has been unwilling to sever connections with some other terrorist organizations
Jordan : U.S. relations and bilateral issues
by
Alfred B Prados
( Book )
43 editions published between
1997
and 2007 in
English
and held by 352 WorldCat member libraries worldwide
The death of King Hussein on February 7, 1999, removed a strong U.S. ally and force for stability; however, his son and successor, King Abdullah, has continued to follow the late King's moderate and pro-western policies. In recent years, Jordan has taken significant steps toward building democratic life, including a return to limited parliamentary democracy. Parliament has eased restrictions in laws affecting the press, but some remain. Several issues in U.S.-Jordanian relations are likely to figure in decisions by Congress and the Administration on future aid to and cooperation with Jordan. These include the stability of the Jordanian regime, democratic reform underway in Jordan, the role of Jordan in the Arab-Israeli peace process, Jordan s concerns over the U.S.-led campaign against Iraq in 2003, and its relations with other regional states. King Abdullah expressed Jordan's "absolute condemnation" of the September 11, 2001 terrorist attacks on the U.S. and was the first Arab head of state to visit President Bush after the attacks. Jordan sent military medical and mine clearing units to Afghanistan in December 2001 to support the U.S.-led campaign against terrorism, and a field hospital to Iraq in April 2003 during Operation Iraqi Freedom
Saudi Arabia : current issues and U.S. relations
by
Alfred B Prados
( Book )
26 editions published between
2001
and 2007 in
English
and held by 204 WorldCat member libraries worldwide
Saudi Arabia, a monarchy ruled by the Saud dynasty, enjoys special importance in much of the international community because of its unique association with the Islamic religion and its oil wealth. The United States and Saudi Arabia have longstanding economic and defense ties. A series of informal agreements, statements by successive U.S. administrations, and military deployments have demonstrated a strong U.S. security commitment to Saudi Arabia. Saudi Arabia was a key member of the allied coalition that expelled Iraqi forces from Kuwait in 1991, and it subsequently hosted U.S. aircraft enforcing the no-fly zone over southern Iraq. However, Saudi officials expressed opposition to the U.S.-led military campaign launched against Iraq in March 2003 (Operation Iraqi Freedom), although they reportedly permitted certain support operations by U.S. and British military forces. By mutual agreement, the United States withdrew virtually all its forces from Saudi Arabia at the end of August 2003. Bombing attacks against several U.S.- and foreign-operated installations in Saudi Arabia have raised some concerns about the security of U.S. citizens there and what appears to be growing anti-Americanism in some segments of the Saudi population. Since the attacks on the United States on September 11, 2001, some commentators have maintained that Saudi domestic and foreign policies have created a climate that may have contributed to terrorist acts by Islamic radicals. On June 9, 2006, the House adopted H. Amdt. 997 to H.R. 5522 (Foreign Operations Appropriations, FY2007) by 312-97 (Roll no. 244); this amendment (Section 589 of the House version of H.R. 5522) prohibits U.S. assistance to Saudi Arabia and contained no Presidential waiver provision. The FY2006 Foreign Operations Appropriations Act (P.L. 109-102) contained an identical ban but provided waiver authority to the President. This CRS report replaces CRS Issue Brief IB93113, "Saudi Arabia: Current Issues and U.S. Relations."
Iraq-U.S. confrontation
by
Alfred B Prados
( Book )
15 editions published between
2001
and 2002 in
English
and held by 174 WorldCat member libraries worldwide
Efforts by Iraq to impede U.N. weapons inspections since late 1997 and to challenge the allied-imposed no-fly zones over northern and southern Iraq have resulted in further confrontations with the United States and its allies. In early 1998, U.S.-led retaliatory strikes against Iraq were averted by an agreement negotiated by the U.N. Secretary General on February 23, under which Iraq promised immediate, unconditional, and unrestricted access by U.N. inspectors throughout Iraq. On March 3, the U.N. Security Council passed Resolution 1154, which warned Iraq of the severest consequences for violating the agreement. A decision by Iraq to ban almost all U.N. inspections on October 31, 1998, precipitated a new phase of the confrontation. The Clinton Administration decided to abort air and missile strikes planned for November 14-15 after Iraq agreed at the last minute to resume cooperation with U.N. inspections. But, following a report on December 15 by the chief weapons inspector that Iraq was withholding cooperation, the United States and Britain conducted a 4-day operation against Iraq (Operation Desert Fox) including approximately 410 missiles and 600 bombs
Yemen : civil strife
by
Alfred B Prados
( Book )
8 editions published in
1994
in
English
and held by 154 WorldCat member libraries worldwide
Lebanon
by
Alfred B Prados
( Book )
16 editions published between
2006
and 2007 in
English
and held by 77 WorldCat member libraries worldwide
The United States and Lebanon continue to enjoy good relations. Prominent current issues between the United States and Lebanon include progress toward a Lebanon-Israel peace treaty, U.S. aid to Lebanon, and Lebanon's capacity to stop Hezbollah militia attacks on Israel. The United States supports Lebanon's independence and favored the end of Israeli and Syrian occupation of parts of Lebanon. Israel withdrew from southern Lebanon on May 23, 2000, and Syria completed withdrawing its forces on April 26, 2005. Regional tensions increased in mid-2006, however, as clashes between Israel and Palestinian militants in the Gaza territory spread to Lebanon. In July, Hezbollah rocket attacks against Israel and capture of two Israeli soldiers prompted large-scale Israeli bombing of Hezbollah positions and Lebanese infrastructure. On August 11, the U.N. Security Council adopted Resolution 1701, which ended the fighting and created an expanded international peacekeeping force in Lebanon. This report replaces CRS Issue Brief IB89118, Lebanon, by Alfred B. Prados, and will be updated as significant changes occur in Lebanon or in U.S.-Lebanese relations. Other CRS reports on Lebanon include CRS Report RL33487, Syria: U.S. Relations and Bilateral Issues, by Alfred B. Prados
Iraq : divergent views on military action
by
Alfred B Prados
( Book )
8 editions published between
2002
and 2003 in
English
and held by 73 WorldCat member libraries worldwide
Officials of the Bush Administration believe military action against Iraq may be necessary to eliminate threats posed by the Iraqi regime to the U.S. and international communities. President Bush has asked Congress to pass a joint resolution giving the President authority to use force if necessary to eliminate threats posed by Saddam Hussein's Iraq. Some Members of Congress, commentators, and analysts question the Administration's rationale for such action and its feasibility. This report summarizes arguments advanced by the Administration and by critics of the Administration's position. It will be updated as the situation continues to develop. For further reading, see CRS Report RL31339, Iraq: U.S. Efforts to Change the Regime, by Kenneth Katzman
more
fewer
Audience Level
0

1
Kids
General
Special
Audience level: 0.67 (from 0.51 for Iraq : iss ... to 0.70 for Jordan : U ...)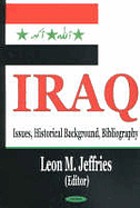 Alternative Names
Languages
Covers