Hard Eight Pictures (Firm)
Most widely held works by Hard Eight Pictures (Firm)
Artificial intelligence : A.I.
by
Steven Spielberg
( Visual )
9 editions published between
2002
and 2009 in
English
and held by 761 WorldCat member libraries worldwide
Sometimes, the difference between good and evil is only a matter of degrees. Officer Yulaw is on the trail of a diabolical mirror image of himself that has escaped from a parallel universe. Each time he kills his likeness he grows stronger and more powerful. Now, he is the only one standing in his way of becoming "the one."
Final destination
by
James Wong
( Visual )
12 editions published between
2006
and 2011 in
English
and held by 599 WorldCat member libraries worldwide
A group of seven high school graduates manages to escape from a deadly roller-coaster disaster, only to discover that their own deaths have been only temporarily avoided. Wendy spots clues of impending doom in digital photos of her soon-to-be-expiring classmates, and an ill wind follows her everywhere, suggesting the presence of a supernatural force that makes her a catalyst for deadly events, as each of her friends is dispatched in the order they were meant to die
Willard
by
Glen Morgan
( Visual )
5 editions published in
2003
in
English
and held by 491 WorldCat member libraries worldwide
Willard has been picked on and pushed around his whole life and is a twentysomething man who still lives at home with his nagging mother. He works at a shipping company for a stern, authoritarian supervisor. When Willard becomes fascinated with a hidden nest of rats living in his decrepit home, they become both his friends and his aggressors. He sics them upon anyone who crosses his path. But one rat, Ben, isn't so amenable to Willard's orders, and a horrifying test of wills begins
Final destination 3
by James Wong
( Visual )
1 edition published in
2006
in
English
and held by 224 WorldCat member libraries worldwide
A group of seven high school graduates manages to escape from a deadly roller-coaster disaster, only to discover that their own deaths have been only temporarily avoided. Wendy spots clues of impending doom in digital photos of her soon-to-be-expiring classmates, and an ill wind follows her everywhere, suggesting the presence of a supernatural force that makes her a catalyst for deadly events, as each of her friends is dispatched in the order they were meant to die
Space: above and beyond
( Visual )
1 edition published in
2005
in
English
and held by 129 WorldCat member libraries worldwide
It's the year 2063. After 150 years of deep space exploration, the people of Earth feel certain they are alone in the universe. Then word comes that two Earth outposts light-years away have been brutally attacked by an advanced alien civilization. Now the new young recruits of the United States Marine Corps Space Aviator Cavalry are heading for the front lines of space in the toughest battle the world has ever faced. Thrust into an intergalactic war beyond imagination, these untested fighter pilots suddenly find themselves waging a life-and-death struggle to protect Earth and to save mankind from total annihilation
The one
( Visual )
2 editions published in
2007
in
English
and held by 44 WorldCat member libraries worldwide
Legend of the Red Dragon: When his wife and entire village are murdered by Manchu soldiers, the warrior Kwun sets out on a mission of vengeance with his son, the only survivor
Final destination collection
( Visual )
1 edition published in
2010
in
English
and held by 16 WorldCat member libraries worldwide
The final destination: Death sets out to collect the few who evaded a deadly race track crash
Space : above and beyond
( Visual )
1 edition published in
2005
in
English
and held by 12 WorldCat member libraries worldwide
In the year 2063, after 150 years of deep space exploration, the people of Earth believe they are alone in the universe. Then word comes that two Earth outposts light-years away have been attacked by an advanced alien civilization. The young recruits of the 58th Squadron of the United States Marine Corps Space Aviator Cavalry are dispatched for the front lines of an interplanetary war where they will wage a life-or-death struggle to protect Earth and save mankind from annihilation
Action classics unleashed : the 3-movie collection
( Visual )
1 edition published in
2013
in
English
and held by 9 WorldCat member libraries worldwide
Contract killer: When a wealthy businessman is murdered and a $100 million bounty is offered on his assassin's head, former soldier Tai Fu sees it as his ticket out of poverty. With his goofy pal acting as his guide into the world of professional bounty hunting, Fu soon learns the dangers of his new profession. The result is a ferocious blend of shootouts and showdowns as Fu battles rival hit men while closing in on his elusive quarry
Space: above and beyond
( Visual )
1 edition published in
2005
in
English
and held by 7 WorldCat member libraries worldwide
It's the year 2063. After 150 years of deep space exploration, the people of Earth feel certain they are alone in the universe. Then word comes that two Earth outposts light-years away have been brutally attacked by an advanced alien civilization. Now the new young recruits of the United States Marine Corps Space Aviator Cavalry are heading for the front lines of space in the toughest battle the world has ever faced. Thrust into an intergalactic war beyond imagination, these untested fighter pilots suddenly find themselves waging a life-and-death struggle to protect Earth and to save mankind from total annihilation
more
fewer
Audience Level
0

1
Kids
General
Special
Audience level: 0.18 (from 0.10 for The one / ... to 0.85 for Black Chri ...)
Related Identities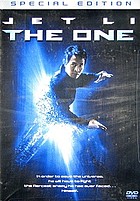 Languages
Covers