Kilmer, Beau
Most widely held works by Beau Kilmer
Reducing drug trafficking revenues and violence in Mexico : would legalizing marijuana in California help?
by
Beau Kilmer
( )
14 editions published in
2010
in
English
and held by 2,043 WorldCat member libraries worldwide
U.S. demand for illicit drugs creates markets for Mexican drug trafficking organizations (DTOs) and helps foster violence in Mexico. This paper examines how marijuana legalization in California might influence DTO revenues and the violence in Mexico. Key findings include: 1) Mexican DTOs' gross revenues from illegally exporting marijuana to wholesalers in the United States is likely less than $2 billion; 2) The claim that 60 percent of Mexican DTO gross drug export revenues come from marijuana should not be taken seriously; 3) If legalization only affects revenues from supplying marijuana to California, DTO drug export revenue losses would be very small, perhaps 2-4 percent; 4) The only way legalizing marijuana in California would significantly influence DTO revenues and the related violence is if California-produced marijuana is smuggled to other states at prices that outcompete current Mexican supplies. The extent of such smuggling will depend on a number of factors, including the response of the U.S. federal government. 5) If marijuana is smuggled from California to other states, it could undercut sales of Mexican marijuana in much of the U.S., cutting DTOs' marijuana export revenues by more than 65 percent and probably by 85 percent or more. In this scenario, the DTOs would lose approximately 20% of their total drug export revenues
The U.S. drug policy landscape : insights and opportunities for improving the view
by Rand Corporation
( )
9 editions published in
2012
in
English
and held by 1,486 WorldCat member libraries worldwide
Discussions about reducing the harms associated with drug use and antidrug policies are often politicized, infused with questionable data, and unproductive. This paper provides a nonpartisan primer that should be of interest to those who are new to the field of drug policy, as well as those who have been working in the trenches. It begins with an overview of problems and policies related to illegal drugs in the United States, including the nonmedical use of prescription drugs. It then discusses the efficacy of U.S. drug policies and programs, including long-standing issues that deserve additional attention. Next, the paper lists the major funders of research and analysis in the area and describes their priorities. By highlighting the issues that receive most of the funding, this discussion identifies where gaps remain. Comparing these needs, old and new, to the current funding patterns suggests eight opportunities to improve understanding of drug problems and drug policies in the United States: (1) sponsor young scholars and strengthen the infrastructure of the field, (2) accelerate the diffusion of good ideas and reliable information to decision-makers, (3) replicate and evaluate cutting-edge programs in an expedited fashion, (4) support nonpartisan research on marijuana policy, (5) investigate ways to reduce drug-related violence in Mexico and Central America, (6) improve understanding of the markets for diverted pharmaceuticals, (7) help build and sustain comprehensive community prevention efforts, and (8) develop more sensible sentencing policies that reduce the excessive levels of incarceration for drug offenses and address the extreme racial disparities. The document offers some specific suggestions for researchers and potential research funders in each of the eight areas
Before the grand opening : measuring Washington state's marijuana market in the last year before legalized commercial sales
by
Beau Kilmer
( )
9 editions published in
2013
in
English
and held by 1,463 WorldCat member libraries worldwide
The 2012 passage of Initiative 502 in Washington state removed the prohibition on the production, distribution, and possession of marijuana for nonmedical purposes and required the state to regulate and tax a new marijuana industry. This report uses data from multiple sources to estimate the total weight of marijuana consumed in the state in 2013 to provide decisionmakers with baseline information about the size of the state's market
Marijuana legalization : what everyone needs to know
by
Jonathan P Caulkins
( Book )
9 editions published between
2012
and 2016 in
English
and held by 1,371 WorldCat member libraries worldwide
Should marijuana be legalized? The latest Gallup poll reports that exactly half of Americans say "yes"; opinion could not be more evenly divided. Marijuana is forbidden by international treaties and by national and local laws across the globe. But those laws are under challenge in several countries. In the U.S., there is no short-term prospect for changes in federal law, but sixteen states allow medical use and recent initiatives to legalize production and non-medical use garnered more than 40% support in four states. California's Proposition 19 nearly passed in 2010, and multiple states are expected to consider similar measures in the years to come. The debate and media coverage surrounding Proposition 19 reflected profound confusion, both about the current state of the world and about the likely effects of changes in the law. In addition, not all supporters of "legalization" agree on what it is they want to legalize: Just using marijuana? Growing it? Selling it? Advertising it? If sales are to be legal, what regulations and taxes should apply? Different forms of legalization might have very different results. This book is a primer about the topic, covering everything from the risks and benefits of using marijuana, to describing the current laws around the drug in the U.S. and abroad. The authors discuss the likely costs and benefits of legalization at the state and national levels and walk readers through the "middle ground" of policy options between prohibition and commercialized production. The authors also consider how marijuana legalization could personally impact parents, heavy users, medical users, drug traffickers, and employers
Considering Marijuana Legalization : Insights for Vermont and Other Jurisdictions
by
Jonathan P Caulkins
( )
4 editions published in
2015
in
English
and held by 1,176 WorldCat member libraries worldwide
Marijuana legalization is a controversial and multifaceted issue that is now the subject of serious debate. In May 2014, Vermont Governor Peter Shumlin signed a bill requiring the Secretary of Administration to produce a report about various consequences of legalizing marijuana. This resulting report provides a foundation for thinking about the various consequences of different policy options while being explicit about the uncertainties involved
What America's users spend on illegal drugs, 2000-2010 : technical report
by
Beau Kilmer
( )
11 editions published in
2014
in
English
and
Undetermined
and held by 1,088 WorldCat member libraries worldwide
Drug users in the United States spend on the order of $100 billion annually on these drugs (in 2010 dollars). While this total figure has been stable over the decade, there have been important compositional shifts. From 2006 to 2010, the amount of marijuana consumed in the United States likely increased more than 30 percent, while the amount of cocaine consumed in the United States decreased by approximately 50 percent. These figures are consistent with supply-side indicators, such as seizures and production estimates. Methamphetamine consumption rose sharply from 2000 through the middle of the decade, and this was followed by a large decline through 2008. Heroin consumption remained fairly stable throughout the decade, although there is some evidence of an increase in the later years. For all of the drugs, total consumption and expenditures are driven by the minority of users who consume on 21 or more days each month
Altered state? : assessing how marijuana legalization in California could influence marijuana consumption and public budgets
by
Beau Kilmer
( Book )
8 editions published in
2010
in
English
and held by 164 WorldCat member libraries worldwide
To learn more about the possible outcomes of marijuana legalization in California, RAND researchers constructed a model based on a series of estimates of current consumption, current and future prices, how responsive use is to price changes, taxes levied and possibly evaded, and the aggregation of nonprice effects (such as a change in stigma). Key findings include the following: (1) The pretax retail price of marijuana will substantially decline, likely by more than 80 percent. The price the consumers face will depend heavily on taxes, the structure of the regulatory regime, and how taxes and regulations are enforced. (2) Consumption will increase, but it is unclear how much because we know neither the shape of the demand curve nor the level of tax evasion (which reduces revenues and prices that consumers face). (3) Tax revenues could be dramatically lower or higher than $1.4 billion; for example, uncertainty surrounds potential tax revenues California might derive from taxing marijuana used by residents of other states (e.g., from "drug tourism"). (4) Previous studies find that the annual costs of enforcing marijuana laws in California range from around $200 million to nearly $1.9 billion; our estimates show that the costs are probably less than $300 million. (5) There is considerable uncertainty about the impact of legalizing marijuana in California on public budgets and consumption, with even minor changes in assumptions leading to major differences in outcomes
Marijuana and crime : is there a connection beyond prohibition?
by
Rosalie Liccardo Pacula
( )
12 editions published in
2003
in
English
and held by 99 WorldCat member libraries worldwide
We examine the relationship between marijuana use and non-drug related crime using data on arrests from the Arrestee Drug Abuse Monitoring (ADAM) Program and Uniform Crime Reports. There is a positive association between self-reported use at the time of the offence and non-drug related violent, property and income-producing crime even after accounting for other substance use in the ADAM data. Reduced form equations using both data sets only provide evidence supporting a causal mechanism for property and income-producing crime. In the case of violent crime, we find a statistically significant association with arrests but not reported crime, suggesting that marijuana use may just influence the likelihood of getting caught committing these crimes
Risks and prices : the role of user sanctions in marijuana markets
by
Rosalie Liccardo Pacula
( )
7 editions published in
2007
in
English
and held by 51 WorldCat member libraries worldwide
User sanctions influence the legal risk for participants in illegal drug markets. A change in user sanctions may change retail drug prices, depending on how it changes the legal risk to users, how it changes the legal risk to dealers, and the slope of the supply curve. Using a novel dataset with rich transaction-level information, this paper evaluates the impact of recent changes in user sanctions for marijuana on marijuana prices. The results suggest that lower legal risks for users are associated with higher marijuana prices in the short-run, which ceteris paribus, implies higher profits for drug dealers. Additionally, the findings have important implications for thinking about the slope of the supply curve and interpreting previous research on the effect of drug laws on demand for marijuana
more
fewer
Audience Level
0

1
Kids
General
Special
Audience level: 0.18 (from 0.04 for Reducing d ... to 0.75 for Further in ...)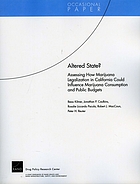 Covers
Alternative Names
Languages