Intelligence Policy Center (U.S.)
Most widely held works by Intelligence Policy Center (U.S.)
Whither al-Anbar Province? : five scenarios through 2011
by
James B Bruce
( )
3 editions published in
2010
in
English
and held by 1,703 WorldCat member libraries worldwide
The withdrawal of U.S. forces from Iraq will create a vacuum in the way security is achieved and power is exercised throughout Iraq. As U.S. Marines draw down in al-Anbar Province, significant changes can be expected throughout the province in security, political, economic, and even cultural relationships. In late 2008, RAND convened a series of three one-day workshops bringing together civilian and military analysts and practitioners with experience on al-Anbar Province or comparable expertise on Iraq. Workshops participants identified five relatively distinct futures, or scenarios, for al-Anbar that provide plausible but alternative trajectories for the province between early 2009 and the end of 2011. These scenarios resulted from extensive consideration of the major assumptions that may underlie any future projections and the testing of those assumptions in a variety of exercises. The deliberations also focused on the major factors that will shape the development of one or another scenario
Reorganizing U.S. domestic intelligence : assessing the options
by
Gregory F Treverton
( )
5 editions published in
2008
in
English
and held by 1,662 WorldCat member libraries worldwide
"One of the questions in the fight against terrorism is whether the United States needs a dedicated domestic intelligence agency separate from law enforcement, on the model of many comparable democracies. To examine this issue, Congress directed that the Department of Homeland Security perform an independent study on the feasibility of creating a counterterrorism intelligence agency and the department turned to the RAND Corporation for this analysis but asked it specifically not to make a recommendation. This volume lays out the relevant considerations for creating such an agency. It draws on a variety of research methods, including historical and legal analysis; a review of organizational theory; examination of current domestic intelligence efforts, their history, and the public's view of them; examination of the domestic intelligence agencies in six other democracies; and interviews with an expert panel made up of current and former intelligence and law enforcement professionals. The monograph highlights five principal problems that might be seen to afflict current domestic intelligence enterprise; for each, there are several possible solutions, and the creation of a new agency addresses only some of the five problems. The volume discusses how a technique called break-even analysis can be used to evaluate proposals for a new agency in the context of the perceived magnitude of the terrorism threat. It concludes with a discussion of how to address the unanswered questions and lack of information that currently cloud the debate over whether to create a dedicated domestic intelligence agency."--Rand web site
Syria as an arena of strategic competition
by
Jeffrey Martini
( )
5 editions published in
2013
in
English
and held by 666 WorldCat member libraries worldwide
"With the regional balance of power hinging on the outcome of the Syrian uprising, RAND conducted an analytic exercise to generate a greater understanding of how external actors are shaping the conflict."--Rand Corporation web site
National Intelligence University's role in interagency research : recommendations from the intelligence community
by
Judith A Johnston
( )
3 editions published in
2013
in
English
and held by 537 WorldCat member libraries worldwide
The Center for Strategic Intelligence Research (CSIR) of the National Intelligence University (NIU) is responsible for supporting faculty and student research efforts and coordinating NIU research activities with the Intelligence Community (IC). A challenge to these coordination efforts lies in the fact that research being conducted regularly in the IC exists, for the most part, in small pockets scattered throughout a number of different IC agencies. To better identify collaborative research opportunities, topics, and processes, CSIR asked RAND to conduct a study that would capture information about these research entities, their responsibilities, and their willingness to support interagency research with NIU. The study team conducted semistructured interviews with a purposive sample of representatives of research entities in the IC. The interviews discussed interagency research and collaboration with NIU. We found that the majority of these research entities are small (less than ten full-time staff), face the competing responsibilities of short-term analytic responses and longer-term analysis and research, and are interested in research plans aligned with national priorities. The research entities are willing to support NIU, but expect NIU to take the lead in facilitatingresearch collaboration
Increasing flexibility and agility at the National Reconnaissance Office : lessons from modular design, occupational surprise, and commercial research and development processes
by
Dave Baiocchi
( )
3 editions published in
2013
in
English
and held by 534 WorldCat member libraries worldwide
To help the National Reconnaissance Office (NRO) become more flexible and agile in an increasingly uncertain world, RAND sought answers to two key questions. First, would the NRO benefit from building modular satellites? RAND researchers developed a method for evaluating whether a system is a good candidate for modularity and applied it to systems both inside and outside the NRO. The authors found that NRO space systems do not appear to be strong candidates for modularization. Second, what lessons might be drawn from how chief executive officers, military personnel, and health care professionals (among others) respond to surprise? RAND developed a framework to categorize professionals' responses to surprise and then conducted discussions with representatives from 13 different professions, including former ambassadors, chief executive officers, military personnel, and physicians. The authors observed that all interviewees used common coping strategies. The authors also found some differences in response to surprise that depend on two factors: time available to respond and the level of chaos in the environment. The report concludes with recommendations on actions that the NRO can take to improve the flexibility of its hardware and the workforce
Ensuring language capability in the intelligence community : what factors affect the best mix of military, civilians, and contractors?
by
Beth J Asch
( )
4 editions published in
2013
in
English
and held by 533 WorldCat member libraries worldwide
Language capability is provided in the intelligence community by military personnel, government civilians, and contractors. A key question is what is the best mix of these three types of personnel in terms of cost and effectiveness. This research draws on U.S. Department of Defense guidance and the economics and defense manpower literatures to provide a framework for broadly assessing the costs and benefits of different sources of personnel to provide a given capability, including language capabilities. The authors interviewed personnel at the National Security Agency/Central Security Service and conducted an exploratory quantitative analysis to identify the factors that may affect the best mix of language capability in the intelligence community. A key finding is that each category of personnel provides unique advantages and belongs in the IC language workforce but that a number of factors lead to civilians being a more cost-effective source of language capability than military personnel, even after accounting for the flow to the civil service of trained veterans with language capability. Policies that reduce language-training costs for military personnel and increase the flow of veterans to the civil service might help reduce this disparity
Mapping the risks : assessing homeland security implications of publicly available geospatial information
by
John C Baker
( )
2 editions published in
2004
in
English
and held by 357 WorldCat member libraries worldwide
Following the attacks of September 11, 2001, many agencies within the federal government began restricting some of their publicly available geospatial data and information from such sources as the World Wide Web. As time passes, however, decisionmakers have begun to ask whether and how such information specifically helps potential attackers, including terrorists, to select U.S. homeland sites and prepare for better attacks. Under the direction of the National Geospatial-Intelligence Agency, researchers at the RAND Corporation sought to clarify how geospatial information can be exploited by attackers and what kinds of information might prove most valuable. After evaluating both the "supply" and "demand" of geospatial data and information and surveying hundreds of Web sites, they developed a framework of three steps--usefulness, uniqueness, and benefits and costs--for assessing the implications of making such information available. The research detailed in this book aims to assist decisionmakers tasked with the responsibility of choosing which geospatial information to make available and which to restrict. In addition, the researchers make general recommendations about how the federal government should proceed in developing a more comprehensive model with similar features of the framework presented here, as well as how the U.S. government should communicate with public- and private-sector decisionmakers tasked with comparable assessments at more-local levels
Exploring religious conflict
by
Gregory F Treverton
( Book )
2 editions published in
2005
in
English
and held by 208 WorldCat member libraries worldwide
Reports the results of a workshop that brought together intelligence analysts and experts on religion with the goal of providing background and a framework of reference for assessing religious motivations in international politics and discovering what causes religiously rooted violence and how states have sought to take advantage of or contain religious violence -- with emphasis on radical Islam
Toward a theory of intelligence : workshop report
( Book )
5 editions published in
2006
in
English
and held by 144 WorldCat member libraries worldwide
In June 2005, the RAND Corporation and the Office of the Director of National Intelligence convened a one-day workshop to discuss how theories underlie intelligence and might lead to both a better understanding and better practice of U.S. intelligence. Forty attendees (practitioners, academics, and specialists) participated in four panels: What Is Intelligence Theory?; Is There an American Theory of Intelligence?; Which Assumptions Should Be Overturned?; and How Can Intelligence Results Be Measured? Issues debated included whether intelligence should be defined narrowly, as secret state activity, or broadly, as information for decisionmaking; whether there is a uniquely American theory or practice of intelligence, in its technology, militarization and congressional oversight; whether closer relationships between intelligence officers and policymakers leads to politicization; and how to devise metrics for assessing the performance of intelligence. Readers will find opinions that look familiar as well as others that challenge or refine the customary formulations
The next steps in reshaping intelligence
by
Gregory F Treverton
( )
4 editions published in
2005
in
English
and held by 140 WorldCat member libraries worldwide
Two national commissions' findings helped to lay the groundwork for the December 2004 intelligence reorganization bill. Most notably, the bill calls for a new Director of National Intelligence (DNI) to head and coordinate the U.S. Intelligence Community. Currently, the DNI has broad responsibilities but only ambiguous authorities. Drawing on a number of projects for various intelligence agencies, as well as additional research, the author of this paper looks at this position of DNI and how it will interact and coordinate with intelligence agencies and other elements of the Executive Branch. In addition to organizational changes, the author looks at the cultural changes that need to take place in the community, including those related to capacity building, issued-based collection, analysis improvement, wider diversity of workforce, and targeting collection. In particular, the paper highlights the importance of moving toward center-based organizations and away from the "stovepipes" of the Cold War. In accomplishing such goals, the DNI will begin to turn his formal authority into real authority
more
fewer
Audience Level
0

1
Kids
General
Special
Audience level: 0.20 (from 0.04 for Reorganizi ... to 0.74 for Global tec ...)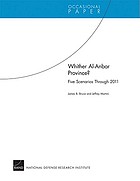 Covers
Alternative Names
IPC

IPC (Intelligence Policy Center (U.S.))

National Defense Research Institute (U.S.). Intelligence Policy Center.

Rand Corporation. National Security Research Division. Intelligence Policy Center.

Languages