Mathis, William J.
Overview
| | |
| --- | --- |
| Works: | 32 works in 54 publications in 1 language and 355 library holdings |
| Genres: | History |
| Roles: | Editor, Author |
Most widely held works by William J Mathis
Vermont's Act 60 : comprehensive school finance reform : effects in the first year of full implementation
by
William J Mathis
( Book )
3 editions published in
2001
in
English
and held by 3 WorldCat member libraries worldwide
Vermont's Act 60 received national attention not only because of the controversy surrounding the sharing pool (or recapture provision) but also because of its "potential for being the most equitable system in the country." For fiscal years 1998 to 2001, tax rates have become more equitable, and a direct relationship has appeared between spending level and tax rate at the town level. Tax burdens have also become more equitable on a town-to-town and individual basis. Education spending equity is occurring, though at a relatively slower pace than tax equity. Educational achievement equity is emerging when state test data are used as a measure. Issues are discussed include whether or not the sharing pool should be maintained and whether the recapture provision should be modified. Other issues are monetary gifts as a means of obtaining exemption from recapture, small schools, whether money should move with the child, and the need to reduce bureaucratic complexity. An important question is whether the legislature will weaken the provisions of the act and cause greater inequities or improve the deficiencies in the formula so that it can work more effectively. The paper ends with six charts illustrating financial trends for fiscal years 1998 to 2001. (Contains 11 endnotes and 9 tables and charts.) (rt)
Vermont's Act 60 Early Effects of Comprehensive School Finance Reform
by
William J Mathis
( Book )
2 editions published in
2000
in
English
and held by 2 WorldCat member libraries worldwide
A unanimous 1997 state Supreme Court decision declaring Vermont's educational funding system unconstitutional prompted the legislature to pass Act 60 establishing state block grants and a guaranteed tax-yield system. Act 60 is working to provide equity in tax burdens and in tax rates. A variety of transitional features have helped to buffer wealthier towns from immediate, substantial local property-tax increases required to provide poorer towns with nearly-equivalent educational funding. The preliminary data indicate differences in spending are diminishing. A 1999 study by Lorna Jimerson indicates that historically poor schools are now making investments in maintenance and repairs. Act 60 requires a state-testing program, demands implementation of standards, provides technical assistance, and relies on direct state intervention when necessary. The Jimerson study found that districts were actively pursuing data-driven instructional improvement efforts. Earlier efforts to circumvent the capture of local tax revenue for funding equalization by raising private funds have been abandoned by all but a few schools, even as the legislature considers capping such gifts. Many districts object to funding caps on statewide support for special education, and relaxation of the caps, with additional monitoring, appears forthcoming. A projected 24 percent increase in health-insurance premiums may absorb a substantial portion of the equalization in funding. Recommendations for harmonizing property value assessments are currently being implemented. To address the vulnerability of small schools under per-student funding plans, the state provides an extra-student count multiplier for schools with fewer than 20 students per grade level. (TEJ)
NCLB's ultimate restructuring alternatives : do they improve the quality of education?
by
William J Mathis
( Book )
2 editions published in
2009
in
English
and held by 2 WorldCat member libraries worldwide
Across the nation, the final stage of school restructuring is being reached by an inexorably increasing number of schools. Under the No Child Left Behind law, if a school does not make its adequate yearly progress targets after four previous years of being "in need of improvement," it must implement a fundamental restructuring plan. The restructuring options are as follows: (1) turn the school operations over to the state, (2) turn the operations over to a private company, (3) reopen as a charter school, or (4) reconstitute the school by replacing some or all of the teachers, staff and administrators. There is a fifth alternative of applying "any other" fundamental school restructuring, an option now receiving new attention. It is essential that we know how these restructuring options work in practice -- particularly as the law is now due for reauthorization. This brief reviews the independent research on the ultimate sanctions and provides recommendations designed to enhance school improvement. [Funding for this brief was provided by the Great Lakes Center for Education Research and Practice.]
Equity and Adequacy Challenges in Rural Schools and Communities
by
William J Mathis
( Book )
1 edition published in
2003
in
English
and held by 2 WorldCat member libraries worldwide
A meeting of education finance scholars discussed finance issues relevant to rural schools and communities. This paper summarizes major themes that emerged during the meeting. Notions of efficiency and economies of scale have contributed to widespread consolidation of rural schools and school districts. The value of community is not easily measured and has often been excluded from consolidation decisions. In addition, actual savings from consolidation are often smaller than predicted. Other themes included teacher salaries and other difficulties in recruiting rural teachers; negative impacts of No Child Left Behind, vouchers, and charter schools on rural school finance; impacts of poverty and lack of services in isolated areas; inability of rural districts to absorb special education costs; handling of sparsity factors, transportation costs, and declining enrollments in state aid formulas; cost of living adjustments; obsolete and dilapidated rural facilities; expansion of technology use in rural schools; and the continuing brain drain from rural areas. No Child Left Behind insists that all children learn to the same level without addressing rural inequalities in out-of-school conditions that affect opportunity to learn. Such inequalities could become categorical weights in state funding formulas, but such formulas generally are politically driven and inadequate to rural needs. Equity is inseparable from adequacy. Professional judgement approaches that separate remote and rural districts into their own unique "market basket" hold the best promise for determining adequacy. (Sv)
The Implementation and Early Findings from a Professional Development and Performance Based Teacher Compensation System
by
William J Mathis
( Book )
1 edition published in
2002
in
English
and held by 2 WorldCat member libraries worldwide
Following a national trend, school board members, administrators, and teachers in Brandon, Vermont, have developed a model for a standards-based evaluation and compensation system for teachers that does not link test scores to teacher pay. The model was developed over a period of 4 years, a necessary amount of time to establish guiding principles, affirm commitment from administrators and teachers, and translate a plan into acceptable contract language. Under the new standards-based environment, teachers present a professional portfolio, which mirrors the state's relicensing criteria, to a "moveover" committee made up of board members, administrators, and peers. The portfolio includes evaluations, evidence of meeting state standards, and a professional growth plan. All new teachers are compensated through the new system; senior teachers can choose the new system or the traditional salary system based on longevity and graduate credits. The new compensation system is managed by the personnel officer in each school. After the first year in place, the portfolio presentation was refined because teachers needed guidance in writing reflective narratives. After 2 years, early implementation, though not seamless, has been smooth because of the consistency of the moveover committees and the mature leadership of school board members, administrators, and teachers. (Wfa)
Linking School Goals and Learning Standards to Teacher Evaluation and Compensation
by
William J Mathis
( Book )
1 edition published in
2001
in
English
and held by 2 WorldCat member libraries worldwide
It is possible to tie teacher compensation to professional growth, without reference to standardized test scores. Tying pay to students' achievement scores does not account for the different levels of students, and teacher testing does not separate good teachers from bad. In Rutland Northeast, Vermont, each school has its own locally elected school board with complete budget and personnel authority. The cultural climate of Vermont discourages the confrontational and formalized processes often seen in other settings. However, putting the details into contract language acceptable to all took 4 years and required leadership maturity, tenacity, and continuity. The salary matrix remained in a traditional format with salary steps granted for years of service and graduate credits or degrees. What has changed is the new option of presenting an annual plan for professional growth and a portfolio, with evaluations and observations, for approval to move from column to column in the salary schedule. Indications of professional growth can include enrichment, workshops, national certification, and curriculum improvement. Using this method is a choice, but one cannot afterward change back to the old system. In the first year of implementation, about 6 percent of teachers submitted portfolios to qualify under the new system. In successful programs, salary advancement is not limited to the few, professional development is broadly defined, and curricular and instructional leadership is rewarded. Also, sufficient development and implementation is needed, perhaps 4 or 5 years. The maturity and capability of teachers, principals, and boards is essential. A plan should fit the context, history, and traditions of the schools. (Author/rkj)
Statewide Educational Reform New Jersey's "Thorough and Efficient" Mandate
by
William J Mathis
( Book )
1 edition published in
1977
in
English
and held by 2 WorldCat member libraries worldwide
The New Jersey Constitution requires that all students receive a "thorough and efficient" education. In Robinson v. Cahill, the New Jersey Supreme Court found that the state funding system and program monitoring systems were inadequate and ordered the legislature to correct these deficiencies. As a result, New Jersey has recently implemented a comprehensive financial and program accountability system for all school districts. This paper reviews the monitoring program for school finances, educational programs, minimum standards, and assessment and evaluation of all educational goals. How this new system interacts with federal programs, state compensatory education, program budgeting, and school organization is also discussed. In conclusion, the author offers a preliminary assessment of the new system, based on early results during its first year of operation. (Author/JG)
more
fewer
Audience Level
0

1
Kids
General
Special
Audience level: 0.51 (from 0.08 for Accelerati ... to 0.84 for How to Ana ...)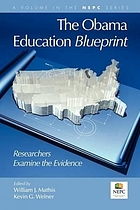 Covers
Languages