Marcum, James A.
Most widely held works by James A Marcum
Thomas Kuhn's revolution : an historical philosophy of science
by
James A Marcum
( )
21 editions published between
2005
and 2008 in
English
and held by 1,647 WorldCat member libraries worldwide
"Thomas Kuhn (1922-1996) has had a tremendous impact on the history and philosophy of science. In 1962 his famous work The Structure of Scientific Revolutions helped to inaugurate a revolution - the historiographic revolution - during the latter half of the twentieth century. That revolution provided a new understanding of science, in which 'paradigm shifts' (scientific revolutions) are punctuated with periods of stasis (normal science). Kuhn's revolution not only had a huge influence on the history and philosophy of science but on many other disciplines as well." "James A. Marcum's new book focuses on the following questions: Who was Kuhn? What exactly was his historiographic revolution? How did it come about? Why did it have the impact it did? What, if any, will its future influence be for both academia and society? At the heart of the answers to these questions is the person of Kuhn himself, i.e., his personality, his pedagogical style, his institutional and social commitments, and the intellectual and social context in which he practiced his trade. In a developmental approach to Kuhn's ideas, Marcum maps the unfolding of Kuhn's ideas over four decades. Drawing on the rich archival sources at Massachusetts Institute of Technology (MIT), and engaging fully with current scholarship on Kuhn, Marcum's is the first book to show in detail how Kuhn's influence transcended the boundaries of the history and philosophy of science community to reach many others - sociologists, economists, theologians, political scientists, educators, and even policy-makers and politicians."--Jacket
An introductory philosophy of medicine : humanizing modern medicine
by
James A Marcum
( )
12 editions published between
2008
and 2010 in
English
and held by 514 WorldCat member libraries worldwide
In this book the author explores the shifting philosophical boundaries of modern medical knowledge and practice occasioned by the crisis of quality-of-care, especially in terms of the various humanistic adjustments to the biomedical model. To that end he examines the metaphysical, epistemological, and ethical boundaries of these medical models. He begins with their metaphysics, analyzing the metaphysical positions and presuppositions and ontological commitments upon which medical knowledge and practice is founded. Next, he considers the epistemological issues that face these medical models, pa
The virtuous physician : the role of virtue in medicine
by
James A Marcum
( )
14 editions published in
2012
in
English
and held by 469 WorldCat member libraries worldwide
Although modern medicine enjoys unprecedented success in providing excellent technical care, many patients are dissatisfied with the poor quality of care or the unprofessional manner in which physicians sometimes deliver it. Recently, this patient dissatisfaction has led to quality-of-care and professionalism crises in medicine. In this book, the author proposes a notion of virtuous physician to address these crises. He discusses the nature of the two crises and efforts by the medical profession to resolve them and then he briefly introduces the notion of virtuous physician and outlines its ba
Thomas Kuhn's revolutions : a historical and an evolutionary philosophy of science?
by
James A Marcum
( Book )
9 editions published in
2015
in
English
and held by 209 WorldCat member libraries worldwide
This new edition of Thomas Kuhn's Revolution marks the 50th anniversary of the publication of Kuhn's most influential work. Drawing on the rich archival sources at MIT, and engaging fully with current scholarship, James Marcum provides the historical background to the development of The Structure of Scientific Revolutions. Exploring the shift Kuhn makes from a historical to an evolutionary philosophy of science and examining Kuhn's legacy in depth, Marcum answers key questions: What exactly was Kuhn's historiographic revolution and how did it come about? Why did it have the impact it did? What will its future impact be for both academia and society? Marcum's answers build a new portrait of Kuhn: his personality, his pedagogical style and the intellectual and social context in which he practiced his trade. Thomas Kuhn's Revolution shows how Kuhn transcends the boundaries of the philosophy of science, influencing sociologists, economists, theologians and even policy makers and politicians. This is a comprehensive historical and conceptual introduction to the man who changed our understanding of science. --
The Bloomsbury companion to contemporary philosophy of medicine
( Book )
10 editions published between
2016
and 2017 in
English
and held by 110 WorldCat member libraries worldwide
"A definitive and authoritative guide to a vibrant and growing discipline in current philosophy, The Bloomsbury companion to Contemporary Philosophy of Medicine presents an overview of the issues facing contemporary philosophy of medicine, the research methods required to understand them and a trajectory for the discipline's future. Written by world leaders in the discipline, this companion addresses the ontological, epistemic, and methodological challenges facing philosophers of medicine today, from the debate between evidence-based and person-centered medicine, medical humanism, and gender medicine, to traditional issues such as disease, health, and clinical reasoning and decision-making. Practical and forward-looking, it also includes a detailed guide to research sources, a glossary of key terms, and an annotated bibliography, as well as an introductory survey of research methods and discussion of new research directions emerging in response to the rapid changes in modern medicine. "'Philosophy needs medicine', Hillel Braude argues, 'to become more relevant'". By showing how modern medicine provides philosophers with a rich source of material for investigating issues facing contemporary society, The Bloomsbury Companion to Contemporary Philosophy of Medicine introduces the opportunities medicine offers philosophers together with the resources and skills required to contribute to contemporary debates and discussions"--
more
fewer
Audience Level
0

1
Kids
General
Special
Audience level: 0.17 (from 0.02 for The concep ... to 0.97 for The Concep ...)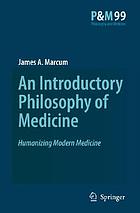 Covers
Languages