ANU E Press
Most widely held works by ANU E Press
Financing higher education and economic development in East Asia
by
Shiro Armstrong
( )
2 editions published in
2011
in
English
and held by 731 WorldCat member libraries worldwide
"This volume addresses important issues to do with access to higher education and different models of its financing in the East Asia region. It is enriched by diverse perspectives from vastly different starting points and by the historical and institutional settings in the region. The issues are set out in the context of the value of higher education in economic development and how it contributes to the capacities to adopt and adapt to new technologies andundertake institutional innovation."--Publisher's description
Japan's future in East Asia and the Pacific : in honour of Professor Peter Drysdale
by
Ligang Song
( )
3 editions published in
2007
in
English
and held by 624 WorldCat member libraries worldwide
Japan's Future in East Asia and the Pacific takes a 'big-picture' approach to Japan's economic place in East Asia alongside that of China. It analyses Japan's successes and experiments in trade policy as well as its failures in macro-economic policy. Japan's diplomatic and economic integration strategies are also examined for their impact on East Asia and on Australia. The collection assesses China's growth and dynamism and questions the nature of the competition for economic influence between Japan and China. Contributors to Japan's Future in East Asia and the Pacific are all graduates of The Australian National University who are making their mark in the region as scholars and economists on East Asian and Pacific affairs
Telling Pacific lives : prisms of process
by
Vicki Luker
( )
2 editions published in
2008
in
English
and held by 577 WorldCat member libraries worldwide
"This volume of essays is an exploration of the way in which scholars from different disciplines, standpoints and theoretical orientations attempt to write life stories in the Pacific. It is the product of a conference organised by the Division of Pacific and Asian History at The Australian National University in December 2005. The aim of the conference was to explore ways in which Pacific lives are read and constructed through a variety of media: films, fiction, faction, history under four overarching themes. The first, Framing Lives, sought to explore various ways of constructing a life from a classic western perspective of birth, formation, experiences and death of an individual to other ways, for example, life as secondary to a longer genealogical entity, life as a symbol of collective experience, individual lives captured and fragmented in a mosaic of others, lives made meaningful by their implication in a particular historical or cultural web, the underlying values and world views that inform one or another approach to framing a life. The second theme, the Stuff of Life, looked at materials, methods and collaborative arrangements with which the biographer, autobiographer and recorder work, their objectives, constraints, inspirations, challenges and tricks. The third section, Story Lines, focused on formats and genres such as edited diaries, collections of writings, voice recordings, genres of biography autobiography, truth and fiction (verse, dance, novels) and the varieties and different advantages of narrative shapes that crystallise the telling of a life. The final section, Telling Lives/Changing Lives, focused on biography/autobiography and the consciousness of identity, history, purpose, lives as witness and windows, telling lives as change for those involved in the tale, the telling, the listening. The overall aim was to bring out both the generic or universal challenges of telling lives as well as to highlight the particular tendencies and trends in the Pacific. Yet these four themes, which seemed analytically promising at the outset, proved in practice difficult to disentangle from the presentations at the workshop"--Provided by publisher
A time bomb lies buried : Fiji's road to independence, 1960-1970
by
Brij V Lal
( )
2 editions published in
2008
in
English
and held by 574 WorldCat member libraries worldwide
"A Time Bomb Lies Buried discusses the debates which took place in Suva and London as well as the politics and processes which led Fiji to independence in 1970 after 96 years of colonial rule. It provides an essential background to understanding the crises and convulsions which have haunted Fiji ever since in its search for a constitutional settlement for its multiethnic population."--Publisher's description
Political parties in the Pacific Islands
by
Roland Rich
( )
2 editions published in
2008
in
English
and held by 573 WorldCat member libraries worldwide
"ANU E Press edition of work originally published by Pandanus Books. While political parties remain an indispensable institutional framework for representation and governance in a democracy, the democracies of many Pacific Islands nations are undermined by the weakness and inefficacy of their local political parties. Addressing the implications of the lack of established party systems across the Pacific, this collection seeks to illuminate the underlying assumptions and suppositions behind the importance of coherent and effective parties to overall democratic functioning Focusing on the political systems of East Timor, Papua New Guinea, Solomon Islands, Vanuatu, New Caledonia, Fiji and Samoa, the coherent structure of the volume makes it consistently useful as both an articulate analytical text and as a reference tool concerning the political composition, history and direction of Pacific states. Featuring contributions from scholars who are familiar names to even the most casual of Pacificists, Political Parties in the Pacific is the benchmark reference work on the political parties of the Pacific: an invaluable resource for students, scholars and researchers of the Pacific and international politics."--Provided by publisher
Politics and state building in Solomon Islands
( )
2 editions published in
2008
in
English
and held by 572 WorldCat member libraries worldwide
"'Politics and State Building in Solomon Islands' examines a crisis moment in recent Solomon Islands history. Contributors examine what happened when unrest engulfed the capital of the small Melanesian country in the aftermath of the 2006 national elections, and consider what these events show about the Solomon Islands political system, the influence of Asian interests in business and politics, and why the crisis is best understood in the context of the country's volatile blend of traditional and modern politics"--Provided by publisher
A Vision for Change: Speeches and Writings of AD Patel, 1929-1969
by
A. D Patel
( )
2 editions published in
2011
in
English
and held by 571 WorldCat member libraries worldwide
"This collection of the writings and speeches of one of Fiji's greatest statesmen, the late Mr AD Patel, points to a different future which, if allowed to come to fruition, would have spared Fiji the fate it later encountered in its postcolonial journey. As a leader, Mr Patel was unmatchable in intellect and oratorical brilliance, glimpses of which we see in this volume. Dr Lal deserves to be congratulated for his patience and perseverance in completing this project. This book will find an honoured place among others on Fiji's complex and contested modern history."
Australia and cyber-warfare
by
Gary Waters
( )
2 editions published in
2008
in
English
and held by 570 WorldCat member libraries worldwide
"This book explores Australia's prospective cyber-warfare requirements and challenges. It describes the current state of planning and thinking within the Australian Defence Force with respect to Network Centric Warfare, and discusses the vulnerabilities that accompany the use by Defence of the National Information Infrastructure (NII), as well as Defences responsibility for the protection of the NII. It notes the multitude of agencies concerned in various ways with information security, and argues that mechanisms are required to enhance coordination between them. It also argues that Australia has been laggard with respect to the development of offensive cyber-warfare plans and capabilities. Finally, it proposes the establishment of an Australian Cyber-warfare Centre responsible for the planning and conduct of both the defensive and offensive dimensions of cyber-warfare, for developing doctrine and operational concepts, and for identifying new capability requirements. It argues that the matter is urgent in order to ensure that Australia will have the necessary capabilities for conducting technically and strategically sophisticated cyber-warfare activities by the 2020s. The Foreword has been contributed by the Hon. Kim C. Beazley, former Minister of Defence (198490), who describes it as a timely book which transcends old debates on priorities for the defence of Australia or forward commitments, [and] debates about globalism and regionalism, and as an invaluable compendium to the current process of refining the strategic guidance for Australias future defence policies and capabilities."--Provided by publisher
Basin futures : water reform in the Murray-Darling basin
by
R. Quentin Grafton
( )
2 editions published in
2011
in
English
and held by 570 WorldCat member libraries worldwide
"This unique book brings together 27 chapters from some of the world's leading practitioners and experts on environmental water, communities, law, economics and governance. Its goal is to understand the many dimensions of water in the Murray- Darling Basin and provide guidance about how to implement a water management plan that addresses the needs of communities, the economy and the environment."--Publisher's description
The cult of the market : economic fundamentalism and its discontents
by Lee Boldeman
( )
2 editions published in
2007
in
English
and held by 570 WorldCat member libraries worldwide
"'The Cult of the Market: Economic Fundamentalism and its Discontents' disputes the practical value of the shallow, all-encompassing, dogmatic, economic fundamentalism espoused by policy elites in recent public policy debates, along with their gross simplifications and sacred rules. Economics cannot provide a convincing overarching theory of government action or of social action more generally. Furthermore, mainstream economics fails to get to grips with the economic system as it actually operates. It advocates a more overtly experimental, eclectic and pragmatic approach to policy development which takes more seriously the complex, interdependent, evolving nature of society and the economy. Importantly, it is an outlook that recognises the pervasive influence of asymmetries of wealth, power and information on bargaining power and prospects throughout society. The book advocates a major reform of the teaching of economics"--Provided by publisher
more
fewer
Audience Level
0

1
Kids
General
Special
Audience level: 0.37 (from 0.30 for Financing ... to 0.42 for Political ...)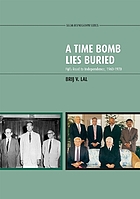 Alternative Names
Australian National University. ANU E Press.

Australian National University. E Press.

Languages
Covers