World Bank Governance Global Practice Group
Overview
| | |
| --- | --- |
| Works: | 11 works in 11 publications in 1 language and 1,050 library holdings |
| Classifications: | HJ2009, 352.48 |
Most widely held works by World Bank
International practices to promote budget literacy : key findings and lessons learned
by
Harika Masud
( )
1 edition published in
2017
in
English
and held by 490 WorldCat member libraries worldwide
Budget literacy is defined as 'the ability to read, decipher, and understand public budgets to enable and enhance meaningful citizen participation in the budget process'. It is comprised of two main parts - (i) a technical understanding of public budgets, including familiarity with government spending, tax rates and public debt and; (ii) the ability to engage in the budget process, comprising of practical knowledge on day-to-day issues, as well as an elementary understanding of the economic, social and political implications of budget policies, the stakeholders involved and when and how to provide inputs during the annual budget cycle. Given that no international standards or guidelines have been established for budget literacy education to date, this book seeks to address this gap by taking stock of illustrative initiatives promoting budget literacy for youth in selected countries. The underlying presumption is that when supply-side actors in the budget process -- governments -- simplify and disseminate budget information for demand-side actors -- citizens -- this information will then be used by citizens to provide feedback on the budget. However, since citizens are often insufficiently informed about public budgets to constructively participate in budget processes one way to empower them and to remedy the problem of "budget illiteracy" is to provide budget-literacy education in schools to youth, helping them evolve into civic-minded adults with the essential knowledge needed for analyzing their government's fiscal policy objectives and measures, and the confidence and sense of social responsibility to participate in the oversight of public resources. This book elaborates on approaches, learning outcomes, pedagogical strategies and assessment approaches for budget literacy education, and presents lessons that are relevant for the development, improvement, or scaling up of budget literacy initiatives
Strengthening Public Financial Management Exploring Drivers and Effects
by
Verena Fritz
( )
1 edition published in
2014
in
English
and held by 137 WorldCat member libraries worldwide
This paper explores two relationships, first between country characteristics and the quality of public financial management ('drivers'), and second between the quality of public financial management systems and expected outcomes ('effects'). On the influence of country characteristics, the paper investigates economic factors (income level, growth, and resource dependency), population size, levels and sources of revenue, and three macro-political characteristics -- political stability, regime type, and the presence of programmatic parties. These characteristics jointly explain about 40 percent of the variation in the quality of public financial management across countries. Furthermore, first-difference analysis suggests that countries with lower initial public financial management quality improve at a higher rate over time. This implies that structural factors set the scene for the likelihood of better or worse performance, but also that there is substantial variation among countries sharing certain characteristics and reform opportunities exist even in unfavorable environments. Methodologically, a key limitation is that the direction of causality cannot be fully addressed with the types of data available. On the effects of the performance of public financial management, the paper finds evidence that stronger performance results in better budget credibility, but not in lower deficits. Furthermore, there is no clear evidence regarding operational efficiency. The observed disconnect could be caused by missing complementary state capacities, measurement problems, or other issues, which need to be explored further. Overall, the findings are consistent with the assumption that stakeholder incentives and constellations matter and that reform approaches combining good technical calibration and political economy considerations are likely to influence success in strengthening public financial management
Can tax simplification help lower tax corruption?
by
Rajul Awasthi
( )
1 edition published in
2014
in
English
and held by 55 WorldCat member libraries worldwide
"This paper seeks to find empirical evidence of a link between tax simplification and corruption in tax administration. It attempts to do this by first defining "tax simplicity" as a measurable variable and exploring empirical relationships between simpler tax regimes and corruption in tax administration. Corruption in tax administration is calculated with data series from the World Bank's Enterprise Survey Database. The focus is on business taxes. The study includes 104 countries from different income groups and regions of the world. The time period is 2002-12. The empirical findings support the existence of a significant link between the measure of tax corruption and tax simplicity, so a less complex tax system is shown to be associated with lower corruption in tax administration. It is predicted that the combined effect of a 10 percent reduction in both the number of payments and the time to comply with tax requirements can lower tax corruption by 9.64 percent. Some interesting regional differences are observed in the results. Similarly, the income level of countries plays an important role in determining the impact of tax simplification on tax corruption; specifically, the link is stronger for lower-income level countries. The positive link between tax simplicity and lower tax corruption has useful policy implications"--Abstract
The dynamics of centralized procurement reform in a decentralized state evidence and lessons from Indonesia
by
Audrey Sacks
( )
1 edition published in
2014
in
English
and held by 54 WorldCat member libraries worldwide
A central policy of the Government of Indonesia's strategy for enhancing its country's economic and social development is to develop infrastructure and expand service delivery. Public procurement reform is a key component of this policy. Despite the decentralization of financial responsibility and authority to relatively autonomous local level governments, procurement reform in Indonesia is a centrally-driven effort. In this paper, we examine the extent to which procurement reform is translating into improvements in sub-national performance. Data on local government procurement expenditures point to an overall decline in the volume of procurement, especially in poorer districts. This paper uses qualitative case studies of procurement reform in six local governments and finds that local government leadership is associated with the uptake of reform. There is little evidence to suggest that procurement reform has been "demand"--Led, since neither the private sector nor Civil Society Organizations (CSOs) have been active in advocating for procurement reform
Public Sector Size and Performance Management A Case Study of Post-Revolution Tunisia
by
Anne Brockmeyer
( )
1 edition published in
2015
in
English
and held by 52 WorldCat member libraries worldwide
This paper examines public sector size and performance management in post-revolution Tunisia, drawing on macro-empirical, legal, and qualitative analyses. The paper first shows that public sector employment figures and the wage bill have increas
Local budget transparency and participation : evidence from the Kyrgyz Republic
by
Damir Esenaliev
( )
1 edition published in
2015
in
English
and held by 52 WorldCat member libraries worldwide
The paper investigates determinants of civic participation in local budget processes in rural areas in the Kyrgyz Republic by using data from the Life in Kyrgyzstan survey, conducted in 2012. The analysis of the data suggests that although civic awareness and interest in local budget processes is relatively high, the participation rate in local budgeting processes is low. The paper also shows that interest, awareness, and participation are positively associated with the age, education, employment, risk-taking attitudes, trust, and social capital of respondents. The paper documents that unawareness and lack of participation are largely related to being female, of non-Kyrgyz ethnic origin, inactive in the labor market, recent internal migrants, and residents of communities with poor infrastructure
Tobacco and Alcohol Excise Taxes for Improving Public Health and Revenue Outcomes Marrying Sin and Virtue?
by
Richard M Bird
( )
1 edition published in
2015
in
English
and held by 52 WorldCat member libraries worldwide
Excise taxes on alcohol and tobacco have long been a dependable and significant revenue source in many countries. More recently, considerable attention has been paid to the way in which such taxes may also be used to attain public health objectives by reducing the consumption of products with adverse health and social impacts. Some have gone further and argued that explicitly earmarking excise taxes on alcohol and tobacco to finance public health expenditures--marrying sin and virtue as it were--will make increasing such taxes more politically acceptable and provide the funding needed to increase such expenditures, especially for the poor. The basic idea--tax "bads" and do "good" with the proceeds--is simple and appealing. But designing and implementing good "sin" taxes is a surprisingly complex task. Earmarking revenues from such taxes for health expenditures may also sound good and be a useful selling point for new taxes. However, such earmarking raises difficult issues with respect to budgetary rigidity and political accountability. This note explores these and other issues that lurk beneath the surface of the attractive concept of using increased sin excises on alcohol and tobacco to finance "virtuous" social spending on public health
MSME Taxation in Transition Economies Country Experience on the Costs and Benefits of Introducing Special Tax Regimes
by
Michael Engelschalk
( )
1 edition published in
2015
in
English
and held by 51 WorldCat member libraries worldwide
The paper analyzes the design of simplified small business tax regimes in Eastern Europe and Central Asia and the impact of such regimes on small business tax compliance. Although many approaches for tax simplification exist, a general trend in the region is to offer small businesses the option to be taxed based on their turnover instead of net income. The study finds that many of the regimes in place are overly simplistic and neither take into account fairness considerations nor do they facilitate business growth and migration into the standard tax regime. Although revenue generation is not a main objective of such regimes, low revenue performance and the risk of system abuse by larger businesses should be issues of concern. More attention should therefore be devoted to improving the design of simplified regimes and monitoring their application. This will require in particular a more profound analysis of the economic situation and the tax compliance challenges in the small business segment and increased efforts to improve the quality of bookkeeping
When elites meet : decentralization, power-sharing, and public goods provision in post-conflict Sierra Leone
by
Amanda Clayton
( )
1 edition published in
2015
in
English
and held by 50 WorldCat member libraries worldwide
Over the past decade, decentralization of fiscal and policy-making authority has become a cornerstone of development organizations' recommendations for good governance. Yet the institutional design of multilayered government can create tensions as new elites attempt to fill governing spaces long occupied by traditional patrons. This paper uses the case of post-conflict Sierra Leone to explore the power-sharing dynamics between traditional hereditary chiefs and newly elected community councilors, and how these dynamics affect the provision of local public goods. The paper uses data on several measures of local service provision and finds that councilor/chief relationships defined by competition are associated with higher levels of public goods provision as well as greater improvements in these goods between council areas over time. Relationships defined by frequent contact in the absence of disputes as well as higher frequencies of familial ties between the two sets of actors are associated with worse local development outcomes. This evidence suggests that greater competition between elite groups is beneficial for local development, whereas collusion or cooption between old and new elites harms the provision of local public goods
Governors and Governing Institutions A Comparative Study of State-Business Relations in Russia's Regions
by
Gulnaz Sharafutdinova
( )
1 edition published in
2014
in
English
and held by 29 WorldCat member libraries worldwide
The paper uses the latest 2011 round of the Business Environment and Enterprise Performance Survey for the Russian Federation, which for the first time was designed to be representative of Russian regions. The paper takes a closer look at regional-level factors influencing the business environment in Russia and, more specifically, conditions that favor the emergence of symbiotic relations between regional authorities and regional businesses. Considering the argued significance of informal rules, norms, and agreements for the regional-level business environment in Russia, the paper uses proxy variables such as tenure and origin of regional governors to identify how these rules are being institutionalized. The findings reveal that, at least in case of Russia, juxtaposing the state and business actors as separate and opposed to each other may overstate the distinction between these two groups of actors and understate the fact that many localities in Russia have witnessed the emergence of mutually beneficial state-business arrangements. Defining whether these arrangements are beneficial or harmful to regional development is beyond the scope of this exploratory paper
Effects of the internet on participation study of a public policy referendum in Brazil
by Paolo Spada
( )
1 edition published in
2015
in
English
and held by 28 WorldCat member libraries worldwide
Does online voting mobilize citizens who otherwise would not participate? During the annual participatory budgeting vote in the southern state of Rio Grande do Sul in Brazil -- the world's largest -- Internet voters were asked whether they would have participated had there not been an online voting option (i-voting). The study documents an 8.2 percent increase in total turn-out with the introduction of i-voting. In support of the mobilization hypothesis, unique survey data show that i-voting is mainly used by new participants rather than just for convenience by those who were already mobilized. The study also finds that age, gender, income, education, and social media usage are significant predictors of being online-only voters. Technology appears more likely to engage people who are younger, male, of higher income and educational attainment, and more frequent social media users
more
fewer
Audience Level
0

1
General
Special
Audience level: 0.00 (from 0.00 for Internatio ... to 0.00 for Internatio ...)
Related Identities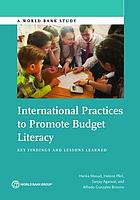 Covers
Languages