Hervieu, Hélène
Most widely held works by Hélène Hervieu
The solitaire mystery
by
Jostein Gaarder
( Book )
6 editions published between
1996
and 2003 in
French
and held by 86 WorldCat member libraries worldwide
Même si ce récit, distribué en 52 chapitres - cartes à jouer, a été écrit avant le célèbre ##Monde de Sophie##, il ne peut être lu que comme une suite. D'où la déception largement exprimée: l'oeuvre est d'un calibre inférieur à celui du ##Monde de Sophie##. Il s'agit d'un récit qui se veut une initiation subtile aux grandes questions de la philosophie et qui met l'accent sur des valeurs telles que la capacité d'émerveillement et la tolérance. [SDM]
L'espoir des Neshov
by
Anne B Ragde
( Book )
5 editions published between
2017
and 2018 in
French
and held by 55 WorldCat member libraries worldwide
Après des années de splendeur puis de misère, la ferme des Neshov est désormais à l'abandon et la famille éclatée. Seul à Trondheim, Margido s'est tourné vers Dieu et se voue à son entreprise de pompes funèbres, mais peine à sépanouir dans sa vie privée. A la tombée du jour, ni les tartines trop riches, ni les soirées dans son sauna personnel ne comblent le vide. A Copenhague, en revanche, pour son frère Erlend et son compagnon Krumme, désormais heureux parents de trois bambins, les journées ne connaissent aucun répit. Pris dans le tourbillon des couches, des biberons et des bobos, ils risquent de s'oublier eux-mêmes. Quant à leur nièce Torunn, installée à Oslo avec Christer, elle s'interroge sur l'avenir d'une relation dans laquelle tromperies et résignation ont succédé à un temps de folle passion. A quarante ans, les choix qui se profilent seront cruciaux. Une famille, quatre destins, quatre existences ancrées dans des réalités bien différentes que chacun questionne afin de trouver sa place dans le monde. Mais après tout, la vie n'est-elle pas cette quête permanente portée par l'espoir de trouver sa plénitude ?
Zona Frigida : [roman]
by
Anne B Ragde
( Book )
5 editions published between
2011
and 2012 in
French
and held by 54 WorldCat member libraries worldwide
Qu'est-ce qui a bien pu pousser Bea, jeune caricaturiste branchée de 35 ans, à s'inscrire pour une croisière à destination des terres du Grand Nord ? La croisière, d'abord : un concept destiné au troisième âge plutôt qu'à une célibataire croqueuse d'hommes comme elle... La destination, ensuite : le Spitzberg, dit " Zona frigida ", aux confins septentrionaux de la Norvège, ne constitue pas un territoire des plus accueillants. Le froid y est d'ailleurs si vif que tous les animaux en seraient devenus blancs... Autant dire que la présence de Bea sur ce bateau a de quoi susciter la curiosité de ses compagnons de voyage. Si la jeune femme a prétexté auprès de ses proches le besoin de rompre avec son quotidien, il apparaît rapidement que ses motivations sont tout autres : Bea a des comptes à régler avec son passé et ce voyage devrait lui permettre de repartir de zéro. La croisière d'agrément va vite se transformer en cauchemar pour certains passagers
The son
by
Jo Nesbø
( Book )
3 editions published in
2015
in
French
and held by 52 WorldCat member libraries worldwide
This novel is set amid Oslo's hierarchy of corruption, from which one very unusual young man is about to propel himself into a mission of brutal revenge. Sonny Lofthus, in his early thirties, has been in prison for the last dozen years: serving time for crimes he didn't commit. In exchange, he gets an uninterrupted supply of heroin, and the unexpected stream of fellow prisoners seeking out his uncanny abilities to soothe and absolve. His addiction started when his father committed suicide rather than be exposed as a corrupt cop, and now Sonny is the center of a vortex of corruption: prison staff, police, lawyers, a desperate priest, all of them focused on keeping him stoned and jailed, and all of them under the thumb of Oslo's crime overlord, the Twin. When Sonny learns some long-hidden truths about his father he makes a brilliant escape, and begins hunting down the people responsible for the hideous crimes he has paid for. But he is also being hunted, by the Twin, the cops, and the only person who knows the ultimate truth that Sonny is seeking. The question is, what will he do when they have cornered him?
Je ferai de toi un homme heureux : roman
by
Anne B Ragde
( Book )
3 editions published between
2013
and 2014 in
French
and held by 51 WorldCat member libraries worldwide
Au milieu des années 60, huit familles se partagent un immeuble dans la banlieue de Trondheim en Norvège. Dans ce microcosme, on assiste, entre autres, aux bouleversements liés à l'arrivée de l'électroménager dans les foyers. Comment les femmes vont-elles utiliser ce nouveau temps libre ? Elles se font mutuellement des permanentes à domicile, ça papote dans tous les coins, - et avec un peu de chance, on peut apercevoir la dame du troisième étage qui fait le ménage chez elle, chaque vendredi, complètement nue. Pourtant, les voisines ne se gênent pas pour s'épier, pour médire et pour tenter de deviner les secrets des uns et des autres. Et voilà qu'un jour, un jeune homme se présente et propose d'installer des judas aux portes
Sa Majesté Maman
by
Anne B Ragde
( Book )
4 editions published between
2016
and 2017 in
French
and held by 44 WorldCat member libraries worldwide
Récits personnels
April witch
by
Majgull Axelsson
( Book )
9 editions published between
2002
and 2004 in
French
and held by 43 WorldCat member libraries worldwide
Désirée Johansson est handicapée moteur et communique en soufflant dans un tube en plastique relié à un ordinateur. Sa mère l'a placée dans une institution, jusqu'à l'y oublier et à adopter trois autres filles. Désirée, qui a l'esprit alerte, et dont aucune des trois soeurs ne connaît l'existence, va se charger de leur rappeler quelques mauvais souvenirs
Maya
by
Jostein Gaarder
( Book )
6 editions published between
1999
and 2001 in
French
and held by 38 WorldCat member libraries worldwide
Analyse : Roman didactique
more
fewer
Audience Level
0

1
Kids
General
Special
Audience level: 0.72 (from 0.22 for The son / ... to 0.95 for Un jour gl ...)
Related Identities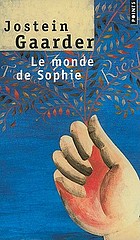 Covers
Alternative Names
Herwieu, Hélène

Herwieu Hélène 1956-....

Languages