Baird, Jacqueline
Most widely held works by Jacqueline Baird
The billionaire's blackmailed bride
by
Jacqueline Baird
( Book )
23 editions published between
2002
and 2018 in 6 languages and held by 412 WorldCat member libraries worldwide
Anton Diaz is hell-bent on revenge; all he needs to do is seduce and marry the innocent daughter of the man he despises. To carry out his plan will be no hardship, as Emily Fairfax is a desirable woman.It's only after Emily has exchanged her wedding vows with her darkly handsome new husband that she realises her mistake. But by then it is too late! Anton is ruthlessly blackmailing her, yet she can't stop her treacherous body betraying her, as they spend their days parted in anger and their nights locked in passion
Return of the Moralis wife
by
Jacqueline Baird
( Book )
20 editions published between
2012
and 2015 in 6 languages and held by 394 WorldCat member libraries worldwide
"Infamous playboy Orion Moralis believes in lust, not marriage--until, with one innocent sigh, the daughter of a business rival turns his world on its head. Selina Taylor is achingly pure and, as he captures her lips, Orion knows he must possess her! But their marriage is short-lived. Six years since Selina was removed from the marriage bed, she's older and definitely wiser when it comes to seductive, powerful men. But trapped on Orion's luxury yacht, she finds memories of the past returning to haunt her--with the bad comes the oh-so-good--and soon she can't resist the sensual pull between them."--Page 4 of cover
The cost of her innocence
by
Jacqueline Baird
( Book )
20 editions published between
2013
and 2018 in 7 languages and held by 360 WorldCat member libraries worldwide
"As the prison gates close behind her, newly free Beth Lazenby vows that they are also closing on her past. Until she encounters the merciless lawyer who helped wrongfully imprison her all those years ago ... Still convinced of her guilt, Dante Cannavaro is stunned when his anger boils over into passion! There's no chance he'll allow Beth to escape--especially now she's carrying his heir! Faced with a proposal that is more of a command than a request, will Beth ever be able to prove her innocence? Or will she be forever beholden to her enemy?"--Publisher
Untamed Italian, blackmailed innocent
by
Jacqueline Baird
( Book )
22 editions published between
2009
and 2016 in 5 languages and held by 358 WorldCat member libraries worldwide
"No woman has ever shunned wicked Italian tycoon Zac Delucca! But sweet, studious Sally is in a world of her own, looking after her sick mother -- little does she realise her unfocused lack of interest is driving Zac's fury! Especially as her father is responsible for embezzling millions from his company. There's a debt to be paid. Zac will offer Sally an ultimatum -- become his mistress on demand, or risk ruin! He's confident she'll make the right choice."-- Publisher description
The Sabbides secret baby
by
Jacqueline Baird
( Book )
23 editions published between
2007
and 2016 in 6 languages and held by 320 WorldCat member libraries worldwide
"Naive Phoebe Brown fell for Mediterranean magnate Jed Sabbides after he wined, dined and bedded her with a fervor that made her feel cherished. But when Phoebe happily announced she was pregnant, Jed was appalled. Didn't she understand--she was only a pleasing distraction? Sadly Phoebe lost the man she loved, and her baby ... So it is with disbelief that, years later, Jed discovers Phoebe has a little boy ... who looks just like him"--Publisher
Aristides' convenient wife
by
Jacqueline Baird
( Book )
22 editions published between
2002
and 2018 in 5 languages and held by 308 WorldCat member libraries worldwide
Leon Aristides believes in money, power and family. So when his sister dies, leaving a son, he acts quickly and ruthlessly. He finds the woman who has guardianship of his nephew and insists she marry him!Helen knows that Leon believes her to be a money-hungry, experienced woman of the world--until their wedding night reveals otherwise! But Helen wants more than an incredible lover ... she wants a loving husband!
The Italian billionaire's ruthless revenge
by
Jacqueline Baird
( Book )
29 editions published between
2002
and 2016 in 6 languages and held by 290 WorldCat member libraries worldwide
Guido Barberi hasn't set eyes on his ex-wife since she left him - along with a quarter of a million pounds! But, seeing her again, Guido realises that he hasn't had his fill of her. Determined to have his revenge by making her his mistress, he is ruthless in his pursuit. Sara is shocked that Guido has matured into someone far more attractive and dangerous than the husband she knew. Despite her hatred for him, she desires him twice as much. How can she resist his skilful campaign to seduce her into his bed?
Pregnancy of revenge
by
Jacqueline Baird
( Book )
21 editions published between
2005
and 2017 in 8 languages and held by 279 WorldCat member libraries worldwide
A gold-digger, that was all Charlotte Summerville was, and she was going to get everything she deserved! Billionaire Jake d'Amato was determined to make the money-grabbing beauty pay. His plan was simple. He'd take revenge - in his bed!
The Greek tycoon's revenge
by
Jacqueline Baird
( Book )
23 editions published between
2002
and 2017 in 7 languages and held by 269 WorldCat member libraries worldwide
Eloise had fallen in love with powerful Greek tycoon Marcus Kouvaris. Now, years later, Marcus holds her responsible for defrauding his uncle...and he's come to get his revenge! Actually, Eloise had nothing to do with the fraud but with all the evidence against her, she is powerless to stop Marcus carrying out his plan. Marcus insists that to pay her debt she must live with him for a year. There's plenty of passion but can Eloise persuade Marcus that she's innocent, and claim his love?
Bought by the Greek tycoon
by
Jacqueline Baird
( Book )
16 editions published between
2002
and 2013 in 5 languages and held by 253 WorldCat member libraries worldwide
Greek multimillionaire Luke Devetzi will do anything to get Jemma Barnes back in his bed for a night of blazing passion ... When Luke discovers that Jemma's father is in financial trouble and in need of a loan, he is willing to pay it ... but only if Jemma agrees to become his convenient wife!
more
fewer
Audience Level
0

1
Kids
General
Special
Audience level: 0.47 (from 0.38 for His inheri ... to 0.57 for Picture of ...)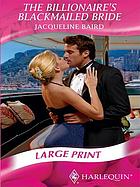 Covers
Alternative Names
Bairdová, Jacqueline

Bėrd, Zhaklin

Jacqueline Baird

Jacqueline Baird British writer

בירד, ג'קלין

베어드, 재클린

ジャクリーン・バード.

バード, ジャクリーン

Languages