Gokhale, Jagadeesh
Overview
| | |
| --- | --- |
| Works: | 71 works in 303 publications in 1 language and 3,166 library holdings |
| Genres: | Software |
| Roles: | Author |
| Classifications: | HB1, 368.4300973 |
Most widely held works by Jagadeesh Gokhale
Fiscal and generational imbalances : new budget measures for new budget priorities
by
Jagadeesh Gokhale
( Book )
7 editions published in
2003
in
English
and held by 277 WorldCat member libraries worldwide
We know that today's federal debt amounts to $3.5 trillion, but the important - and often overlooked - question is how much debt will we incur going forward." "The Fiscal and Generational Imbalance measures will help lawmakers design reforms best suited for meeting the challenges posed by the retirement and health security need of our progressively aging society."--Jacket
Social security : a fresh look at policy alternatives
by
Jagadeesh Gokhale
( Book )
10 editions published in
2010
in
English
and
Undetermined
and held by 254 WorldCat member libraries worldwide
"Many of us suspect that Social Security faces eventual bankruptcy. But the government projects its future finances using long outdated methods. Employing a more up-to-date approach. Jagadeesh Gokhale here argues that the program faces insolvency far sooner than previously thought." "To assess Social Security's fate more accurately under current and alternative policies. Gokhale constructs a detailed simulation of the forces shaping American demographics and the economy to project their future evolution. He then uses this simulation to analyze six prominent Social Security reform packages - two liberal, two centrist, and two conservative - to demonstrate how far they would restore the program's financial health and which population groups would be helped or hurt in the process." "Arguments over Social Security have raged for decades. but they have taken place in a relative informational vacuum; Social Security provides the necessary bedrock of analysis that will prove vital for anyone with a stake in this important debate."--Jacket
Understanding the postwar decline in U.S. saving : a cohort analysis
by
Jagadeesh Gokhale
( Book )
14 editions published in
1996
in
English
and held by 82 WorldCat member libraries worldwide
Abstract: Since 1980, the U.S. net national saving rate has averaged less than half the rate observed in the 1950s and 60s. This paper develops a unique cohort data set to study the decline in U.S. national saving. It decomposes postwar changes in U.S. saving into those due to changes in cohort-specific consumption propensities, those due to changes in the intergenerational distribution of resources, those due to changes in government spending on goods and services, and those due to changes in demographics. Our findings are striking. The decline in U.S. saving can be traced to two factors: The redistribution of resources from young and unborn generations with low or zero propensities to consume toward older generations with high consumption propensities, and a significant increase in the consumption propensities of older Americans. Most of the redistribution to the elderly reflects the growth in Social Security, Medicare, and Medicaid benefits. The increase in the elderly's consumption propensities may also reflect government policy, namely the fact that Social Security, Medicare, and Medicaid benefits are paid in the form of annuities and that, in the case of Medicare and Medicaid, the annuities are in-kind and must, therefore, be consumed
The equity of social services provided to children and senior citizens
by
Laurence J Kotlikoff
( Book )
16 editions published in
1993
in
English
and held by 79 WorldCat member libraries worldwide
Examines evidence which points to a deterioration in the standard of living of American children relative to adults, particularly the current elderly. With generational accounting, it compares the lifetime net tax burdens (taxes paid less transfers received) of different generations
Do hostile takeovers reduce extramarginal wage payments?
by
Jagadeesh Gokhale
( Book )
16 editions published between
1992
and 1993 in
English
and held by 71 WorldCat member libraries worldwide
Abstract: Hostile takeovers may reduce the prevalence of long-term employment contracts if they facilitate the opportunistic expropriation of extramarginal wage payments. Our tests of two versions of the expropriation hypothesis improve on existing research by using firm- and establishment-level data from an employer salary survey, and by performing both ex ante and ex post tests. First, we study the relationship between proxies for extramarginal wage payments and subsequent hostile takeover activity, and find little evidence of an expropriation motive. Then. since we observe wage and employment structures both before and after takeovers. we investigate whether proxies for extramarginal wages drop after hostile takeovers. The ex post experiments provide evidence consistent with one version of the expropriation hypothesis. In particular, such takeovers appear to reduce extramarginal wage payments to more-tenured workers, mostly through flattening wage-seniority profiles in firms with relatively senior work forces
Social Security's treatment of postwar Americans : how bad can it get?
by
Jagadeesh Gokhale
( Book )
14 editions published in
1999
in
English
and held by 71 WorldCat member libraries worldwide
As currently legislated, the U.S. Social Security System represents a bad deal for postwar Americans. Of every dollar postwar Americans have earned or will earn over their lifetimes, over 5 cents will be lost to the Old Age Survivor Insurance System (OASI) in the form of payroll taxes paid in excess of benefits received. This lifetime net tax rate can also be understood by comparing the rate of return postwar contributors receive from OASI and the return they can earn on the market. The OASI return -- 1.86 percent -- is less than half the return currently being paid on inflation-indexed long-term government bonds, and the OASI return is much riskier. Of course, Social Security is an insurance as well as a net tax system. But, viewed as an insurance company, the insurance OASI sells (or, rather, forces households to buy) is no bargain. The load charged averages 66 cents per dollar of premium. These findings, developed in an extensive micro simulation study by Caldwell, et al. (1999), assume that current law can be maintained through time. But Social Security faces a staggering long-term funding problem. Meeting the system's promised benefit payments on an ongoing basis requires raising the OASDI 10.8 tax rate immediately and permanently by two fifths! How bad can Social Security's treatment of postwar Americans get once adjustments are made to save' the system? This paper examines that question using the machinery developed in Caldwell, et al. Specifically, it considers Social Security's treatment of postwar Americans under alternative tax increases and benefit cuts that would help bring the system's finances into present value balance. The alternatives include immediate tax increases, eliminating the ceiling on taxable payroll, immediate and sustained benefit cuts, increasing the system's normal retirement ages beyond those currently legislated, switching from wage to price indexing in calculating benefits, and limiting the price indexation of benefits. The choice among these and other alterna
Medicare from the perspective of generational accounting
by
Jagadeesh Gokhale
( Book )
10 editions published in
1998
in
English
and held by 70 WorldCat member libraries worldwide
Abstract: U.S. policy changes and more optimistic fiscal forecasts have significantly improved the long-term fiscal prospects of the country. Nevertheless, these prospects remain dismal. Unless U.S. fiscal policy changes by a lot and very soon, our descendants will face rates of lifetime net taxation that are 70 percent higher than those we now face. They will, on average, find themselves paying 1 of every 2 dollars they earn to a local, state, or federal government in net taxes. A number of factors, besides current and projected Medicare spending, are responsible for the imbalance in U.S. generational policy. But the ongoing excessive growth of Medicare benefits is certainly a key culprit. Achieving generational balance solely by cutting Medicare benefits is feasible but would require cutting over two-thirds of the program's expenditures assuming the cuts were made today. If one waits five years before cutting Medicare, four-fifths of the programs would have to be slashed. Clearly, Medicare cuts of this magnitude are unlikely to happen, but however we resolve our sever crisis in U.S. generational policy, it's clear that significant reductions in Medicare spending will be a major part of the story
Life-cycle saving, limits on contributions to DC pension plans, and lifetime tax benefits
by
Jagadeesh Gokhale
( Book )
15 editions published in
2001
in
English
and held by 68 WorldCat member libraries worldwide
This paper addresses three questions related to limits on DC contributions. The first is whether statutory limits on tax-deductible contributions to defined contribution (DC) plans are likely to be binding, focusing on households in various economic situations. The second is how large is the tax benefit from participating in defined contribution plans. The third is how does the defined contribution tax benefit depend on the level of lifetime income. We find that the statutory limits bind those older middle-income house holds who started their pension savings programs late in life, those who plan to retire early, singleearner house holds, those who are not borrowing constrained, and those with rapid rates of real wage growth. Most households with high levels of earnings, regardless of age or situation, are also constrained by the contribution limits
Social security and medicare policy from the perspective of generational accounting
by
Alan J Auerbach
( Book )
14 editions published between
1991
and 1992 in
English
and held by 68 WorldCat member libraries worldwide
Our previous study (Auerbach, Gokhale and Kotlikoff 1991) introduced the concept of generational accounting, a method of determining how the burden of fiscal policy falls on different generations. it found that fiscal policy in the U.S. is out of balance, in terms of projected generational burdens. This means that either current generations will bear a larger share (than we project under current law) of the burden of the government's spending or that future generations will have to pay, on average, at least 21 percent more, on a growth-adjusted basis, than will those generations who have just been born. These conclusions were based on relatively optimistic assumptions about the path of social security sod Medicare policies, namely that the accumulation of a social security trust fund would continue and that Medicare costs would not rise as a share of QP. In this paper, we simulate the effects of realistic alternative paths for social security and Medicare. Our results suggest that such alternative policies could greatly increase the imbalance in generational policy, making not only future generations pay significantly more, but current young Americans as well. For example, continued expansion of Medicare in this decade alone could double the 21 percent imbalance figure if the bill for this Medicare growth is shifted primarily to future generations
more
fewer
Audience Level
0

1
Kids
General
Special
Audience level: 0.57 (from 0.14 for Social sec ... to 0.74 for Medicare f ...)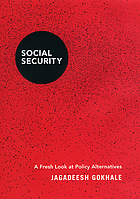 Languages
Covers