Loayza, Norman
Most widely held works by Norman Loayza
Economic growth in Latin America and the Caribbean : stylized facts, explanations, and forecasts
by
Norman Loayza
( )
25 editions published between
2004
and 2012 in
English
and
Portuguese
and held by 1,327 WorldCat member libraries worldwide
This publication analyzes whether economic reforms have been beneficial to growth in the region. In doing so, it recognizes that growth is driven by a variety of factors - in some cases poor growth is due to insufficient structural reforms (e.g., low trade openness), in others to inappropriate stabilization policies (e.g., exchange rate overvaluation), and still in others to negative international conditions (e.g., growth slowdown in industrial countries). It is obvious but still correct to say that identifying the problem is the first step towards the solution. This book contributes to this effort by examining the growth performance of countries in Latin America and the Caribbean, explaining the underlying sources of their economic growth, and designing a strategy for further growth.--Publisher's description
Terrorism, economic development, and political openness
by
Philip Keefer
( )
17 editions published between
2008
and 2012 in
English
and held by 1,262 WorldCat member libraries worldwide
"To what extent are terrorism and development related? What are the relative weights of the economic, political, and social aspects of development? What is the development effect of different responses to terrorism? This volume addresses these crucial questions, synthesizing what we do know about the development links with terrorism and pointing out what we do not know. Contributors to this volume examine the economic and fiscal costs of terrorism and the response to terrorism. They conclude that the economic costs of terrorism in rich countries are low relative to the economic costs of combating terrorism; both are likely high in poor countries. They also report evidence on how development affects terrorism. This work supports the hypothesis that political development - political openness and the quality of government - is inversely associated with the emergence of terrorist organizations. Though less clearly, it also supports the proposition that national economic development - mainly international openness - can moderate terrorism."--Jacket
Determinants of crime rates in Latin America and the world : an empirical assessment
by
Pablo Fajnzylber
( )
17 editions published in
1998
in
English
and held by 981 WorldCat member libraries worldwide
This study uses a new data set of crime rates for a large sample of countries for the period 1970-1994, based on information from the United Nations World Crime Surveys, to analyze the determinants of national homicide and robbery rates. A simple model of the incentives to commit crime is proposed, which explicitly considers possible causes of the persistence of crime over time (criminal inertia). Several econometric models are estimated, attempting to capture the determinants of crime rates across countries and over time. The empirical models are first run for cross-sections and then applied to panel data. The former focus on explanatory variables that do not change markedly over time, while the panel data techniques consider both the effect of the business cycle (i.e., GDP growth rate) on the crime rate and criminal inertia (accounted for by the inclusion of the lagged crime rate as an explanatory variable). The panel data techniques also consider country-specific effects, the joint endogeneity of some of the explanatory variables, and the existence of some types of measurement errors afflicting the crime data. The results show that increases in income inequality raise crime rates, deterrence effects are significant, crime tends to be counter-cyclical, and criminal inertia is significant even after controlling for other potential determinants of homicide and robbery rates
Innocent bystanders : developing countries and the war on drugs
by
Philip Keefer
( )
14 editions published between
2010
and 2012 in
English
and held by 753 WorldCat member libraries worldwide
Drug use and abuse is one of the most difficult challenges facing the contemporary world. If it is true that there has always been consumption of different types of drugs in different societies, although not in all of them, it is no less true that it generally took place in restricted, socially regulated realms, especially in ritualistic ceremonies. This is not the case today. Drug use has spread to all segments of society, with hedonistic motivations; although it is often not socially sanctioned, users are at times, depending on the drug, treated with leniency. It is well-established that all drugs are harmful to the health, even the legal ones, such as alcohol and tobacco, and that some drugs are more harmful, such as heroin and crack. The discussion of 'gateway drugs' is a medical issue on which there is no consensus. For the purposes of public policy design, the important thing to keep in mind is that drugs produce negative consequences for both users and societies in general, and that minimizing their consumption should be the main goal. The salient discussion, therefore, is about choosing among different strategies to achieve the same goal. Most of all, this book contributes to the debate by shedding light on the understanding of the economics and logistics of the drug market
Business regulation and economic performance
by
Norman Loayza
( )
20 editions published between
2009
and 2012 in
English
and held by 674 WorldCat member libraries worldwide
The objective of this volume is to document the patterns of business regulation across the world and review their impact on aggregate economic performance. The volume adopts a comparative cross-regional perspective, with particular attention to Latin America. The research reported here focuses on establishing the analytical and empirical links between microeconomic regulatory policies on the one hand, and aggregate productivity, growth, and volatility on the other. Thus, the volume adds to a novel but increasingly influential line of policy-relevant research that seeks to understand macroeconomic phenomena from a microeconomic perspective. Such literature is still fairly scarce in the case of industrial countries, and virtually in its infancy for developing countries. To achieve this end, the volume combines a variety of methodological approaches-analytical and empirical, micro and macroeconomic, single- and cross-country-to an extent limited mainly by the availability of suitable data. Following this overview, the volume comprises six chapters that address the subject from different but complementary perspectives, providing a comprehensive exploration of the various channels through which business regulation affects growth, stability, and other key macroeconomic dimensions
Financial development, financial fragility, and growth
by
Norman Loayza
( )
19 editions published between
2001
and 2013 in
English
and held by 210 WorldCat member libraries worldwide
"Loayza and Rancire study the apparent contradiction between two strands of the literature on the effects of financial intermediation on economic activity. On the one hand, the empirical growth literature finds a positive effect of financial depth as measured by, for instance, private domestic credit and liquid liabilities (for example, Levine, Loayza, and Beck 2000). On the other hand, the banking and currency crisis literature finds that monetary aggregates, such as domestic credit, are among the best predictors of crises and their related economic downturns (for example, Kaminski and Reinhart 1999). The authors account for these contrasting effects based on the distinction between the short- and long-run impacts of financial intermediation. Working with a panel of cross-country and time-series observations, they estimate an encompassing model of short- and long-run effects using the Pooled Mean Group estimator developed by Pesaran, Shin, and Smith (1999). Their conclusion from this analysis is that a positive long-run relationship between financial intermediation and output growth coexists with a mostly negative short-run relationship. The authors further develop an explanation for these contrasting effects by relating them to recent theoretical models, by linking the estimated short-run effects to measures of financial fragility (namely, banking crises and financial volatility), and by jointly analyzing the effects of financial depth and fragility in classic panel growth regressions. This paper--a product of the Growth and Investment Team, Development Research Group--is part of a larger effort in the group to understand the sources of growth and volatility"--World Bank web site
Openness can be good for growth : the role of policy complementarities
by
Roberto Chang
( )
22 editions published between
2005
and 2012 in
English
and held by 154 WorldCat member libraries worldwide
The authors study how the effect of trade openness on economic growth depends on complementary reforms that help a country take advantage of international competition. This issue is illustrated with a simple Harris-Todaro model where output gains after trade liberalization depend on the degree of labor market flexibility. In that model, trade protection may ameliorate the problem of underemployment (and underproduction) in sectors affected by labor market distortions. Hence, trade liberalization unambiguously increases per capita income only when labor markets are sufficiently flexible. The authors then present some panel evidence on how the growth effect of openness depends on a variety of structural characteristics. For this purpose, they use a non-linear growth regression specification that interacts a proxy of trade openness with proxies of educational investment, financial depth, inflation stabilization, public infrastructure, governance, labor-market flexibility, ease of firm entry, and ease of firm exit. They find that the growth effects of openness are positive and economically significant if certain complementary reforms are undertaken
Accountability and corruption : political institutions matter
by
Daniel Lederman
( )
10 editions published in
2001
in
English
and
Undetermined
and held by 134 WorldCat member libraries worldwide
The results of a cross-country empirical analysis suggests that political institutions are extremely important in determining the prevalence of corruption: democracy, parliamentary systems, political stability, and freedom of the press are all associated with lower corruption
The aftermath of civil war
by
Siyan Chen
( )
14 editions published between
2007
and 2012 in
English
and
Undetermined
and held by 132 WorldCat member libraries worldwide
Using an "event-study" methodology, this paper analyzes the aftermath of civil war in a cross-section of countries. It focuses on those experiences where the end of conflict marks the beginning of a relatively lasting peace. The paper considers 41 countries involved in internal wars in the period 1960-2003. In order to provide a comprehensive evaluation of the aftermath of war, the paper considers a host of social areas represented by basic indicators of economic performance, health and education, political development, demographic trends, and conflict and security issues. For each of these indicators, the paper first compares the post- and pre-war situations and then examines their dynamic trends during the post-conflict period. The paper concludes that, even though war has devastating effects and its aftermath can be immensely difficult, when the end of war marks the beginning of lasting peace, recovery and improvement are indeed achieved
What drives private saving around the world?
by
Norman Loayza
( )
12 editions published between
1999
and 2014 in
English
and
Undetermined
and held by 132 WorldCat member libraries worldwide
Saving rates vary considerably across countries and over time. Policies that spur development are an indirect but effective way to raise private saving rates, which rise with the level and growth rate of real per capita income
more
fewer
Audience Level
0

1
Kids
General
Special
Audience level: 0.36 (from 0.13 for Determinan ... to 0.77 for Has Latin ...)
Related Identities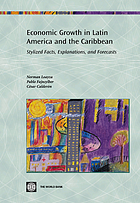 Covers
Alternative Names
Loayza, N. 1964-

Loayza, Norman A. 1964-

Loayza Norman V.

Loayza, Norman V. 1964-

Loayza O., Norman 1964-

Loayza-O., Norman V. 1964-

Norman Loayza economist (World Bank Group)

Norman Loayza Wirtschaftswissenschaftler/in (World Bank Group)

Languages