Shayne, Maggie
Most widely held works by Maggie Shayne
Killing me softly
by
Maggie Shayne
( Book )
19 editions published between
2010
and 2012 in 3 languages and held by 816 WorldCat member libraries worldwide
When rookie cop Bryan Kendall's lover is murdered in the same style of a recently executed serial killer, he stands accused of the crime. A continent away, his first lover, Dawn Jones, hears of the case and knows she's the only one who can help him
Kiss me, kill me
by
Maggie Shayne
( Book )
21 editions published between
2010
and 2014 in 3 languages and held by 812 WorldCat member libraries worldwide
A long-ago act of kindness to a desperate woman changed Dr. Carrie Overton's life forever. Before disappearing, the grateful stranger had given Carrie her newborn son. When the woman is murdered, the secret becomes Carrie's alone. She has kept both it and her son, Sam, safe for sixteen years. But now a friend of Sam's has gone missing. The police believe he's a runaway, until he's found dead. Then another teen disappears, and talk turns to that long-ago murder. Newcomer Gabriel Cain is asking too many questions, befriending Sam, getting too close. Carrie distrusts him even as she finds herself falling for him. But Gabriel has secrets, too. Is it time for the lying to end?
Blue twilight
by
Maggie Shayne
( Book )
21 editions published between
2005
and 2016 in 4 languages and held by 761 WorldCat member libraries worldwide
The idyllic town of Endover, New Hampshire, looks innocent. But below its surface a thirst and a desire both powerful and ancient boil fiercely. When two girls go missing, only one person can delve deep enough to find them - Maxine Stuart, a private investigator who has finally started to believe. "Mad Maxie" understands why she was asked to help - no living mortal knows as much about the undead as she. But the dark force controlling Endover can see all, and will use Maxine's knowledge against her to strengthen his hold on the town. Not even the influence of Lou Malone, the man Maxie most desires, can convince her to abandon the crusade against a madman's yearning for power ... and resurrected love
Darker than midnight
by
Maggie Shayne
( Book )
13 editions published between
2005
and 2016 in
English
and
French
and held by 752 WorldCat member libraries worldwide
Michael "River" Corbett--Confined in the state mental hospital and heavily drugged since the death of his wife, River cannot remember what truly happened the night he was arrested for her murder. But now someone is trying to kill him, and he is forced to run for his life . A fugitive from the law and from someone who wants him dead, all he wants is the truth. Cassandra "Jax" Jackson-- The uncompromising police lieutenant knows she's putting her careet on the line when she encounters this desperate stranger and doesn't turn him in. Something in River's eyes has Jax convinced he's worth saving ... whether he wants it or not. Dawn Jones-- the daughter of a madman, Jax's young friend is haunted by voices she doesn't want to hear. But she can no longer ignore the curse she inherited from her twisted father--because unless she listens to what the dead are telling her, Jax might be doomed to join them
Prince of twilight
by
Maggie Shayne
( Book )
21 editions published between
2003
and 2015 in 3 languages and held by 746 WorldCat member libraries worldwide
When Elisebeta discovers Vlad's feelings for Stormy, her wrath knows no bounds. She demands that her destiny be fulfilled, and seeks to destroy her rival
Kill me again
by
Maggie Shayne
( Book )
12 editions published between
2010
and 2013 in 3 languages and held by 691 WorldCat member libraries worldwide
Reclusive novelist Aaron Westhaven accepts Olivia Dupree's invitation to speak at a local fund-raising event, but the day he's due to arrive, she gets a call summoning her to the bedside of an unidentified gunshot survivor whose sole possession is her business card. Could this man be the novelist Olivia has grown to think of as a soul mate--or is he in Shadow Falls to kill her?
Demon's kiss
by
Maggie Shayne
( Book )
13 editions published between
2007
and 2016 in
English
and held by 660 WorldCat member libraries worldwide
Reaper, a vampire searching to destroy a group of renagade vampires, is joined by in the hunt by Roxy, a non-vampire who is a seer, Topaz, a vampire bent on revenge, and Seth, a new immortal obssessed with Vixen, who is being held captive by the renegades
Angel's pain
by
Maggie Shayne
( Book )
14 editions published between
2008
and 2016 in
English
and held by 626 WorldCat member libraries worldwide
"Briar needs just two things: blood and vengeance. The first sustains her immortal life; the second gives it meaning. First on her hit list is Gregor, the renegade vampire who schooled her in brutality, then betrayed and tortured her. To achieve her deadly ends, Briar joins the inscrutable Reaper and his misfit gang of vampires who are also hunting her old mentor. But once she's destroyed Gregor, she'll be gone. The group means nothing to her. Not even Crisa - damaged, defenseless, a liability in every way - the childlike vamp with whom Briar shares a blood bond. Or Reaper. Though they shared one moment of pure passion, it's not as though Briar has feelings for him. Because Briar needs no one. She needs only to satisfy her twin hungers - ones that may ultimately consume her."--Back cover
Colder than ice
by
Maggie Shayne
( Book )
12 editions published between
2002
and 2016 in
English
and
French
and held by 604 WorldCat member libraries worldwide
Seventeen years ago, government agent Joshua Kendall was part of the raid on the cultlike Young Believers compound. His own bullet killed an innocent girl, and he has lived with the guilt ever since. But a new assignment will reveal that the most shattering incident of Josh's life was nothing more than a lie. Elizabeth Marcum was that girl. She survived the bullet from the botched raid and now lives under a new identity in rural Vermont, hiding from the cult leader who has managed to elude capture all these years. But she's tired of running, tired of hiding. If Mordecai Young tracks her down, so be it. When Josh is sent to protect Elizabeth--and realizes who she is--he will do anything to keep her alive, including lying about who he is. But as Mordecai descends back into their lives they become targets in a deadly battle that threatens to shatter their last chance at life and love
Thicker than water
by
Maggie Shayne
( Book )
15 editions published between
2003
and 2016 in 3 languages and held by 599 WorldCat member libraries worldwide
It was called a haven for runaway teens. In truth, it was a nightmare, one that ended in fiery violence sixteen years ago. Or so its survivors believed
more
fewer
Audience Level
0

1
Kids
General
Special
Audience level: 0.20 (from 0.12 for Colder tha ... to 0.28 for Sleep with ...)
Related Identities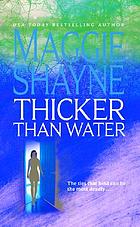 Alternative Names
Benson, Margaret
Benson, Margaret

Maggie Shayne American writer

Maggie Shayne Amerikaans schrijfster

Maggie Shayne écrivaine américaine

Maggie Shayne escritora estadounidense

셰인, 매기

シェイン, マギー

マギー・シェイン

Languages
Covers