Darcy, Lilian
Most widely held works by Lilian Darcy
Corazón libre
by
Lilian Darcy
( Book )
17 editions published between
2000
and 2016 in 6 languages and held by 245 WorldCat member libraries worldwide
Nurse Aimee Hilliard's financial crisis threatens her romance with Dr. Marshall Irwin
A mother in the making
by
Lilian Darcy
( Book )
12 editions published between
2008
and 2013 in 3 languages and held by 226 WorldCat member libraries worldwide
Carmen O'Brien has a lot on her plate--including raising her orphaned siblings. And if that isn't enough, a gorgeous, sexy new man has just entered her life--Jack Davey ... But who has time for gorgeous, sexy new men? It's fantastic to have a bit of fun for a change, but Carmen has to put family first. Except then she discovers she's bound to Jack for good. She might have been a mom in the making for years--but Carmen is to become a mom for real in nine months' time--and she needs Jack more than ever
The millionaire's Cinderella wife
by
Lilian Darcy
( Book )
15 editions published between
2005
and 2014 in 6 languages and held by 192 WorldCat member libraries worldwide
"Can I beg you on my bended knees to stick around for a bit, Sierra?" Ty said. Every woman on the entire East Coast would have dreamed of receiving such an offer from the handsome millionaire businessman who now graced the cover oa A-list magazine. But not Sierra Garrett. Because few people knew that their "bachelor of the year" was still her husband!
Soñando con el jefe
by
Lilian Darcy
( Book )
14 editions published between
2004
and 2014 in 5 languages and held by 190 WorldCat member libraries worldwide
Down-to-earth, dependable Cecelia Rankin was not the kind of woman who believed in dreams-come-tnje'but that's exactly what seemed to be happening! She kept dreaming of her gorgeous, millionaire boss Nick Delaney'no surprise there'but with a crying baby' Then Nick discovered he was guardian of an orphaned baby boy'. Nick was surprised'absolutely shocked! What did he know about bottles or baby booties' Thank goodness his assistant, Cecelia, was there to help him. But as they spent intimate moments together, Nick found that now he was dreaming'that he could make shy, sexy Cecelia his wife!
A proposal worth waiting for
by
Lilian Darcy
( Book )
12 editions published between
2008
and 2016 in 5 languages and held by 160 WorldCat member libraries worldwide
"Time with his son is precious to surgeon Nick Devlin. He knows he hasn't been there enough for his boy, but going to Crocodile Creek Kid's Camp will change all that. The last person Miranda Carlisle expects to see at the camp is Nick. Their one passionate night at medical school left her with only heartache. She's determined to keep her distance, yet watching him struggle to bond with his child tugs at her heartstrings. She knows she can help Nick, but opening her heart to him again will take courage. Luckily the warmth of Nick's smile is making her feel brave. She will help him become a father - perhaps they can even become a family."--Publisher description
Long-lost son : brand-new family.
by
Lilian Darcy
( Book )
16 editions published between
2007
and 2016 in 6 languages and held by 160 WorldCat member libraries worldwide
Janey Stafford is involved in an accident when searching for her nephew's father. Luke Bresciano keeps a vigil at her hospital bedside wondering why she is in Crocodile Creek. Luke and Janey go way back ... Can they all be reunited - this time as a family?
The children's doctor and the single mum
by
Lilian Darcy
( Book )
8 editions published between
2008
and 2016 in
English
and
Danish
and held by 159 WorldCat member libraries worldwide
The doctor takes a family! Tammy Prunty is an excellent neonatal-intensive-care nurse-and a single mom of five children! There's simply no time in her life for relationships. Besides, she's sworn off men for good! Her gorgeous colleague, neonatal specialist Laird Burchell, is definitely out of the question. He's a playboy, way out of her league and not the kind of man who'd even think about taking on five kids. But Laird's been bowled over by Tammy's warmth, her sense of humor and her gorgeous red hair. He might be daunted by the prospect of fatherhood, but there's so much about Tammy and her lively young family that makes him think she's a woman worth risking everything for
The doctor's fire rescue
by
Lilian Darcy
( Book )
10 editions published between
2005
and 2016 in 4 languages and held by 152 WorldCat member libraries worldwide
After avoiding pharmaceutical millionaire Niccolo Conti for the entire conference, Alison got on a tour bus to find the last seat was next to the tall, dark Italian. As the tour bus headed into dense forest fires, it became apparent that they would need all their medical expertise - and each other - to survive
The life saver
by
Lilian Darcy
( Book )
13 editions published between
2005
and 2017 in 4 languages and held by 147 WorldCat member libraries worldwide
Gorgeous Dr Ripley Taylor is a life saver in more ways than one. Not only as a doctor, but also to his fellow GP Jo Middleton . he helped her out of her king-size rut (all work and no play, TV dinners with her cat) and revitalised her love-life! Now that Rip is single, and . surprisingly . interested in her, the attraction is mutual, and snowballing into a passionate affair! Until Rip's ex-wife appears on the scene, and Jo wonders whether she has got their relationship all wrong. Rip will do anything to make her believe that it couldn't be more right
Sueños secretos
by
Lilian Darcy
( Book )
12 editions published between
2000
and 2014 in 5 languages and held by 145 WorldCat member libraries worldwide
THE BABY'S SECRET' Connor Callahan had just met Allie Todd, but he immediately felt an overwhelming need to protect her. And to understand why she turned to ice whenever she held her baby niece. He sensed that beautiful Allie was weathering her own storm'one even fiercer than the snowstorm that had stranded them in a remote cabin. Her combination of strength and vulnerability tore at his once-restless heart. But it was only after he saved Allie from a near tragic accident that he suspected her innermost secret. What if baby Jane wasn't Allie's niece, but her daughter''
more
fewer
Audience Level
0

1
Kids
General
Special
Audience level: 0.53 (from 0.24 for Sueños se ... to 0.76 for The life s ...)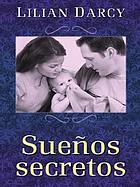 Alternative Names
Benyon, Melissa

Lilian Darcy Australian writer

Lilian Darcy auteur de romans sentimentaux

Lilian Darcy escritora australiana

ダーシー, リリアン

Languages
Covers