Ottaviano, Gianmarco I. P.
Most widely held works by Gianmarco I. P Ottaviano
Global income divergence, trade and industrialization : the geography of growth take-offs
by
Richard E Baldwin
( Book )
24 editions published in
1998
in
English
and held by 105 WorldCat member libraries worldwide
This paper takes a step towards formalizing the theoretical interconnections among four post-Industrial Revolution phenomena - the industrialization and growth take-off of rich northern' nations, massive global income divergence, and rapid trade expansion. Specifically, we present a stages-of-growth model in which the four phenomena are jointly endogenous and all are triggered by a gradual fall in the cost of doing business internationally. In the first stage, while trade costs are high, industry is dispersed and growth is low. In the second stage, the north industrializes rapidly, growth takes off and the south diverges. In the third stage, high growth becomes self sustaining. The model shows under which conditions, in a fourth stage, the south can quickly industrialize and converge
Multiproduct multinationals and reciprocal FDI dumping
by
Richard E Baldwin
( Book )
22 editions published in
1998
in
English
and held by 100 WorldCat member libraries worldwide
The global pattern of foreign direct investment (FDI) is quite similar to the world trade pattern. In particular, intraindustry FDI between rich nations is almost as pervasive as intraindustry trade among rich nations. In the standard' MNC model (of Markusen, Venables, Brainard, and others), FDI is driven by a tradeoff between proximity and scale, so firms typically supply the foreign market via exports or via FDI. The close correlation of two-way trade and investment flows is therefore difficult to explain with the standard model. We propose a model of multiproduct MNCs where firms simultaneously engage in intraindustry FDI and intraindustry trade
The economic value of cultural diversity : evidence from US cities
by
Gianmarco I. P Ottaviano
( Book )
20 editions published in
2004
in
English
and held by 66 WorldCat member libraries worldwide
What are the economic consequences to U.S. natives of the growing diversity of American cities? Is their productivity or utility affected by cultural diversity as measured by diversity of countries of birth of U.S. residents? We document in this paper a very robust correlation: US-born citizens living in metropolitan areas where the share of foreign-born increased between 1970 and 1990, experienced a significant increase in their wage and in the rental price of their housing. Such finding is economically significant and survives omitted variable bias and endogeneity bias. As people and firms are mobile across cities in the long run we argue that, in equilibrium, these correlations are consistent only with a net positive effect of cultural diversity on productivity of natives
The labor market impact of immigration in western Germany in the 1990's
by
Francesco D'Amuri
( Book )
22 editions published between
2008
and 2009 in
English
and held by 58 WorldCat member libraries worldwide
We adopt a general equilibrium approach in order to measure the effects of recent immigration on the Western German labor market, looking at both wage and employment effects. Using the Regional File of the IAB Employment Subsample for the period 1987-2001, we find that the substantial immigration of the 1990's had no adverse effects on native wages and employment levels. It had instead adverse employment and wage effects on previous waves of immigrants. This stems from the fact that, after controlling for education and experience levels, native and migrant workers appear to be imperfect substitutes whereas new and old immigrants exhibit perfect substitutability. Our analysis suggests that if the German labor market were as 'flexible' as the UK labor market, it would be more efficient in dealing with the effects of immigration
Rethinking the gains from immigration : theory and evidence from the U.S.
by
Gianmarco I. P Ottaviano
( Book )
15 editions published in
2005
in
English
and held by 56 WorldCat member libraries worldwide
"Recent influential empirical work has emphasized the negative impact immigrants have on the wages of U.S.-born workers, arguing that immigration harms less educated American workers in particular and all U.S.-born workers in general. Because U.S. and foreign born workers belong to different skill groups that are imperfectly substitutable, one needs to articulate a production function that aggregates different types of labor (and accounts for complementarity and substitution effects) in order to calculate the various effects of immigrant labor on U.S.-born labor. We introduce such a production function, making the crucial assumption that U.S. and foreign-born workers with similar education and experience levels may nevertheless be imperfectly substitutable, and allowing for endogenous capital accumulation. This function successfully accounts for the negative impact of the relative skill levels of immigrants on the relative wages of U.S. workers. However, contrary to the findings of previous literature, overall immigration generates a large positive effect on the average wages of U.S.-born workers. We show evidence of this positive effect by estimating the impact of immigration on both average wages and housing values across U.S. metropolitan areas (1970-2000). We also reproduce this positive effect by simulating the behavior of average wages and housing prices in an open city-economy, with optimizing U.S.-born agents who respond to an inflow of foreign-born workers of the size and composition comparable to the immigration of the 1990s"--National Bureau of Economic Research web site
more
fewer
Audience Level
0

1
Kids
General
Special
Audience level: 0.76 (from 0.08 for Economic g ... to 0.86 for Agglomerat ...)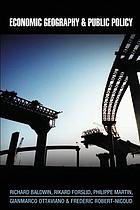 Alternative Names
Gianmarco I. P. Ottaviano economist (London School of Economics (LSE); Alma Mater Studiorum - Università di Bologna; Centre for Economic Policy Research (CEPR))

Gianmarco I. P. Ottaviano Wirtschaftswissenschaftler (Tätig an der Bocconi University DEEB-KITeS (Knowledge, Internationalization and Technology Studies))

Ottaviano, G.

Ottaviano, G. I. P.

Ottaviano, Giancarlo I. P.

Ottaviano , Gianmarco

Ottaviano, Gianmarco I.P.

Ottaviano , Gianmarco Ireo Paolo

Ottaviono, Gianmarco I. P.

Otttaviano, Gianmarco I. P.

Languages
Covers