Hoxby, Caroline Minter
Most widely held works by Caroline Minter Hoxby
The economics of school choice
by
Caroline Minter Hoxby
( Book )
20 editions published between
2003
and 2008 in
English
and
Chinese
and held by 414 WorldCat member libraries worldwide
Now that the U.S. Supreme Court has declared school voucher programs constitutional, the many unanswered questions concerning the potential effects of school choice will become especially pressing. Contributors to this volume draw on state-of-the-art economic methods to answer some of these questions, investigating the ways in which school choice affects a wide range of issues. Combining the results of empirical research with analyses of the basic economic forces underlying local education markets, The Economics of School Choice presents evidence concerning the impact of school choice on stude
College choices : the economics of where to go, when to go, and how to pay for it
by
Caroline Minter Hoxby
( Book )
16 editions published between
2004
and 2007 in
English
and held by 335 WorldCat member libraries worldwide
"In College Choices, Caroline M. Hoxby and a distinguished group of economists show how students and their families really make college decisions: how they respond to financial aid options, whether they need mentoring to get through the admissions process, and why certain students do not persist beyond the first year. Students of all sorts are considered: from poor students who may struggle with applications and whether to continue on to college, to high aptitude students who are offered "free rides" at elite schools. College Choices utilizes the best methods and latest data to analyze the college decision-making process, while explaining how changes in aid and admissions practices inform those decisions as well."--Jacket
All school finance equalizations are not created equal
by
Caroline Minter Hoxby
( Book )
12 editions published in
1998
in
English
and held by 95 WorldCat member libraries worldwide
Abstract: Public school finance equalization programs can be characterized by the change they impose on the tax price of an additional dollar of local school spending. I calculate the tax price of spending for each school district in the United States for 1972, 1982, and 1992. I find that using the actual tax prices (rather than treating school finance equalizations as events) resolves apparently conflicting evidence about the effects of equalizations on per-pupil spending. Depending on whether they impose tax prices greater than or less than one, school finance equalizations either enjoy increased spending under most equalization schemes, but they actually lose spending under the strongest schemes such as those that exist in California and New Mexico. More importantly, regardless of whether an equalization levels down or up, it should be understood as a tax system on districts' spending. I show that school finance equalization schemes have properties that are generally considered undesirable: they raise revenue on a base that is itself a function of the school finance system and they assign tax prices so that people with a high demand for education are penalized relative to otherwise identical people with the same income. I discuss some simple, familiar schemes that do not have these undesirable properties, yet can achieve similar redistribution
How the financial crisis and great recession affected higher education
by
Jeffrey R Brown
( Book )
10 editions published between
2014
and 2015 in
English
and held by 93 WorldCat member libraries worldwide
The recent financial crisis had a profound effect on both public and private universities. Universities responded to these stresses in different ways. This volume presents new evidence on the nature of these responses and how the incentives and constraints facing different institutions affected their behavior
Is there an equity-efficiency trade-off in school finance? : Tiebout and a theory of the local public goods producer
by
Caroline Minter Hoxby
( Book )
13 editions published in
1995
in
English
and held by 80 WorldCat member libraries worldwide
Abstract: New empirical work shows the degree of competition among public providers of local public goods or between public and private providers of local public goods matters. This evidence needs a theory of the local public goods producer. Tiebout's hypothesis spawned a literature that gives local public economics a useful theory of the consumer which can generate a theory of the local public goods producer. This potential has remained largely undeveloped apart from Tiebout's vision of the local public goods producer as an entrepreneur, which is unrealistic because local public goods are nonverifiable. The Tiebout mechanism does not operate in alternative models of the local public goods producer, such as bureaucracy and agenda models. None of these models is useful for predicting how local public goods producers react to policies that change the structure of local public finance. This paper builds a theory of the producer that draws upon Tiebout's mechanism and the theory of incentives for regulation. I find that Tiebout's mechanism generates information that can be used in regulatory schemes to achieve lower costs for any given provision of local public goods. Thus, we face a fundamental trade-off between promoting equitable consumption of the public good and promoting efficiency in production of the public good. This trade-off exists even when equity in consumption generates positive externalities, as is often suggested of the consumption of schooling. I present evidence that when the Tiebout mechanism for schools is weakened by state-level school funding, per-pupil costs rise and the growth of educational attainment falls. This implies that losses from inefficient production generally outweigh gains from equalized consumption
Would school choice change the teaching profession?
by
Caroline Minter Hoxby
( Book )
15 editions published in
2000
in
English
and held by 78 WorldCat member libraries worldwide
This paper investigates whether schools that face stronger choice-based incentives have greater demand for certain teacher characteristics and (if so) which teacher characteristics. Schools that face choice-based incentives should demand teachers who raise a schools' ability to attract students. Thus, in the long term, school choice would affect who became (and remained) a teacher if it affected schools' demand for certain teacher characteristics. Using data on traditional forms of choice (Tiebout choice, choice of private schools) and a new survey of charter school teachers, this paper finds evidence that suggests that school choice would change the teaching profession by demanding teachers with higher quality college education, more math and science skills, and a greater degree of effort and independence
Benevolent colluders? : the effects of antitrust action on college financial aid and tuition
by
Caroline Minter Hoxby
( Book )
14 editions published in
2000
in
English
and held by 77 WorldCat member libraries worldwide
Abstract: The Department of Justice's (DOJ's) investigation of private colleges for price-fixing caused the Overlap' group of colleges to discontinue their meetings. DOJ alleged that the meetings enabled the colleges to collude on higher tuition and increase their tuition revenue. The colleges claimed that they needed the meeting to implement their policies of basing aid on need and fully covering need. This paper investigates whether the cessation of the meeting caused a break-down of need-based aid policies or whether, as DOJ argued, the meeting was unnecessary for such policies. I also attempt to determine whether the cessation of the meeting affected tuition or tuition revenue. Finally, I examine the question of whether need-based aid is simply redistribution or a method of internalizing externalities among students. Many students would like colleges to maintain policies of need-based aid for others while making exceptions for them, awarding them grants for which they would not qualify based on need. Yet, the same students might prefer a regime of need-based aid, knowing that it would apply them, because basing aid on need affects colleges' selectivity and diversity
Peer effects in the classroom : learning from gender and race variation
by
Caroline Minter Hoxby
( Book )
14 editions published in
2000
in
English
and held by 75 WorldCat member libraries worldwide
Peer effects are potentially important for understanding the optimal organization of schools, jobs, and neighborhoods, but finding evidence is difficult because people are selected into peer groups based, in part, on their unobservable characteristics. I identify the effects of peers whom a child encounters in the classroom using sources of variation that are credibly idiosyncratic, such as changes in the gender and racial composition of a grade in a school in adjacent years. I use specification tests, including one based on randomizing the order of years, to confirm that the variation I use is not generated by time trends or other non-idiosyncratic forces. I find that students are affected by the achievement level of their peers: a credibly exogenous change of 1 point in peers' reading scores raises a student's own score between 0.15 and 0.4 points, depending on the specification. Although I find little evidence that peer effects are generally non-linear, I do find that peer effects are stronger intra-race and that some effects do not operate through peers' achievement. For instance, both males and females perform better in math in classrooms that are more female despite the fact that females' math performance is about the same as that of males
Explaining rising income and wage inequality among the college-educated
by
Caroline Minter Hoxby
( Book )
15 editions published between
1998
and 1999 in
English
and held by 75 WorldCat member libraries worldwide
The incomes and wages of college-educated Americans have become significantly more dispersed since 1970. This paper attempts to decompose this growing dispersion into three possible sources of growth. The first source, or extensive margin, ' is the increasing demographic diversity of people who attend college. The second is an increasing return to aptitude. The third, or intensive margin, ' combines the increasing self-segregation (on the basis of aptitude) of students among colleges and the increasing correlation between the average aptitude of a college's student body and its expenditure on education inputs. These tendencies are the result of changes in the market structure of college education, as documented elsewhere. We find that about 70% of the growth in inequality among recipients of baccalaureate degrees can be explained with observable demographics, measures of aptitude, and college attributes. About 50% of the growth in inequality among people who have 2 years of college education can be similarly explained. Of the growth that can be explained, about 1/4th is associated with the extensive margin, 1/3rd with an increased return to measured aptitude, and 5/12ths with the intensive margin. If the intensive margin is not taken into account, the role of increasing returns to aptitude is greatly overstated
more
fewer
Audience Level
0

1
Kids
General
Special
Audience level: 0.46 (from 0.06 for The econom ... to 0.73 for The produc ...)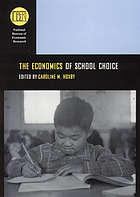 Alternative Names
Caroline Hoxby American economist

Caroline Hoxby Amerikaans econome

Caroline Hoxby amerikansk ekonom

Caroline Hoxby amerikansk økonom

Caroline Hoxby economista estadounidense

Hoxby, C.

Hoxby, Caroline 1966-

Hoxby, Caroline M.

Hoxby Caroline M. 1966-....

Minter, Caroline Hoxby

Minter Hoxby, Caroline 1966-

Languages
Covers