Random House Audio Publishing
Most widely held works by Random House Audio Publishing
The girl who kicked the hornet's nest [a novel]
by
Stieg Larsson
( Recording )
3 editions published in
2010
in
English
and held by 1,691 WorldCat member libraries worldwide
"Lisbeth Salander-- the heart of Larsson's two previous novels-- lies in critical condition, a bullet wound to her head, in the intensive care unit of a Swedish city hospital. She's fighting for her life in more ways than one: if and when she recovers, she'll be taken back to Stockholm to stand trial for three murders. With the help of her friend, journalist Mikael Blomkvist, she will not only have to prove her innocence, but also identify and denounce those in authority who have allowed the vulnerable, like herself, to suffer abuse and violence. And on her own, she will plot revenge-- against the man who tried to kill her, and the corrupt government institutions that very nearly destroyed her life."--Container
Smokin' seventeen
by
Janet Evanovich
( Recording )
4 editions published between
2011
and 2012 in
English
and held by 1,598 WorldCat member libraries worldwide
Where there's smoke there's fire, and no one knows this better than New Jersey bounty hunter, Stephanie Plum. The bail bonds office has burned to the ground, and bodies are turning up in the empty construction lot. To make matters worse, Stephanie is working out of a motor home she shares with a dancing bear, and Joe Morelli's old-world grandmother has declared a vendetta against her. And just when Stephanie decides it might be time to choose between the two men in her life, Morelli and Ranger, a third man from Stephanie's past moves back to Trenton
The girl with the dragon tattoo
by
Stieg Larsson
( Recording )
4 editions published between
2008
and 2011 in
English
and held by 1,430 WorldCat member libraries worldwide
The disappearance forty years ago of Harriet Vanger, a young scion of one of the wealthiest families in Sweden, gnaws at her octogenarian uncle, Henrik Vanger. He is determined to know the truth about what he believes was her murder. He hires crusading journalist Mikael Blomkvist, recently at the wrong end of a libel case, to get to the bottom of Harriet's disappearance. Lisbeth Salander, a twenty-four-year-old, pierced, tattooed genius hacker, possessed of the hard-earned wisdom of someone twice her age--and a terrifying capacity for ruthlessness--assists Blomkvist with the investigation. This unlikely team discovers a vein of nearly unfathomable iniquity running through the Vanger family, an astonishing corruption at the highest echelon of Swedish industrialism--and a surprising connection between themselves.--From publisher description
Inferno [a novel]
by
Dan Brown
( Recording )
2 editions published in
2013
in
English
and held by 1,349 WorldCat member libraries worldwide
"In the heart of Italy, Harvard professor of symbology Robert Langdon is drawn into a harrowing world centered on one of history's most enduring and mysterious literary masterpieces: Dante's Inferno. Against this backdrop, Langdon battles a chilling adversary and grapples with an ingenious riddle that pulls him into a landscape of classic art, secret passageways, and futuristic science" -- vendor summary
Unbroken [a World War II airman's story of survival, resilience, and redemption]
by
Laura Hillenbrand
( Recording )
3 editions published in
2010
in
English
and held by 1,292 WorldCat member libraries worldwide
In 1943, while World War II raged on in the Pacific Theater, Lieutenant Louis Zamperini was the only survivor of a deadly plane crash in the middle of the ocean. Zamperini had a troubled youth, yet honed his athletic skills and made it all the way to the 1934 Olympics in Berlin. However, what lay before him was a physical gauntlet unlike anything he had encountered before: thousands of miles of open ocean, a small raft, and no food or water
Personal
by
Lee Child
( Recording )
3 editions published in
2014
in
English
and held by 1,227 WorldCat member libraries worldwide
Someone has taken a shot at the president of France in the City of Light. The bullet was American. The distance between the gunman and the target was exceptional. How many snipers can shoot from three-quarters of a mile with total confidence? Very few, but John Kott -- an American marksman gone bad -- is one of them. And after fifteen years in prison, he's out, unaccounted for, and likely drawing a bead on a G-8 summit packed with enough world leaders to tempt any assassin. If anyone can stop Kott, it's the man who beat him before: Reacher. And though he'd rather work alone, Reacher is teamed with Casey Nice, a rookie analyst who keeps her cool with Zoloft. But they're facing a rough road, full of ruthless mobsters, Serbian thugs, close calls, double-crosses, and no backup if they're caught. All the while Reacher can't stop thinking about the woman he once failed to save. But he won't let that that happen again. Not this time. Not Nice. Reacher never gets too close. But now a killer is making it personal
The lost symbol a novel
by
Dan Brown
( Recording )
1 edition published in
2009
in
English
and held by 1,156 WorldCat member libraries worldwide
He saved the Catholic Church from a fundamentalist radical in Angels & Demons and exposed the world's greatest cover-up in The Da Vinci Code. Now, symbologist and Harvard professor Robert Langdon returns to uncover another mystery. Called to Washington D.C., Langdon must investigate the centuries-old secrets of the Freemasons. However, with treachery around every corner, will Langdon's eidetic memory and insurmountable knowledge of history be able to guide him through another adventure?
The reptile room
by
Lemony Snicket
( Recording )
2 editions published between
1999
and 2001 in
English
and held by 1,153 WorldCat member libraries worldwide
After narrowly escaping the menacing clutches of the dastardly Count Olaf, the three Baudelaire orphans are taken in by a kindly herpetologist with whom they live happily for an all-too-brief time
Game of thrones
by
George R. R Martin
( Recording )
2 editions published between
2011
and 2013 in
English
and held by 1,122 WorldCat member libraries worldwide
"Long ago, in a time forgotten, a preternatural event threw the seasons out of balance. In a land where summers can last decades and winters a lifetime, trouble is brewing. The cold is returning, and in the frozen wastes to the north of Winterfell, sinister and supernatural forces are massing beyond the kingdom's protective Wall. At the center of the conflict lie the Starks of Winterfell, a family as harsh and unyielding as the land they were born to. Sweeping from a land of brutal cold to a distant summertime kingdom of epicurean plenty, here is a tale of lords and ladies, soldiers and sorcerers, assasins and bastards, who come together in a time of grim omens. Here an enigmatic band of warriors bear swords of no human metal; a tribe of fierce wildling carry men off into madness; a cruel young dragon prince barters his sister to win back his throne; and a determined woman undertakes the most treacherous of journeys. Amid plots and counterplots, tragedy and betrayal, victory and terror, the fate of the Starks, their allies, and their enemies hang perilously in the balance, as each endeavors to win that deadliest of conflcts: the game of thrones." -- Back of container
Ford County : stories
by
John Grisham
( Recording )
2 editions published in
2009
in
English
and held by 1,062 WorldCat member libraries worldwide
Collects seven short stories by John Grisham that take place in Ford County, Mississippi, where his first novel, "A Time to Kill," took place, including "Blood Drive," "Fetching Raymond," "Fish Files," "Casino," "Michael's Room," "Quiet Haven," and "Funny Boy."
more
fewer
Audience Level
0

1
Kids
General
Special
Audience level: 0.12 (from 0.08 for Unbroken [ ... to 0.16 for Double Dex ...)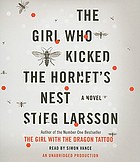 Alternative Names
Random House Audio

Random House AudioBooks (Firm)

Languages
Covers