Acemoglu, Daron
Most widely held works by Daron Acemoglu
Why nations fail : the origins of power, prosperity, and poverty
by
Daron Acemoglu
( Book )
126 editions published between
2012
and 2017 in 15 languages and held by 3,251 WorldCat member libraries worldwide
Why are some nations rich and others poor, divided by wealth and poverty, health and sickness, food and famine? Is it culture, the weather, geography, or perhaps ignorance of the right policies? Simply, no. None of these factors is either definitive or destiny. In this book the authors show that it is man-made political and economic institutions that underlie economic success (or lack of it). Based on fifteen years of original research, they marshal historical evidence from the Roman Empire to the Soviet Union, from Korea to Africa, to build a new theory of political economy with great relevance for the big questions of today, including: China has built an authoritarian growth machine. Will it continue to grow at such high speed and overwhelm the West? Is America moving from a virtuous circle, in which efforts by elites to aggrandize power are resisted, to a vicious one that enriches and empowers a small minority? What is the most effective way to help move billions of people from the rut of poverty to prosperity? Is it through more philanthropy from the wealthy nations of the West, or learning lessons on the interplay between inclusive political and economic institutions?
Economic origins of dictatorship and democracy
by
Daron Acemoglu
( Book )
37 editions published between
2005
and 2009 in
English
and held by 926 WorldCat member libraries worldwide
The authors develop a framework for analysing the creation and consolidation of democracy. Different social groups prefer different political institutions because of the way they allocate political power and resources. Dictatorship, nevertheless, is not stable when citizens can threaten social disorder and revolution
Introduction to modern economic growth
by
Daron Acemoglu
( Book )
17 editions published between
2008
and 2012 in
English
and held by 533 WorldCat member libraries worldwide
Daron Acemoglu gives graduate students not only the tools to analyze growth & related macroeconomic problems, but also the broad perspective necessary to apply those tools to the big-picture questions of growth & divergence. He also introduces the economic & mathematical foundations of modern growth theory & macroeconomics
Why nations fail : the origins of power, prosperity and poverty
by
Daron Acemoglu
( Recording )
9 editions published in
2012
in
English
and held by 355 WorldCat member libraries worldwide
Why are some nations more prosperous than others? "Why Nations Fail" sets out to answer this question, with a compelling and elegantly argued new theory: that it is not down to climate, geography or culture, but because of institutions. Drawing from an extraordinary range of contemporary and historical examples, academics Acemoglu and Robinson argue that nations can only prosper if the people are allowed to keep the wealth that they earn
Advances in economics and econometrics
by
Econometric Society
( Book )
39 editions published between
2010
and 2013 in
English
and held by 147 WorldCat member libraries worldwide
Contains edited papers and commentaries presented at invited symposium sessions of the Tenth World Congress of the Econometric Society, held in Shanghai in August 2010
Macroéconomie
by
Daron Acemoglu
( Book )
20 editions published between
2014
and 2018 in
English
and
French
and held by 111 WorldCat member libraries worldwide
Introduction to economics -- The principles and practice of economics -- Economic methods and economic questions -- Optimization : doing the best you can -- Demand, supply, and equilibrium -- Introduction to macroeconomics -- The wealth of nations : defining and measuring macroeconomic aggregates -- Aggregate incomes -- Long-run growth and development -- Economic growth -- Why isn't the whole world developed -- Equilibrium in the macroeconomy -- Employment and unemployment -- Credit markets -- The monetary system -- Short-run fluctuations and macroeconomic policy -- Short-run fluctuations -- Countercyclical macroeconomic policy -- Macroeconomics in a global economy -- Macroeconomics and international trade -- Open economy macroeconomics -- Chapters on the web
Changes in unemployment and wage inequality : an alternative theory and some evidence
by
Daron Acemoglu
( Book )
28 editions published between
1996
and 1998 in
English
and held by 110 WorldCat member libraries worldwide
This paper offers a model where firms decide what types of jobs to create and then search for suitable workers. When there are few skilled workers and the productivity gap between the skilled and the unskilled is small, firms create a single type of job and recruit all workers. An increase in the proportion of skilled workers or skill-biased technical change can create a qualitative change in the composition of jobs, increasing the demand for skills, wage inequality, and the unemployment rates for both groups. The paper provides some evidence that there has been a change in the composition of jobs in the U.S. during the past two decades
Minimum wages and on-the-job training
by
Daron Acemoglu
( Book )
25 editions published between
1999
and 2002 in
English
and held by 109 WorldCat member libraries worldwide
Becker's theory of human capital predicts that minimum wages should reduce training investments for affected workers, because they prevent these workers from taking wage cuts necessary to finance training. We show that when the assumption of perfectly competitive labor markets underlying this theory is relaxed, minimum wages can increase training of affected workers, by inducing firms to train their unskilled employees. More generally, a minimum wage increases training for constrained workers, while reducing it for those taking wage cuts to finance their training. We provide new estimates on the impact of the state and federal increases in the minimum wage between 1987 and 1992 of the training of low wage workers. We find no evidence that minimum wages reduce training. These results are consistent with our model, but difficult to reconcile with the standard theory of human capital
The structure of wages and investment in general training
by
Daron Acemoglu
( Book )
20 editions published between
1997
and 1998 in
English
and held by 109 WorldCat member libraries worldwide
In the standard model of human capital with perfect labor markets, workers pay for general training. When labor market frictions compress the structure of wages, firms may invest in the general skills of their employees. The reason is that the distortion in the wage structure turns "technologically" general skills into "specific" skills. Labor market frictions and institutions, such as minimum wages and union wage setting, are crucial in shaping the wage structure, and thus have an important impact on training. Our results suggest that the more frictional and regulated labor markets in Europe and Japan may generate more firm-sponsored general training than the U.S
Why do firms train? : theory and evidence
by
Daron Acemoglu
( Book )
24 editions published in
1996
in
English
and held by 109 WorldCat member libraries worldwide
This paper offers and tests a theory of training whereby workers do not pay for general training they receive. The crucial ingredient in our model is that the current employer has superior information about the worker's ability relative to other firms. This informational advantage gives the employer an ex post monopsony power over the worker which encourages the firm to provide training. We show that the model can lead to multiple equilibria. In one equilibrium quits are endogenously high, and as a result employers have limited monopsony power and are willing to supply only little training, while in another equilibrium quits are low and training high. We also derive predictions from our model not shared by other explanations of firm sponsored training. Using microdata from Germany, we show that the predictions of the specific human capital model are rejected, while our model receives support from the data
more
fewer
Audience Level
0

1
Kids
General
Special
Audience level: 0.45 (from 0.02 for NBER Macro ... to 0.76 for Macroécon ...)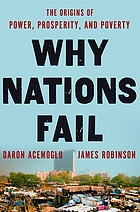 Alternative Names
Acemoglu, D. 1967-

Acemoğlu, Daron

Acemoğlu, Daron 1967-

Acemoglu, K. Daron.

Acemoglu, K. Daron 1967-

Acemoğlu, Kamer Daron

Acemoglu, Kamer Daron 1967-

Daron Acemoğlu Amerikaans econoom

Daron Acemoğlu economista turco naturalizzato statunitense

Daron Acemoğlu économiste turco-américain

Daron Acemoğlu turecko-amerykański ekonomista

Daron Acemoğlu Turkish-American economist

Daron Acemoğlu US-amerikanischer Ökonom

Daron Əcəmoğlu

Аджемоглу Д. 1967-

Дарон Аджемоглу

Дарон Асемоглу

Տարոն Աճեմօղլու

Տարոն Աճեմօղլու հայ տնտեսագետ, պրոֆեսոր

דרון אג'מולו

דרון אסמוגלו

دارون عاجم‌اوغلو

다론 아제모을루 터키 태생의 경제학자

애쓰모글루, 대런

에스모글루, 대런

에이스모글루, 대런

アセモグル, ダロン

ダロン・アシモグル

达隆·阿齐默鲁

Languages
Covers