WonderWorks, Ltd
Most widely held works by Ltd WonderWorks
The chronicles of Narnia
( Visual )
1 edition published in
2002
in
English
and held by 754 WorldCat member libraries worldwide
Disc 1: Two brothers and two sisters find that an old wardrobe magically transports them into the world of Narnia, a land of talking animals and mythical creatures. They discover that Narnia is under the evil power of the White Witch, who has kept the land in eternal winter and has turned all her enemies to stone. Disc 2: Narnia is later ruled by corrupt King Miraz, and his nephew calls upon the children to help defeat his uncle and restore the land to its former glory. Years later, two of the children are sent back to assist the nephew on a voyage. Disc 3: After many years, a return visit to Narnia finds King Caspian old and frail, and the children embark on a perilous journey through enchanted lands of giants and witches to find the vanished Prince Rilian and bring him home
The silver chair
by
C. S Lewis
( Visual )
5 editions published between
2002
and 2010 in
English
and held by 628 WorldCat member libraries worldwide
Eustace is summoned back to the magical land of Narnia with his new friend Jill. Many years have passed since Eustace's last visit. King Caspian is old and frail. The mysterious disappearance years ago of his son, Prince Rilian, has remained unsolved. Aslan the lion charges the children to embark on a perilous journey through enchanted lands of giants and witches to find Rilian and bring him home
Prince Caspian, and ; The voyage of the Dawn Treader
( Visual )
5 editions published between
2002
and 2005 in
English
and held by 610 WorldCat member libraries worldwide
The magical land of Narnia is ruled by the corrupt King Miraz. His nephew, Prince Caspian, calls on Lucy, Peter, Susan and Edmund to help him defeat Miraz and restore Narnia to its former glory. Years later Caspian, Lucy, Edmund and obnoxious cousin Eustace set sail to rescue the six lords who were banished by Caspian's evil uncle
The Lion, the witch & the wardrobe
by
C. S Lewis
( Visual )
13 editions published between
1988
and 2010 in
English
and held by 448 WorldCat member libraries worldwide
An adventure story of two brothers & two sisters who enter into the magical world of Narnia when they cross through an enchanted wardrobe closet, finding themselves in a land filled with talking animals & mythical creatures
The Lion, the witch & the wardrobe
( Visual )
3 editions published in
2002
in
English
and held by 412 WorldCat member libraries worldwide
Two brothers and two sisters cross through an enchanted wardrobe closet into the magical world of Narnia, the land of talking animals and mythical creatures. They discover that Narnia is under the evil power of the White Witch, who brings eternal winter to the land. It is up to the children to join the noble Aslan to bring springtime and happiness back to Narnia
The chronicles of Narnia
by
C. S Lewis
( Visual )
13 editions published between
1988
and 2015 in
English
and held by 309 WorldCat member libraries worldwide
Voyage of the Dawn Treader: When Lucy and Edmund Pevensie, along with their cousin Eustace, are swallowed into a painting and transported back to Narnia, they join King Caspian and a noble mouse named Reepicheep aboard the magnificent ship The Dawn Treader. The courageous voyagers travel to mysterious islands, confront mystical creatures, and reunite with the Great Lion Aslan on a mission that will determine the fate of Narnia itself!
Hiroshima maiden
( Visual )
4 editions published between
1988
and 2004 in
English
and
Undetermined
and held by 206 WorldCat member libraries worldwide
Ten years after the 1945 atomic bombing of Hiroshima, Japan, Miyeko Matsuda arrives in America. She is invited to stay at the home of the Bennett family while she undergoes plastic surgery for radiation burns and scarring. Miyeko is warmly welcomed by everyone except older son Johnny, who is persuaded by his friends that "this Japanese girl may be a spy."
The chronicles of Narnia
by
C. S Lewis
( Visual )
8 editions published between
1991
and 2008 in
English
and
Undetermined
and held by 169 WorldCat member libraries worldwide
Prince Caspian calls Lucy, Edmund, Peter, and Susan back to Narnia in his most harrowin time of need. Led by Aslan, the Great Lion, the children help young Caspian defeat corrupt King Miraz in a spectacular battle, restoring Narnia to its full glory. Years later, Lucy and Edmund are sent back to Narnia, along with their cousin Eustace, to assist Caspian on a voyage. Along their journey the children battle dragons and sea serpents and sail across a golden lake to reach the edge of the world
The chronicles of Narnia
by
C. S Lewis
( Visual )
9 editions published between
2002
and 2008 in
English
and held by 157 WorldCat member libraries worldwide
Eustace is summoned back to the magical land of Narnia with his new friend Jill. Many years have passed since Eustace's last visit. King Caspian is old and frail. The mysterious disappearance years ago of his son, Prince Rilian, has remained unsolved. Aslan the lion charges the children to embark on a perilous journey through enchanted lands of giants and witches to find Rilian and bring him home
You must remember this
by
Helen Bowden
( Visual )
2 editions published in
2004
in
English
and held by 149 WorldCat member libraries worldwide
A girl discovers a trunk containing movies directed by her uncle. After looking through all of them, she encourages him to be proud of his past
more
fewer
Audience Level
0

1
Kids
General
Special
Audience level: 0.16 (from 0.10 for The chroni ... to 0.28 for You must r ...)
Related Identities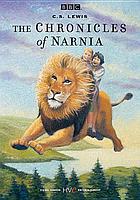 Covers
Languages