Yoshida, Toshifumi
Most widely held works by Toshifumi Yoshida
Ranma 1/2
by
Rumiko Takahashi
( Book )
13 editions published between
1998
and 2005 in
English
and held by 436 WorldCat member libraries worldwide
After an accident during a training mission with his father, teenage martial artist Ranma Soatome changes into a woman any time he is splashed with water, making it even more difficult for him to woe his arranged fiance, who claims she hates Ranma
Negima
by
Ken Akamatsu
( Book )
16 editions published between
2006
and 2009 in
English
and held by 346 WorldCat member libraries worldwide
Boy wizard Negi Springfield has met some tough challenges. After all, he's an English teacher at an all-girls high school. But now he must face one of his own students in battle-- without relying on his magical powers
Pokémon, the movie, black, Victini and Reshiram ; Pokémon, the movie, white, Victini and Zekrom
by
Kunihiko Yuyama
( Visual )
1 edition published in
2012
in
English
and held by 309 WorldCat member libraries worldwide
Featuring two different versions of the same story, this fourteenth installment of the Pokémon animated film series follows Ash and his friends as they enter a battle competition in Eindoak Town. While at the competition, the group befriends mythical Pokémon Victini and, after disaster strikes and the misguided wanderer Damon seizes Victini for his own plans, Ash must prove himself a hero and earn the help of a legendary Pokémon, either Reshiram (Pokémon, the movie, black) or Zekrom (Pokémon, the movie, white), to rescue Victini and save Eindoak Town
Ranma 1/2
by
Rumiko Takahashi
( Book )
9 editions published between
1995
and 2004 in
English
and held by 279 WorldCat member libraries worldwide
Due to some strange training by his father, Ranma can't stand cats. Exposed to a cat for too long, he turns into one--and becomes invincible! Meanwhile, Shampoo returns with her great-grandmother, the "honorable hag, " who magically makes Ranma unable to tolerate hot water. Shampoo has also been to the magical springs, and now turns into a cat! When Shampoo's ardent suitor Mousse arrives, female Ranma has no choice but to try to defeat him
Ranma 1/2
by
Rumiko Takahashi
( Book )
7 editions published between
1997
and 2004 in
English
and held by 278 WorldCat member libraries worldwide
Shampoo's spurned suitor Mousse wants revenge on Ranma for "stealing" the object of his affection. He's kidnapped Akane, and made her the star attraction of a circus act where she turns into a duck
Ranma 1/2
by
Rumiko Takahashi
( Book )
5 editions published between
2003
and 2004 in
English
and held by 276 WorldCat member libraries worldwide
Extensive training helps Ranma defeat Shampoo's grandmother by assuming his invincible cat mode. Akane in turn tames "cat Ranma, " in the process gaining the antidote to Ranma's inability to tolerate hot water. Just as Ranma returns to male form, Ryoga arrives, only to be tied into knots by Ranma. Ryoga turns to the old woman for more training, and learns Bakusaitenketsu, a technique that teaches how to explode a rock through pressure points. Soon Ranma must face a more powerful Ryoga, and the outcome isn't at all certain!
Ranma 1/2
by
Rumiko Takahashi
( Book )
4 editions published in
2004
in
English
and held by 234 WorldCat member libraries worldwide
"Akane powers up! First, Shampoo feeds her some magical Chinese steamed treats, then some special sobanoodles give her super strength ... with unfortunately disastrous after-effects! Then, Furinkan High gets a new principal who hails from Hawaii ... and who has some very radical ideas about student discipline!"--Publisher website (March 2008)
D. Gray-Man
by
Katsura Hoshino
( Book )
5 editions published between
2004
and 2006 in
English
and held by 229 WorldCat member libraries worldwide
Allen and Lenalee are sent on a mission to a city where time has stood still, a place where the townsfolk forget that every day is the same day repeating itself. Strangely enough, a woman named Miranda is the only one unaffected by the time warp. Would it have anything to do with her being fired from her job for the hundredth time?
Ranma 1/2
by
Rumiko Takahashi
( Book )
2 editions published between
2001
and 2004 in
English
and held by 218 WorldCat member libraries worldwide
Chronicles the adventures of Ranma, a martial arts student cursed to turn into a girl every time he is splashed with cold water
D. Gray-Man
by
Katsura Hoshino
( Book )
4 editions published between
2007
and 2015 in
English
and held by 217 WorldCat member libraries worldwide
After Allen disappears, Lavi and Lenalee rush to find him, only to end up confronting a horde of akuma pursuing Allen's golem Timcanpy
more
fewer
Audience Level
0

1
Kids
General
Special
Audience level: 0.22 (from 0.16 for Pokémon, ... to 0.32 for The kurosa ...)
Related Identities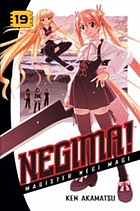 Languages
Covers