Jeffries, Sabrina
Most widely held works by Sabrina Jeffries
The truth about Lord Stoneville
by
Sabrina Jeffries
( Book )
33 editions published between
2007
and 2015 in 7 languages and held by 1,252 WorldCat member libraries worldwide
In the two decades since a tragic "accident" took the lives of his parents, Oliver Sharpe, the Marquess of Stoneville, has survived the scandal surrounding that fateful night by living as an unrepentant rakehell. And with his grandmother vowing to disinherit him if he doesn't settle down and wed, he plans to fulfill the bargain in true Sharpe style -- by bringing home a fake fiancée from a brothel! But his scheme is derailed when he rescues an American beauty in a dire predicament instead. Maria Butterfield came to London to track down her groom-to-be, who's gone missing, but her engagement won't stop Oliver from getting what he wants: her, in his bed. His rebellious masquerade may call his grandmother's bluff, but it's soon made all too real -- by a love that tempts him to be a hellion no more
How to woo a reluctant lady
by
Sabrina Jeffries
( Book )
19 editions published between
2011
and 2015 in 6 languages and held by 1,139 WorldCat member libraries worldwide
Lady Minerva Sharpe doesn't ever intend to marry because no respectable man would allow her to continue writing her books. So when the only man she was ever attracted to, reckless and wild barrister Giles Masters, proposes that she marry him to meet her grandmother's ultimatum, she counters with a different proposal: a fake courtship that will upset Gran's plans in a way that her brother's fake betrothal did not
A lady never surrenders
by
Sabrina Jeffries
( Book )
21 editions published between
2012
and 2015 in 5 languages and held by 1,108 WorldCat member libraries worldwide
Lady Celia Sharpe hopes that if she can garner offers of marriage from several eligible gentlemen and show her grandmother she is capable of gaining a husband, she can convince Gran to rescind the marriage ultimatum for her. And if that plan doesn't work, at least she'll have a husband lined up. But Bow Street Runner Jackson Pinter seems determined to ruin her plans by disapproving of every suitor she asks him to investigate. It's only when she and Jackson work together to solve her parents' murders, plunging them both into danger, that she realizes why--because the only man he wants her to marry is himself!
'Twas the night after Christmas
by
Sabrina Jeffries
( Book )
14 editions published between
2012
and 2015 in
English
and
Polish
and held by 1,087 WorldCat member libraries worldwide
Unwrapping her talent for creating "scintillating wit and heart-stopping sensuality" (Library Journal), Sabrina Jeffries gives readers a gift to cherish: a touching new novel of an unexpected Christmas reunion'sparked by a cunning ruse, family secrets, and the mysterious ways of the heart. Dear Sir ... I feel I should inform you that your mother is very ill. If you wish to see her before it is too late, you should come at once. Sincerely, Mrs. Camilla Stuart Pierce Waverly, the Earl of Devonmont, has led an unabashed rogue's life, letting no woman near his heart. Inexplicably abandoned as a child to be raised by distant relatives, he never forgave his parents, refusing to read any of his mother's letters after his father's death. Then came a letter that shook his resolve. A Christmas visit to Montcliff might prove his last chance to discover the truth of his past, and come to terms with the stranger he calls "Mother." But two surprises await him at Montcliff. His mother is perfectly healthy, nowhere near a deathbed, as her meddling lady's companion led him to believe. The second is Camilla Stuart herself, a lively vicar's widow, too bright and beautiful not to arouse the scoundrel in Pierce. Though she alone is reason enough to prolong his stay, he is soon faced with other tantalizing riddles: What secrets lie in his mother's past to explain his childhood abandonment' Why is the captivating Mrs. Stuart so determined to mend the breach between mother and son' Meanwhile, Camilla herself is caught up in love's complications since the arrival of the irresistible earl. As his bold flirtation and suggestive whispers draw her dangerously close, can anything protect her vulnerable heart' If they are destined to share real happiness, there must be honesty between them'yet telling him the truth about her own life may shatter that chance. None of them can predict the startling revelations to come. Or the secrets, both heartening and shocking, divulged between a mother and son, and between two lovers haunted by their respective pasts, that will make Christmas night at Montcliff one to remember'and the glorious night after, one to treasure for a lifetime
To wed a wild lord
by
Sabrina Jeffries
( Book )
19 editions published between
2011
and 2015 in 4 languages and held by 1,056 WorldCat member libraries worldwide
Guilt-ridden by his friend's death to the point that he recklessly accepts a challenge to compete in the same race that ended his friend's life, Lord Gabriel Sharpe encounters unexpected feelings for his friend's sister and hostility from her father
When the rogue returns
by
Sabrina Jeffries
( Book )
11 editions published between
2014
and 2016 in 3 languages and held by 962 WorldCat member libraries worldwide
Victor Cale never imagined that his sweet, shy bride, Isabella, would use her talents for creating exquisite imitation jewels criminally. But there's no denying that her handiwork was used in the theft of the Dutch royal diamonds -- right after Isa disappeared into the night. Ten years later, Victor is sent to Edinburgh to investigate a wealthy baron's mysterious bride-to-be ... who turns out to be Isa, masquerading as an alluring widow. No longer the meek girl he once knew, Isa boldly asserts that it was Victor who abandoned her, after he helped steal the royal diamonds! Piecing together the truth of the past reawakens their volatile passions, which burns hotter than ever. But with a decade of secrets between them, Victor and Isa must trust each other to bring the real thieves to justice -- without getting burned themselves
A hellion in her bed
by
Sabrina Jeffries
( Book )
24 editions published between
2010
and 2015 in 8 languages and held by 953 WorldCat member libraries worldwide
Mired in scandal after his parents' mysterious deaths, notorious gambler Lord Jarret Sharpe agrees to tamely run the family brewery for a year if his Machiavellian grandmother rescinds her ultimatum that he marry. But the gambler in him can't resist when beguiling Annabel Lake proposes a wager. If she wins their card game, he must help save her family's foundering brewery. But if he wins, she must spend a night in his bed. The outcome sets off a chain of events that threatens to destroy all his plans
Beware a Scot's revenge
by
Sabrina Jeffries
( Book )
26 editions published between
2007
and 2013 in 6 languages and held by 948 WorldCat member libraries worldwide
Seeking revenge on the Earl of Duncannon, Sir Lachlan Ross, the Scottish Scourge, kidnaps his archenemy's daughter, Lady Venetia Campbell, with the intention of using her as a weapon against her father, and finds his thirst for vengeance tempered by his growing desire for his beautiful hostage
What the duke desires
by
Sabrina Jeffries
( Book )
18 editions published between
2003
and 2016 in 5 languages and held by 923 WorldCat member libraries worldwide
"Maximilian Cale, the Duke of Lyons, long ago buried his grief for his missing elder brother, Peter, who was presumed dead after being kidnapped. When a mysterious note arrives from Tristan Bonnaud asserting that the Duke's brother is alive, it leads Max straight to the winsome Lisette Bonnaud, illegitimate daughter of a viscount and Tristan's sister. Soon he and Lisette are traveling to Paris posing as husband and wife, in search of Tristan, who has disappeared. And the longer he spends with Lisette, the easier it is for Max to see that the line between dukedom and desire is easier to cross than he imagined."--Publisher's description
How the scoundrel seduces
by
Sabrina Jeffries
( Book )
9 editions published between
2014
and 2015 in 3 languages and held by 884 WorldCat member libraries worldwide
While trying to ensure that his half-brother George can never ruin his life again, investigator Tristan Bonnaud, one of the Duke's Men, is hired by Lady Zoe Keane to find a gypsy woman who knows all of her family's secrets
more
fewer
Audience Level
0

1
Kids
General
Special
Audience level: 0.18 (from 0.13 for Snowy nigh ... to 0.25 for A dangerou ...)
Related Identities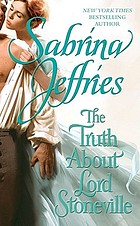 Alternative Names
Martin, Deborah, 1958-
Deborah Martin

Gonzales, Deborah Martin.

Martin, Deborah.

Martin Gonzales, Deborah.

Джеффрис, Сабрина

Сабрина Джефрис

サブリナ・ジェフリーズ

ジェフリーズ, サブリナ

Languages
Covers