Lessig, Lawrence
Most widely held works about Lawrence Lessig
more
fewer
Most widely held works by Lawrence Lessig
Free culture : how big media uses technology and the law to lock down culture and control creativity
by
Lawrence Lessig
( Book )
34 editions published between
2003
and 2014 in 6 languages and held by 2,410 WorldCat member libraries worldwide
Lawrence Lessig, "the most important thinker on intellectual property in the Internet era" (The New Yorker), is often called our leading cultural environmentalist. His focus is the ecosystem of creativity, the environment created around it by technology and law. To read Free Culture is to understand that the health of that ecosystem is in grave peril. While new technologies always lead to new laws, Lessig shows that never before have the big cultural monopolists drummed up such unease about these advances, especially the Internet, to shrink the public domain while using the same advances to control what we can and can't do with the culture all around us. What's at stake is our freedom -- freedom to create, freedom to build, and, ultimately, freedom to imagine
The future of ideas : the fate of the commons in a connected world
by
Lawrence Lessig
( Book )
30 editions published between
2001
and 2006 in 3 languages and held by 1,759 WorldCat member libraries worldwide
In The future of ideas, Lawrence Lessig explains how the Internet revolution has produced a counterrevolution of potentially devastating power and effect. Creativity once flourished because the Net protected a commons on which innovators could experiment. But now, manipulating the law for their own purposes, corporations have established themselves as virtual gatekeepers of the Net while Congress, in the pockets of media magnates, has rewritten copyright and patent laws to stifle creativity and progress. Lessig weaves the history of technology and its relevant laws to make a lucid and accessible case to protect the sanctity of intellectual freedom. He shows how the door to a future of ideas is being shut just as technology is creating extraordinary possibilities that have implications for all of us
Code and other laws of cyberspace
by
Lawrence Lessig
( Book )
23 editions published between
1999
and 2006 in 4 languages and held by 1,600 WorldCat member libraries worldwide
This volume traces the consequences of code as the law in cyberspace. It also discusses the paradigm shift that will transform the debate about the architecture of cyberspace
Remix : making art and commerce thrive in the hybrid economy
by
Lawrence Lessig
( Book )
23 editions published between
2008
and 2014 in 3 languages and held by 1,272 WorldCat member libraries worldwide
From the Publisher: The author of Free Culture shows how we harm our children-and almost anyone who creates, enjoys, or sells any art form-with a restrictive copyright system driven by corporate interests. Lessig reveals the solutions to this impasse offered by a collaborative yet profitable "hybrid economy". Lawrence Lessig, the reigning authority on intellectual property in the Internet age, spotlights the newest and possibly the most harmful culture war-a war waged against our kids and others who create and consume art. America's copyright laws have ceased to perform their original, beneficial role: protecting artists' creations while allowing them to build on previous creative works. In fact, our system now criminalizes those very actions. For many, new technologies have made it irresistible to flout these unreasonable and ultimately untenable laws. Some of today's most talented artists are felons, and so are our kids, who see no reason why they shouldn't do what their computers and the Web let them do, from burning a copyrighted CD for a friend to "biting" riffs from films, videos, songs, etc and making new art from them. Criminalizing our children and others is exactly what our society should not do, and Lessig shows how we can and must end this conflict-a war as ill conceived and unwinnable as the war on drugs. By embracing "read-write culture," which allows its users to create art as readily as they consume it, we can ensure that creators get the support-artistic, commercial, and ethical-that they deserve and need. Indeed, we can already see glimmers of a new hybrid economy that combines the profit motives of traditional business with the "sharing economy" evident in such Web sites as Wikipedia and YouTube. The hybrid economy will become ever more prominent in every creative realm-from news to music-and Lessig shows how we can and should use it to benefit those who make and consume culture. Remix is an urgent, eloquent plea to end a war that harms our children and other intrepid creative users of new technologies. It also offers an inspiring vision of the post-war world where enormous opportunities await those who view art as a resource to be shared openly rather than a commodity to be hoarded
Republic, lost : how money corrupts Congress--and a plan to stop it
by
Lawrence Lessig
( Book )
10 editions published between
2011
and 2012 in
English
and held by 1,202 WorldCat member libraries worldwide
A Harvard Law professor explains how being influenced by money overshadows the will of the people in the political arena regardless of party lines and offers strategies to take back the democracy from those with moneyed or corporate interests
Code
by
Lawrence Lessig
( Book )
17 editions published between
2006
and 2010 in 3 languages and held by 757 WorldCat member libraries worldwide
"Code counters the common belief that cyberspace cannot be controlled or censored. To the contrary, under the influence of commerce, cyberspace is becoming a highly regulable world where behavior will be much more tightly controlled than in real space."--Cover
Koch brothers exposed
( Visual )
2 editions published between
2012
and 2014 in
English
and held by 478 WorldCat member libraries worldwide
From environmental pollution to their efforts to dismantle Social Security for working Americans, the Koch brothers have launched a large network, attacking our American values. Join Senator Bernie Sanders, Van Jones and Katrina vanden Heuvel in this investigation of how the billionaire Koch brothers have spent hundreds of millions of dollars on covert attacks that destroy American values and corrupt our government
Freedom of Expression : Resistance and Repression in the Age of Intellectual Property
( Visual )
1 edition published in
2007
in
English
and held by 361 WorldCat member libraries worldwide
Explores the issue of fair use in copyright law. Artists, authors, lawyers, and others discuss the implications of creation, creative use, intellectual ownership, and public domain when it comes in conflict with established copyright law. Through news clips, film excerpts, music, legal cases, satire, and a wide range of other examples and illustrations, the concerns regarding traditional copyright laws' infringing on freedom of expression are examined and critiqued
Pay 2 play
( Visual )
1 edition published in
2014
in
English
and held by 316 WorldCat member libraries worldwide
If our political system is like a game of Monopoly, how can outsiders have a voice when only money speaks? John Ennis documents comical corruption, follows political newcomers, and uncovers intrigue in this colorful journey that connects the dots of Big Money in our ever-challenging election process
Rip! a remix manifesto
( Visual )
6 editions published between
2008
and 2009 in
English
and held by 296 WorldCat member libraries worldwide
Explores the complexities of intellectual property in the era of peer-to-peer file sharing. Interviews key figures in the debate, including Gregg Gillis, the Pittsburgh biomedical engineer who moonlights as Girl Talk, a mash-up artist rearranging the pop chart's DNA with his incongruous, entirely sample-based songs. A mash-up in itself, this shatters the wall between users and producers, and challenges the thresholds of 'fair use.'
more
fewer
Audience Level
0

1
Kids
General
Special
Audience level: 0.30 (from 0.15 for Code / ... to 0.93 for Freie Kult ...)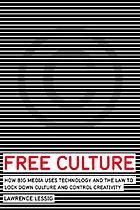 Alternative Names
Autor:Lawrence Lessig

Lawrence Lessig a Stanford Egyetem jogszprofesszora

Lawrence Lessig Abogado y profesor de Derecho en la Universidad Stanford, especializado en derecho informtico. Fundador del Centro para Internet y la Sociedad de la universidad, adems de la iniciativa Creative Commons.

Lawrence Lessig amerykański prawnik

Lawrence Lessig giurista statunitense

Lawrence Lessig Juriste amricain de notorit internationale. Il est professeur de droit (C. Wendell and Edith M. Carlsmith Professor of Law) Stanford Law School (Universit Stanford, Californie) o il a fond le Center for Internet and Society.

Lawrence Lessig US-amerikanischer Jurist, Professor fr Rechtswissenschaft, Grnder der Creative Commons-Initiative

Resshigu, Rōrensu

Λώρενς Λέσιγκ

Лессиг, Лоуренс 1961-

Лоренс Лесиг американски академик и политички деец

Лорънс Лесиг

Лоуренс Лессиг

Лоуренс Лессіг

לורנס לסיג

لارنس لسیگ

لورانس ليسيج

লরেন্স লেসিগ

லோறன்ஸ் லெசிக்

ലോറൻസ് ലെസിഗ്

ลอว์เรนซ์ เลสสิก

로런스 레식

レッシグ, ローレンス

ローレンス・レッシグ

劳伦斯莱斯格

勞倫斯雷席格

Languages
Covers