Rollins, James 1961-
Most widely held works by James Rollins
The doomsday key : a [upper case Greek letter "sigma"] sigma force novel
by
James Rollins
( Book )
60 editions published between
2006
and 2017 in 3 languages and held by 3,220 WorldCat member libraries worldwide
Commander Gray Perce and the Sigma Force confront humankind's greatest threat in an adventure that races from the Roman Coliseum to the icy peaks of Norway, from the ruins of medieval abbeys to the lost tombs of Celtic kings. The ultimate nightmare is locked within a talisman buried by a dead saint--an ancient artifact known as the Doomsday Key--and a secret that has already claimed the lives of a famed geneticist, a Vatican archaeologist, and a U.S. senator's son
The Judas strain : a Sigma force novel
by
James Rollins
( Book )
61 editions published between
2000
and 2017 in 5 languages and held by 3,175 WorldCat member libraries worldwide
From the depths of the Indian Ocean, a horrific plague has arisen to devastate humankind. But it is merely a harbinger of the doom that is to follow. Aboard a cruise liner transformed into a makeshift hospital, Dr. Lisa Cummings and Monk Kokkalis, operatives of SIGMA Force, search for answers to the bizarre affliction. But there are others with far less altruistic intentions. In a savage and sudden coup, terrorists hijack the vessel, turning a mercy ship into a floating bio-weapons lab. A world away, SIGMA's Commander Gray Pierce thwarts the murderous schemes of a beautiful would-be killer who holds the first clue to the discovery of a possible cure, then joins forces with the woman who wanted him dead. As a relentless madman dogs their every step, Gray and his unlikely ally are pulled into an astonishing mystery buried deep in antiquity and in humanity's genetic code.--From publisher description
The last oracle : a novel
by
James Rollins
( Book )
52 editions published between
2008
and 2014 in 5 languages and held by 3,088 WorldCat member libraries worldwide
An ancient relic, a murdered man, an international think tank of scientists known as the Jasons who have discovered a way to bioengineer autistic children, and a plot to wipe out a quarter of the world's population have two men racing against time to solve a mystery that dates back to the first famous oracle of history--the Greek Oracle of Delphi
Altar of Eden
by
James Rollins
( Book )
46 editions published between
2007
and 2013 in 6 languages and held by 3,080 WorldCat member libraries worldwide
Pregnant veterinarian Maura Kelly, along with U.S. Marshall Jack Menard, risks everything to unravel the mystery of a smuggler's cache of mutated animals, a puzzle that involves fractal intelligence, stem cell research, and a secret history of the Book of Genesis
The devil colony : a Sigma Force novel
by
James Rollins
( Book )
50 editions published between
2009
and 2016 in 4 languages and held by 2,971 WorldCat member libraries worldwide
Deep in the Rocky Mountains, a gruesome discovery - hundreds of mummified bodies - stirs international attention and fervent controversy. Despite doubts about the bodies' origins, the local Native American Heritage Commission lays claim to the prehistoric remains, along with the strange artifacts found in the same cavern: gold plates inscribed with an unfathomable script. During a riot at the dig site, an anthropologist dies horribly, burned to ashes in a fiery explosion in plain view of television cameras. All evidence points to a radical group of Native Americans, including one agitator, a teenage firebrand who escapes with a vital clue to the murder and calls on the one person who might help - her uncle, Painter Crowe, Director of Sigma Force. To protect his niece and uncover the truth, Painter will ignite a war among the nation's most powerful intelligence agencies. Yet an even greater threat looms as events in the Rocky Mountains have set in motion a frightening chain reaction, a geological meltdown that threatens the entire western half of the U.S. From the volcanic peaks of Iceland to the blistering deserts of the American Southwest, from the gold vaults of Fort Knox to the bubbling geysers of Yellowstone Painter Crowe joins forces with Commander Gray PIerce to penetrate the shadowy heart of a dark cabal, one that has been manipulating American history since the founding of the thirteen colonies. But can Painter discover the truth - one that could topple governments - before it destroys all he holds dear? -- from dust jacket
Black order : a [Upper case Greek letter "sigma"] Sigma Force novel
by
James Rollins
( Book )
76 editions published between
2004
and 2017 in 7 languages and held by 2,945 WorldCat member libraries worldwide
A fire in a Copenhagen bookstore leads Commander Gray Pierce into a mystery that is connected to horrific Nazi experiments, an insidious madness affecting Buddhist monks, a possible mythological beast run amok in South Africa, and a century-old plot that threatens to destroy the current world order
Map of bones : a Sigma Force novel
by
James Rollins
( Book )
82 editions published between
2004
and 2017 in 9 languages and held by 2,885 WorldCat member libraries worldwide
When a group of parishioners is burned to death in a German cathedral, the U.S. sends in the SIGMA force. The tragedy is more than a case of arson; someone has stolen the priceless treasure stored in the cathedral's golden reliquary: the bones of the biblical Magi, the legendary Three Kings
Bloodline : a Sigma Force novel
by
James Rollins
( Book )
42 editions published between
2012
and 2017 in 4 languages and held by 2,855 WorldCat member libraries worldwide
A yacht bearing a young American couple is attacked by Somali pirates, leading to bloodshed and the violent kidnapping of the pregnant woman on board. To aid in her rescue from the lawless and war-torn jungles of coastal Africa, Sigma Force enlists the aid of a unique search team
The 6th Extinction : a Sigma Force novel
by
James Rollins
( Book )
47 editions published between
2014
and 2017 in 5 languages and held by 2,782 WorldCat member libraries worldwide
A military research station buried in the remote Sierra Nevada Mountains of Northern California broadcasts a frantic distress call that ends with a chilling order: "This is sierra, victor, whiskey. There's been a breach. Failsafe initiated. No matter the outcome: Kill us ... kill us all." The site is part of TECOMM, the U.S. Army Test Command. When help arrives to investigate, they discover that everyone in the lab is dead -- not just the scientists, but every living thing for fifty square miles is annihilated: every animal, plant, and insect, even bacteria. The land is completely sterile -- and the blight is spreading. Only one team on Earth has the scientific knowledge and military precision to handle this mission: Commander Gray Pierce and Sigma. The dead scientists were working on a secret project, researching radically different forms of life on Earth, life that could change our understanding of biology and humanity itself. But something set off an explosion in the lab, and now Sigma must contend with the apocalyptic aftermath. To prevent the inevitable, they must decipher a futuristic threat that rises out of the distant past -- a time when Antarctica was green and life on Earth was balanced on a knife's edge. Following a fascinating trail of clues buried in an ancient map rescued from the lost Library of Alexandria, Sigma will make a shocking discovery involving a prehistoric continent and a new form of life and death buried under miles of ice. Gray Pierce and his dedicated team must race through eons of time and across distant continents to decipher millennia-old secrets out of the frozen past and untangle mysteries buried deep in the darkest jungles of today, as they face their greatest challenge yet: stopping the sixth extinction -- the end of humankind. But is it already too late?
The blood Gospel
by
James Rollins
( Book )
38 editions published between
2012
and 2017 in
English
and
Polish
and held by 2,646 WorldCat member libraries worldwide
After a shocking discovery in Masada, Israel, Sergeant Jordan Stone, Father Rhun Korza and Dr. Erin Granger, racing against time to recover a book written by Christ's own hand, must contend with a force of ancient evil with impossible ambitions and a secret sect within the Vatican called the Sanguines
more
fewer
Audience Level
0

1
Kids
General
Special
Audience level: 0.12 (from 0.10 for The demon ... to 0.16 for Ice hunt / ...)
Related Identities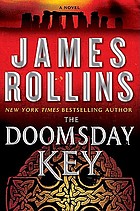 Covers
Alternative Names
Clemens, James
Clemens , James

Clemens, James 1961-

Clemens, James, pseud.

Czajkowski , James

Czajkowski, James Paul.

Czajkowski, James Paul, 1961-

Czajkowski , Jim

Czajkowski, Jim 1961-

James Rollins Amerikaans schrijver

James Rollins amerikanischer Veterinärmediziner und Autor

James Rollins amerikansk författare

James Rollins amerikansk skribent

James Rollins escritor estadounidense

James Rollins scrittore statunitense

James Rollins yhdysvaltalainen kirjailija

Jim Czajkowski écrivain américain

Rollins, Džejms, 1961-

Rollinss, Džeimss, 1961-

Джеймс Ролинс

Джеймс Роллинс

Джеймс Роллінс

Роллинс, Джеймс 1961-

Чайковски Д. 1961-

צ'יקובסקי, ג'ים

קלמנס, ג'מס

רולינס, ג'מס, 1961-

جیمز رولینز نویسنده آمریکایی

เจมส์ โรลลินส์

롤링스, 제임스 1961-

ジェームズ・ロリンズ

ロリンズ, ジェームズ

詹姆士·羅林斯

Languages