Hamilton, Laura S.
Most widely held works about Laura S Hamilton
Most widely held works by Laura S Hamilton
Making sense of test-based accountability in education
by
Brian M Stecher
( )
14 editions published in
2002
in
English
and held by 2,268 WorldCat member libraries worldwide
This book was written in response to school policymaking's growing emphasis on testing. During the 1990s, a number of states implemented educational accountability systems that assigned consequences for students, teachers, or schools on the basis of student test scores. The 2001 reauthorization of the Elementary and Secondary Education Act (the "No Child Left Behind NCLB act of 2001") makes such test-based accountability a requirement for all 50 states. The goal of the law is ". . . to ensure that all children have a fair, equal, and significant opportunity to obtain a high-quality education and reach, at a minimum, proficiency on challenging state academic achievement standards and state academic assessments." The purpose of this book is to help educators and educational policymakers understand test-based accountability so they can use it effectively in the service of this goal. States have considerable flexibility in developing their accountability systems, so long as those systems have at their core an appropriate feedback mechanism. Data on student achievement are collected annually and compared with a specific target. Failure to attain the target leads to successively harsher sanctions for schools, including ultimately reconstitution; success leads to recognition and financial rewards. when combined with greater flexibility from federal regulations and parental options to obtain supplemental educational services or move students from less-successful schools, these test-based incentives are supposed to lead to improvement for all schools
Standards-based accountability under no child left behind : experiences of teachers and administrators in three states
by
Laura S Hamilton
( )
11 editions published in
2007
in
English
and held by 2,155 WorldCat member libraries worldwide
Since 2001-2002, standards-based accountability (SBA) provisions of the No Child Left Behind Act of 2001 (NCLB) have shaped the work of public school teachers and administrators in the United States. NCLB requires each state to develop content and achievement standards in several subjects, administer tests to measure students' progress toward these standards, develop targets for performance on these tests, and impose a series of interventions on schools and districts that do not meet the targets. Many states had such systems in place before NCLB took effect, but, since 2001-2002, every state i
Value-added assessment in practice : lessons from the Pennsylvania Value-Added Assessment System pilot project
by
Daniel F McCaffrey
( )
14 editions published in
2007
in
English
and held by 2,062 WorldCat member libraries worldwide
Value-added assessment (VAA) systems use statistical techniques to analyze test-score data; VAA data is intended to help educators make more informed decisions about curriculum and instruction. The authors examined the rollout of Pennsylvania's VAA program, and found that, in its pilot phase, the program had little effect on student achievement and received limited use by most principals and teachers at schools participating in the program
Improving school leadership through support, evaluation, and incentives : the Pittsburgh principal incentive program
by
Laura S Hamilton
( )
10 editions published in
2012
in
English
and held by 990 WorldCat member libraries worldwide
In 2007, the Pittsburgh Public Schools (PPS) received funding from the U.S. Department of Education's Teacher Incentive Fund (TIF) program to implement the Pittsburgh Urban Leadership System for Excellence (PULSE), a set of reforms designed to improve the quality of school leadership throughout the district. A major component of PULSE is the Pittsburgh Principal Incentive Program (PPIP), a system of support, performance-based evaluation, and compensation with two major components: (1) an annual opportunity for a permanent salary increase of up to $2,000 based primarily on principals' performance on a rubric that is administered by assistant superintendents and that measures practices in several areas and (2) an annual bonus of up to $10,000 based primarily on student achievement growth. The district also offered bonuses to principals who took positions in high-need schools. PPIP provided principals with several forms of support. This report examines implementation and outcomes from school years 2007-2008 through 2010-2011, with a focus on understanding how principals and other school staff have responded to the reforms, and on documenting the student achievement outcomes that accompanied program implementation
Measuring hard-to-measure student competencies : a research and development plan
by
Brian M Stecher
( )
5 editions published in
2014
in
English
and held by 637 WorldCat member libraries worldwide
Efforts to prepare students for college, careers, and civic engagement have traditionally emphasized academic skills, but a growing body of research suggests that interpersonal and intrapersonal competencies, such as communication and resilience, are important predictors of postsecondary success and citizenship. One of the major challenges in designing educational interventions to support these outcomes is a lack of high-quality measures that could help educators, students, parents, and others understand how students perform and monitor their development over time. This report provides guidelines to promote thoughtful development of practical, high-quality measures of interpersonal and intrapersonal competencies that practitioners and policymakers can use to improve valued outcomes for students
Improving teaching effectiveness : implementation : the Intensive Partnerships for Effective Teaching through 2013-2014
by
Brian M Stecher
( )
7 editions published in
2016
in
English
and held by 637 WorldCat member libraries worldwide
"To improve the U.S. education system through more-effective classroom teaching, in school year 2009--2010, the Bill and Melinda Gates Foundation announced the Intensive Partnership for Effective Teaching sites. The Intensive Partnerships Initiative is based on the premise that efforts to improve instruction can benefit from high-quality measures of teaching effectiveness. The initiative seeks to determine whether a school can implement a high-quality measure of teaching effectiveness and use it to support and manage teachers in ways that improve student outcomes. This approach is consistent with broader national trends in which performance-based teacher evaluation is increasingly being mandated at state and local levels. To test the theory in practice, the foundation sought partnership sites. It selected three school districts -- Hillsborough County Public Schools in Florida, Shelby County Schools in Tennessee, and Pittsburgh Public Schools in Pennsylvania. The foundation also selected four charter management organizations -- Alliance College-Ready Public Schools, Aspire Public Schools, Green Dot Public Schools, and the Partnerships to Uplift Communities, all in California. To evaluate Intensive Partnership implementation, researchers from the RAND Corporation and the American Institutes for Research interviewed annually central-office staff at each site and teachers and other staff in a sample of schools for each site. They also used data from annual teacher and school-leader surveys and documents that the sites and the foundation provided. This report summarizes the implementation status of key reform elements at each site when the Intensive Partnerships initiative launched and five years later in the spring of 2014."--
Competency-based education in three pilot programs : examining implementation and outcomes
by
Jennifer L Steele
( )
5 editions published in
2014
in
English
and held by 621 WorldCat member libraries worldwide
"In 2011, the Bill & Melinda Gates Foundation created the Project Mastery grant program to support competency-based education initiatives in large school systems that serve a high proportion of disadvantaged youth. Competency-based education meets students where they are academically, provides students with opportunities for choice, and awards credit for evidence of learning, not for the time students spend studying a subject. The Foundation asked RAND to evaluate these efforts in terms of implementation, students' experiences, and student performance. This report presents final results from that evaluation, offering an overview of competency-based education and the Project Mastery grant projects and describing the implementation of competency-based educational features under each project. The report concludes with six lessons for policy, partnerships, and practice."--"Abstract" on web page
New assessments, better instruction? : designing assessment systems to promote instructional improvement
by
Susannah Faxon-Mills
( )
6 editions published in
2013
in
English
and held by 591 WorldCat member libraries worldwide
This report reviews the literature on how assessment affects teaching practice and the conditions that moderate that relationship. The authors identify a wide variety of effects that testing might have on teachers' activities in the classroom and a number of conditions that affect the impact that assessment may have on practice
What supports do teachers need to help students meet Common Core State Standards for mathematics? : findings from the American Teacher and American School Leader Panels
by
Laura S Hamilton
( )
7 editions published in
2016
in
English
and held by 570 WorldCat member libraries worldwide
Mathematics teachers across the United States have been working to adjust their instruction in response to states' adoption of the Common Core State Standards for Mathematics and similar standards. This report documents the extent to which teachers are expected to address new mathematics standards in their instruction, teachers' familiarity with these standards, the professional development (PD) opportunities that teachers report receiving, and the PD opportunities they think they need to help them implement standards effectively. The report draws on February 2015 data from RAND's American Teacher Panel and American School Leader Panel--new survey tools that take the pulse of the nation's educators on key issues of education policy and practice through periodic surveys of a representative sample of teachers and principals across the United States. The authors conclude with a discussion of the data's implications for state and district policymakers. This report was updated in October 2016. The current version provides estimates based on updated weights for a small percentage of the respondents. Weights were updated to account for infrequent misclassification in the assignment of school-level characteristics"--Publisher's description
more
fewer
Audience Level
0

1
Kids
General
Special
Audience level: 0.18 (from 0.05 for Standards- ... to 0.74 for Lily : one ...)
Related Identities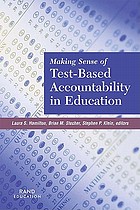 Covers
Alternative Names
Hamilton, Laura

Hamilton, Laura (Laura S.)

Hamilton, Laura S.

Languages