Soohen, Jacqueline
Most widely held works by Jacqueline Soohen
The fourth world war
by
Richard Rowley
( Visual )
7 editions published between
2003
and 2004 in
English
and held by 162 WorldCat member libraries worldwide
While American airwaves are crowded with talk of a new world war, the human face of war is rarely seen. This documentary weaves together the images and voices of the war on the ground - from the front lines of struggles in Mexico, Argentina, South Africa, Palestine, Korea, 'the North' from Seattle to Genova, and the 'War on Terror' in New York and Iraq. Spanning five continents, filming took over two years to document the story of how men and women are working to resist getting caught up in the current global conflict
The Jena 6
( Visual )
2 editions published between
2008
and 2015 in
Undetermined
and
English
and held by 126 WorldCat member libraries worldwide
"In a small town in Louisiana, six families are fighting for their sons' lives. Two nooses are left as a warning to black students trying to integrate their playground, fights break out across town, a white man pulls a shotgun on black students, someone burns down most of the school, the DA puts six black students on trial for attempted murder, and the quiet town of Jena becomes the site of the largest civil rights demonstration in the South since the 1960s. The Jena 6 is the story of hidden racial inequality and violence becoming visible. It is a powerful symbol for, and example of, how racial justice works in America where the lynching noose has been replaced by the DA's pen."--Distributor's website
Jena 6
( Visual )
2 editions published in
2007
in
English
and held by 99 WorldCat member libraries worldwide
Jena, LA - In a small town in Louisiana, six families are fighting for their sons' lives. Two nooses are left as a warning to black students trying to integrate their playground, fights break out across town, a white man pulls a shotgun on black students, someone burns down most of the school, the DA puts six black students on trial for attempted murder, and the quiet town of Jena becomes the site of the largest civil rights demonstration in the South since the 1960s. 'The Jena 6' is the story of hidden racial inequality and violence becoming visible. It is a powerful symbol for, and example of, how racial justice works in America - where the lynching noose has been replaced by the DA's pen
Black and gold
( Visual )
2 editions published in
2008
in
English
and held by 89 WorldCat member libraries worldwide
In 1994, the Latin Kings - the largest and most powerful street gang in New York - became the Latin King and Queen Nation. They claimed to have abandoned their criminal past and to be following in the footsteps of the Black Panthers and the Young Lords. With over 3,000 members in New York, some saw the Latin King and Queen Nation as the most important political voice to rise from the streets in decades. The NYPD did not agree, calling them a vicious gang with a PR campaign
In Tahrir Square : 18 days of Egypt's unfinished revolution
( Visual )
1 edition published in
2012
in
English
and held by 81 WorldCat member libraries worldwide
Shot in the center of Egypt's Tahrir Square from the beginning of the battles to the climax of the celebration, 'In Tahrir Square - 18 Days of Egypt's Unfinished Revolution' helps audiences experience first-hand the people-powered revolt that brought down a dictator and changed Egypt forever. -- IMDB
War of 33 : letters from Beirut
( Visual )
2 editions published in
2008
in
English
and held by 23 WorldCat member libraries worldwide
"The War of 33 is an intimate, personal and powerful telling of the story of the 2006 war in Lebanon. A series of letters written by Hanady Salman--a mother living through the war in Beirut--carve a narrative arc through the intense and haunting images of conflict. She tells the stories of her family and the people she lives the war with--the refugees, the wounded, and the everyday Lebanese, struggling to maintain their sanity and their humanity during a time of war"--Container
Fallujah
( Visual )
1 edition published in
2004
in
Arabic
and held by 11 WorldCat member libraries worldwide
"After a major US led offensive launch in November of 2004, two-thirds of the city was destroyed and thousands of its citizens were forced into refugee camps"--Container label
Thursday, November 7, 2002
( Recording )
in
English
and held by 2 WorldCat member libraries worldwide
"Iraq Journal: As the United Nations Security Council Prepares to Ok the New U.S.-Drafted Iraq Resolution, Citizens in Basra Prepare for the Worst ; A Democracy Now! Exclusive Interview with a Pakistani Human Rights Attorney Minutes Before He Is Deported On Election Day; Organizers Estimate Between 3-4 People Are Deported Every Day From New York City Alone ; Canada Warns Its Citizens About Traveling in the United States: Advisory Comes After U.S. Officials Secretly Detain a Canadian Citizen and Deports Him to Syria, Where He Hasn't Lived in 14 Years ; Runners Carry a Torch From Mexico City to New York: Activists Honor the Many Undocumented Workers Who Have Died in the US and Draw Attention to the Rights of Immigrants."
Tuesday, October 29, 2002
( Recording )
in
English
and held by 2 WorldCat member libraries worldwide
"Iraq Journal: General Director of Iraq's Oil Ministry: U.S. Will Send His Country Into Armageddon for Iraqi Oil Fields ; Russia Refuses to Identify the Narcotic Gas Which Killed 117 in Moscow; Meanwhile Scientists Say the U.S. Is Developing An Arsenal of Chemical and Biological Weapons in Violation of International Chemical Weapons Treaties ; Terrorism Against Cuba? Attorney Leonard Weinglass Calls for the Release of Five Cuban Men Who Tried to Investigate a Series of Terrorist Bombings in Cuba ; Saying "No" to War: From Boston to Washington, D.C. to Madison, Wisconsin, We Hear From Howard Zinn, Medea Benjamin and Others."
February 12, 2003
( Recording )
in
English
and held by 2 WorldCat member libraries worldwide
"Indian Philosopher and Physicist Vandana Shiva: If Terrorism Is the Systematic Use of Terror As a Means of Coercion, Then the WTO Is Terrorist, and the Peace and Global Justice Movements Must Unite ; Iraq Journal: The Iraq Peace Team Demonstrates Outside An Electrical Plant Bombed During the Gulf War ; Democracy Now! Listeners/Viewers Report On Their Own Methods of Protesting the War." Also includes: NATO's Plans to Defend Turkey in Case of War with Iraq Are Deadlocked As France, Germany and Belgium Refuse to Back Down
more
fewer
Audience Level
0

1
Kids
General
Special
Audience level: 0.32 (from 0.19 for Jena 6 / ... to 0.98 for The Real f ...)
Related Identities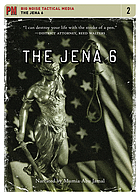 Languages
Covers