Verhoeven, Ludo Th
Most widely held works by Ludo Th Verhoeven
Narrative development in a multilingual context
( )
19 editions published in
2001
in
English
and
Multiple languages
and held by 1,541 WorldCat member libraries worldwide
The results of a number of empirical studies of the development of narrative construction within a multilingual context are presented and discussed. Developmental relations between form and function are studied across a range of functional categories, such as temporality, and perspective
Immigrant languages in Europe
by
Guus Extra
( )
16 editions published between
1992
and 1993 in
English
and
Undetermined
and held by 1,529 WorldCat member libraries worldwide
Papers from a 1990 Dutch colloquium on immigrant language varieties in Europe are presented in four categories: (1) use of immigrant language varieties in Europe; (2) first language acquisition in a second language context; (3) code-switching; and (4) language maintenance and loss. Papers include: "Sweden Finnish" (Jarmo Lainio); "South Asian Languages in Britain" (Safder Alladina); "a Bilingual Perspective on Turkish and Moroccan Children and Adults in the Netherlands" (Guus Extra, Ludo Verhoeven); "Croatian or Serbian as a Diaspora Language in Western Europe" (Andrina Pavlinic); "Turkish Language Development in Germany" (Carol Pfaff); "Turkish Language Development in the Netherlands" (Anneli Schaufeli); "Summative Assessment of Ethnic Group Language Proficiency" (Jeroen Aarssen, Jan Jaap de Ruiter, Ludo Verhoeven); "Parental Attitudes towards Child Bilingualism in the Nordic Countries" (Sirkku Latomaa); "Code-Copying in Immigrant Turkish" (Lars Johanson); "Turkish-Dutch Code-Switching and the Frame-Process Model" (Ad Backus); "Code-switching and Borrowing in an Arabic-Dutch Context" (Jacomine Nortier); "Finns and Americans in Sweden: Patterns of Linguistic Incorporation from Swedish" (Paula Andersson); "Immigrant Minority Languages and Education in Sweden" (Sally Boyd); "Romani at the Crossroads" (Donald Kenrick); "Methodological Issues in Language Shift Research" (Koen Jaspaert, Sjaak Kroon); and "Lexical Aspects of Language Attrition and Shift" (Kees de Bot, Bert Weltens). (Mse)
The Construct of language proficiency : applications of psychological models to language assessment
by
Ludo Th Verhoeven
( )
18 editions published in
1992
in
English
and held by 1,485 WorldCat member libraries worldwide
A collection of essays on first and second language proficiency from the fields of psychology and linguistics includes the following: "Modeling and Assessing Language Proficiency" (John H.A.L. de Jong, Ludo Verhoeven); "The Construct of Grammar in Early Language Development" (Folkert Kuiken); "Dimensions in Grammatical Proficiency" (Wim H.J. van Bon); "Monitoring Reading and Spelling Achievement" (Martin J.C. Mommers, Johan H.L. Oud); "Speech Activity Theory and Reading Comprehension Assessment" (Eduard Bol, Giel Gresnigt, Mariette J. de Haan); "Assessment of Reading Disabilities" (Aryan van der Leij, Harry Smeets); "Information Analysis in Written Discourse" (Carel van Wijk); "Large Scale Writing Assessment" (Henk Blok, Kees de Glopper); "Differential Item Functioning" (Frank Kok); "Assessment of Bilingual Proficiency" (Verhoeven); "Self-Assessment of Minority Language Proficiency" (Kees de Bot); "Exploring the Second Language Learner Lexicon" (Anne Vermeer); "Modeling Communicative Second Language Competence" (Verhoeven, Vermeer); "Modeling and Assessing Foreign Language Loss" (Erik Schils, Bert Weltens); and "Dimensions in Oral Foreign Language Proficiency" (de Jong, Lieneke W. van Ginkel). (Mse)
Precursors of functional literacy
by
Ludo Th Verhoeven
( )
15 editions published in
2002
in
English
and held by 1,476 WorldCat member libraries worldwide
The purpose of this volume is to present recent research in the field of the acquisition of functional literacy and its precursors. The volume aims to capture the state of the art in this rapidly expanding field. An attempt is made to clarify the vague and often inconsistent definitions of functional literacy from the perspective of development. Cognitive, linguistic, educational, and social factors of literacy development are all taken into account. The volume consists of three subsequent parts. The first part goes into phonological precursors of literacy development. In this part the focus i
Literacy and motivation : reading engagement in individuals and groups
by
Ludo Th Verhoeven
( )
15 editions published in
2001
in
English
and held by 1,294 WorldCat member libraries worldwide
Focuses on how to create a society of "engaged readers"--Readers who are socially interactive, strategic, and motivated. Provides a state-of-the-art review of research on promoting reading in relation to reading instruction
Functional literacy : theoretical issues and educational implications
by
Ludo Th Verhoeven
( )
13 editions published in
1994
in
English
and held by 1,265 WorldCat member libraries worldwide
The purpose of the volume is to open up new perspectives in the study of literacy by bringing together current research findings from linguistics, psychology, sociology and anthropology. The book divides into five parts. The first part deals with theoretical questions related to the definition and the modeling of the construct of functional literacy. The second part goes into the notion of literacy development. Both societal and individual aspects of literacy development are taken into account. In the next two parts the actual achievement of literacy in various regions of the world is dealt wi
Classification of developmental language disorders : theoretical issues and clinical implications
by
Ludo Th Verhoeven
( )
14 editions published between
2003
and 2010 in
English
and held by 1,177 WorldCat member libraries worldwide
Offering perspectives on the origins and development of language disorders, this book addresses the question: how can the child's linguistic environment be restructured so that children at risk can develop important adaptive skills in the domains of self-care, social interaction and problem-solving?
Bilingualism and migration
by
Guus Extra
( )
18 editions published between
1998
and 1999 in
English
and held by 921 WorldCat member libraries worldwide
Literacy development in a multilingual context : cross-cultural perspectives
by
Aydin Yücesan Durgunoğlu
( Book )
11 editions published between
1998
and 2013 in
English
and held by 463 WorldCat member libraries worldwide
During the past decades, literacy has gradually become a major concern all over the world. Though there is a great diversity in both the distribution and degree of literacy in different countries, there has been an increasing awareness of the number of illiterates and the consequences of being illiterate. However, literacy is no longer seen as a universal trait. When one focuses on culturally-sensitive accounts of reading and writing practices, the concept of literacy as a single trait does not seem very feasible. A multiplicity of literacy practices can be distinguished which are related to specific cultural contexts and associated with relations of power and ideology. As such, literacy can be seen as a lifelong context-bound set of practices in which an individual's needs vary with time and place. This volume explores the use of literacy outside the mainstream in different contexts throughout the world. It is divided into four sections. Section 1 presents an anthropological perspective--analyzing the society and the individual in a society. Section 2 presents a psychological perspective--focusing on the individuals themselves and analyzing the cognitive and affective development of young children as they acquire literacy in their first and second languages. Section 3 presents an educational perspective--highlighting the variations in educational approaches in different societies as well as the outcomes of these approaches. Section 4 summarizes the studies presented in this volume. Both theoretical issues and educational implications related to the development of literacy in two languages are discussed. An attempt is also made to open up new directions in the study of literacy development in multilingual contexts by bringing these various disciplinary perspectives together
more
fewer
Audience Level
0

1
Kids
General
Special
Audience level: 0.15 (from 0.02 for Precursors ... to 0.80 for The cross- ...)
Related Identities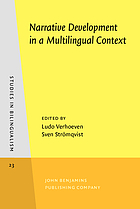 Alternative Names
Verhoeven, L.

Verhoeven, L. 1950-

Verhoeven, L. (Ludo)

Verhoeven, L. (Ludo), 1950-

Verhoeven, L. T. W.

Verhoeven, L.T.W. 1950-

Verhoeven, Ludo

Verhoeven, Ludo 1950-

Verhoeven, Ludo T.

Verhoeven, Ludo T. 1950-

Verhoeven, Ludo Th.

Verhoeven, Ludo Th. 1950-

Verhoeven, Ludo Thomas 1950-

Verhoeven, Ludo Thomas Wilhelmus.

Verhoeven Ludo Thomas Wilhelmus 1950-....

Verhoven, Ludo.

Verhoven, Ludo 1950-

Languages
Covers