Hoff, Karla Ruth
Overview
| | |
| --- | --- |
| Works: | 70 works in 222 publications in 1 language and 3,229 library holdings |
| Genres: | History |
| Roles: | Author, Editor |
| Classifications: | HC79.P6, 339.46 |
Most widely held works by Karla Ruth Hoff
Poverty traps
by
Samuel Bowles
( )
11 editions published between
2006
and 2011 in
English
and held by 1,717 WorldCat member libraries worldwide
Much popular belief, and public policy, rests on the idea that those born into poverty have it in their powers to escape. But the persistence of poverty and ever-growing economic inequality around the world has led to many economists to seriously question the model of individual economic self-determination when it comes to the poor. In this book, the contributors argue that there are many conditions that may trap individuals, groups, and whole economies in intractable poverty. For the first time the editors have brought together the perspectives of economies, economic history, and sociology to assess what we know, and don't know, about such traps
The Economics of rural organization : theory, practice, and policy
by
Karla Ruth Hoff
( Book )
19 editions published between
1993
and 1996 in
English
and held by 367 WorldCat member libraries worldwide
The objective of this book is to narrow the gaps between economic theory and empirical work, and between academic research and policy evaluation, with respect to the rural sector of developing countries
After the big bang? : Obstacles to the emergence of the rule of law in post-communist societies
by
Karla Ruth Hoff
( )
22 editions published in
2002
in
English
and
Undetermined
and held by 150 WorldCat member libraries worldwide
Abstract: When Russia launched mass privatization, it was widely believed that it would create a powerful constituency for the rule of law. That didn't happen. We present a dynamic equilibrium model of the political demand for the rule of law and show that beneficiaries of mass privatization may fail to demand the rule of law even if it is the Pareto efficient rule of the game.' The reason is that uncertainty about the legal regime can lead to asset stripping, and stripping can give agents an interest in prolonging the absence of the rule of law
The creation of the rule of law and the legitimacy of property rights the political and economic consequences of a corrupt privatization
by
Karla Ruth Hoff
( )
17 editions published in
2005
in
English
and
Undetermined
and held by 142 WorldCat member libraries worldwide
How does the lack of legitimacy of property rights affect the dynamics of the creation of the rule of law? The authors investigate the demand for the rule of law in post-communist economies after privatization under the assumption that theft is possible, that those who have "stolen" assets cannot be fully protected under a change in the legal regime toward rule of law, and that the number of agents with control rights over assets is large. They show that a demand for broadly beneficial legal reform may not emerge because the expectation of weak legal institutions increases the expected relative return to stripping assets, and strippers may gain from a weak and corrupt state. The outcome can be inefficient even from the narrow perspective of the asset-strippers
The kin system as a poverty trap?
by
Karla Ruth Hoff
( )
9 editions published in
2005
in
English
and
Undetermined
and held by 90 WorldCat member libraries worldwide
An institution found in many traditional societies is the extended family system (kin system), an informal system of shared rights and obligations among extended family for the purpose of mutual assistance. In predominantly non-market economies, the kin system is a valuable institution providing critical community goods and insurance services in the absence of market or public provision. But what happens when the market sector grows in the process of economic development? How do the members of kin groups respond, individually and collectively, to such changes? When the kin system "meets" the modern economy, does the kin system act as a "vehicle of progress" helping its members adapt, or as an "instrument of stagnation" holding back its members from benefiting from market development? In reality, the consequences of membership in a kin group have been varied for people in different parts of the world. Hoff and Sen characterize the conditions under which the kin system becomes a dysfunctional institution when facing an expanding modern economy. The authors first show that when there are moral hazard problems in the modern sector, the kin system may exacerbate them. When modern sector employers foresee that, they will offer employment opportunities on inferior terms to members of ethnic groups that practice the kin system. These entry barriers in the market, in turn, create an incentive for some individuals to break ties with their kin group, which hurts members of the group who stay back in the traditional sector. The authors then show in a simple migration model that if a kin group can take collective action to raise exit barriers, then even if migrating to the modern sector and breaking ties increases aggregate welfare (and even if a majority of members are expected to gain ex post, after the resolution of uncertainty about the identity of the winners and losers), a majority of agents within a kin group may support ex ante raising the exit barrier to prevent movement to the modern sector. This result is an example of the bias toward the status quo analyzed by Raquel Fernandez and Dani Rodrik in the context of trade reform. The authors do not claim that all kin groups will necessarily exhibit such a bias against beneficial regime changes. But they provide a clear intuition about the forces that can lead to the collective conservatism of a kin system facing expanding opportunities in a market economy-forces that can lead the kin group to become a poverty trap for its members
Non-leaky buckets : optimal redistributive taxation and agency costs
by
Karla Ruth Hoff
( Book )
10 editions published in
1994
in
English
and held by 82 WorldCat member libraries worldwide
Abstract: Economists have generally argued that income redistribution comes at a cost in aggregate incomes. We provide a counter-example in a model where private information gives rise to incentive constraints. In the model, a wage tax creates the usual distortion in labor-leisure choices, but the grants that it finances reduce a distortion in investment in human capital. We prove that simple redistributive policies can yield Pareto improvements and increase aggregate incomes. Where higher education is beyond the reach of the poor, the wage tax- transfer policy is under most circumstances more effective than targeted credit taxes or subsidies in increasing over-all efficiency
Equilibrium fictions a cognitive approach to societal rigidity
by
Karla Ruth Hoff
( )
10 editions published in
2010
in
English
and held by 55 WorldCat member libraries worldwide
This paper assesses the role of ideas in economic change, combining economic and historical analysis with insights from psychology, sociology and anthropology. Belief systems shape the system of categories ("pre-confirmatory bias") and perceptions (confirmatory bias), and are themselves constrained by fundamental values. We illustrate the model using the historical construction of racial categories. Given the post-Reformation fundamental belief that all men had rights, colonial powers after the 15th century constructed ideologies that the colonized groups they exploited were naturally inferior, and gave these beliefs precedence over other aspects of belief systems. Historical work finds that doctrines of race came into their own in the colonies that became the US after, not before, slavery; that out of the "scandal of empire" in India emerged a "race theory that cast Britons and Indians in a relationship of absolute difference"; and that arguments used by the settlers in Australia to justify their policies towards the Aborigines entailed in effect the expulsion of the Aborigines from the human race. Racial ideology shaped categories and perceptions in ways that we show can give rise to equilibrium fictions. In our framework, technology, contacts with the outside world, and changes in power and wealth matter not just directly but because they can lead to changes in ideology
more
fewer
Audience Level
0

1
Kids
General
Special
Audience level: 0.62 (from 0.30 for Spite and ... to 0.90 for Non-leaky ...)
Related Identities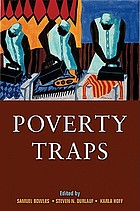 Alternative Names
Hoff, K. 1953-

Hoff, Karla.

Hoff, Karla 1953-

Languages
Covers