Hoff, Karla 1953-
Overview
| | |
| --- | --- |
| Works: | 87 works in 283 publications in 1 language and 3,863 library holdings |
| Genres: | History |
| Roles: | Editor, Author, Other |
| Classifications: | HC79.P6, 339.46 |
Most widely held works by Karla Hoff
Poverty traps
by
Samuel Bowles
( Book )
16 editions published between
2006
and 2011 in
English
and
Undetermined
and held by 693 WorldCat member libraries worldwide
Much popular belief, and public policy, rests on the idea that those born into poverty have it in their powers to escape. But the persistence of poverty and ever-growing economic inequality around the world has led to many economists to seriously question the model of individual economic self-determination when it comes to the poor. In this book, the contributors argue that there are many conditions that may trap individuals, groups, and whole economies in intractable poverty. For the first time the editors have brought together the perspectives of economies, economic history, and sociology to assess what we know, and don't know, about such traps
The Economics of rural organization : theory, practice, and policy
by
Karla Hoff
( Book )
22 editions published between
1993
and 1996 in
English
and
Undetermined
and held by 383 WorldCat member libraries worldwide
The objective of this book is to narrow the gaps between economic theory and empirical work, and between academic research and policy evaluation, with respect to the rural sector of developing countries
After the big bang? : Obstacles to the emergence of the rule of law in post-communist societies
by
Karla Hoff
( Book )
23 editions published in
2002
in
English
and held by 71 WorldCat member libraries worldwide
With the collapse of communism in Eastern Europe and the Soviet Union in 1989-91, many economic reformers supported "Big Bang" privatization--the rapid transfer of state-owned enterprises to private individuals. It was hoped that Big Bang privatization would create the conditions for a demand-led evolution of legal institutions. But there was no theory to explain how this process of institutional evolution, including a legal framework for the protection of investors, would occur and, in fact, it has not yet occurred in Russia, in other former Soviet Union countries, in the Czech Republic, and elsewhere. A central reason for that, according to many scholars, is the weakness of the political demand for the rule of law. To shed light on this puzzle, Hoff and Stiglitz consider a model where the conditions for the emergence of the rule of law might be interpreted as highly favorable. Individuals with control rights over privatized assets can collectively bring about the rule of law simply by voting for it. These individuals are concerned with the wealth they can obtain from the privatized assets, and have two alternative strategies: building value and stripping assets. Building value under the rule of law yields higher benefits to a majority than stripping assets under no rule of law. But uncertainty about when the rule of law will be established may lead some individuals to choose an economic strategy--stripping assets, including converting corporate assets to private use--that gives them an interest in postponing the establishment of the rule of law. And therefore in the succeeding period, the rule of law may again not be in place, and so again individuals may strip assets. If they do, some of them may again have an interest in postponing the establishment of the rule of law. And so a weak demand for the rule of law can persist. The contribution of the paper is to show that the view that once stripping has occurred, the strippers will say "enough" and by supporting the rule of law seek public protection of their gains, is flawed. By abstracting from the obvious problem that strippers who obtain great wealth can buy special favored treatment from the state, the model highlights two less obvious flaws in the optimistic view about the Big Bang: First, that the asset-strippers can remove the assets from exposure to further stealing, and in that case they do not care about public protection for their gains. And second, that the perceived justice of a system is important to gaining the cooperation of those involved in the process of producing the rule of law (judges, regulators, jurors, potential offenders). Accordingly, state protection of asset strippers may be infeasible, even under an ostensible rule of law. Knowing this, strippers will be less supportive of the rule of law. The model makes one further point: what is at issue is how fast the rule of law will emerge. The presumption of the Big Bang strategy was that the faster state property was turned over to private hands, the faster a true market economy, including the rule of law, would be established. The analysis shows that, even if eventually a rule of law is established, the Big Bang may put into play forces that delay the establishment of the rule of law. The tortoise once again may beat the hare! Finally, Hoff and Stiglitz analyze the impact of certain policies, such as the particular structure of privatization and monetary policy. Policies that enhance the returns to investment and wealth creation rather than asset stripping not only serve to strengthen the economy in the short run, but enhance political support for the rule of law and thus put it in a position for stronger long-term growth. This paper--a product of the Investment Climate Team, Development Research Group--is part of a larger effort in the group to understand the evolution of property rights institutions
The kin system as a poverty trap?
by
Karla Hoff
( )
10 editions published between
2005
and 2012 in
English
and
Undetermined
and held by 66 WorldCat member libraries worldwide
A majority of agents within a kin group may support ex ante raising the exit barrier to prevent movement to the modern sector. This result is an example of the bias toward the status quo analyzed by Raquel Fernandez and Dani Rodrik in the context of trade reform. The authors do not claim that all kin groups will necessarily exhibit such a bias against beneficial regime changes. But they provide a clear intuition about the forces that can lead to the collective conservatism of a kin system facing expanding opportunities in a market economy-forces that can lead the kin group to become a poverty trap for its members. "--World Bank web site
Non-leaky buckets : optimal redistributive taxation and agency costs
by
Karla Hoff
( Book )
12 editions published between
1993
and 1994 in
English
and held by 66 WorldCat member libraries worldwide
Economists have generally argued that income redistribution comes at a cost in aggregate incomes. We provide a counter-example in a model where private information gives rise to incentive constraints. In the model, a wage tax creates the usual distortion in labor-leisure choices, but the grants that it finances reduce a distortion in investment in human capital. We prove that simple redistributive policies can yield Pareto improvements and increase aggregate incomes. Where higher education is beyond the reach of the poor, the wage tax- transfer policy is under most circumstances more effective than targeted credit taxes or subsidies in increasing over-all efficiency
Homeownership, community interactions, and segregation
by
Karla Hoff
( )
10 editions published between
2004
and 2013 in
English
and
Undetermined
and held by 66 WorldCat member libraries worldwide
The authors consider a multi-community city where community quality is linked to residents' civic efforts, such as being proactive in preventing crime and ensuring the quality of publicly provided goods. Homeownership increases incentives for such efforts, but credit market imperfections force the poor to rent. Within-community externalities can lead to segregated cities-with the rich living with the rich in healthy homeowner communities, and the poor living with the poor in dysfunctional renter communities. The pattern of tenure segregation across communities in the United States accords well with the study's prediction. The authors analyze alternative tax-subsidy policies to alleviate inefficiencies in the housing market and identify the winners and losers under such policies
The creation of the rule of law and the legitimacy of property rights : the political and economic consequences of a corrupt privatization
by
Karla Hoff
( Book )
18 editions published in
2005
in
English
and held by 61 WorldCat member libraries worldwide
How does the lack of legitimacy of property rights affect the dynamics of the creation of the rule of law? The authors investigate the demand for the rule of law in post-communist economies after privatization under the assumption that theft is possible, that those who have "stolen" assets cannot be fully protected under a change in the legal regime toward rule of law, and that the number of agents with control rights over assets is large. They show that a demand for broadly beneficial legal reform may not emerge because the expectation of weak legal institutions increases the expected relative return to stripping assets, and strippers may gain from a weak and corrupt state. The outcome can be inefficient even from the narrow perspective of the asset-strippers
Spite and development
by
Ernst Fehr
( )
6 editions published between
2008
and 2012 in
English
and
Undetermined
and held by 38 WorldCat member libraries worldwide
In a wide variety of settings, spiteful preferences would constitute an obstacle to cooperation, trade, and thus economic development. This paper shows that spiteful preferences - the desire to reduce another's material payoff for the mere purpose of increasing one's relative payoff - are surprisingly widespread in experiments conducted in one of the least developed regions in India (Uttar Pradesh). In a one-shot trust game, the authors find that a large majority of subjects punish cooperative behavior although such punishment clearly increases inequality and decreases the payoffs of both subjects. In experiments to study coordination and to measure social preferences, the findings reveal empirical patterns suggesting that the willingness to reduce another's material payoff - either for the sake of achieving more equality or for the sake of being ahead - is stronger among individuals belonging to high castes than among those belonging to low castes. Because extreme social hierarchies are typically accompanied by a culture that stresses status-seeking, it is plausible that the observed social preference patterns are at least partly shaped by this culture. Thus, an exciting question for future research is the extent to which different institutions and cultures produce preferences that are conducive or detrimental to economic development
Joseph E. Stiglitz
by
Karla Hoff
( )
6 editions published between
2008
and 2012 in
English
and
Undetermined
and held by 38 WorldCat member libraries worldwide
Joseph E. Stiglitz, 2001 Nobel Laureate in Economics, helped create the theory of markets with asymmetric information and was one of the founders of modern development economics. He played a leading role in an intellectual revolution that changed the characterization of a market economy. In the new paradigm, the price system only imperfectly solves the information problem of scarcity because of the many other information problems that arise in the economy: the selection over hidden characteristics, the provision of incentives for hidden behaviors and for innovation, and the coordination of choices over institutions
The transition from communism a diagrammatic exposition of obstacles to the demand for the rule of law
by
Karla Hoff
( )
3 editions published between
2004
and 2013 in
English
and
Undetermined
and held by 37 WorldCat member libraries worldwide
In an earlier paper, the authors presented a mathematical exposition of a theory that demonstrated that mass privatization without institutions to limit asset-stripping may not lead to a demand for the rule of law ["After the Big Bang? Obstacles to the Emergence of the Rule of Law in Post-Communist Societies," American Economic Review 94(3), June 2004, pages 753-63]. This report makes the same argument in terms of simple diagrams. The central idea is that economic actions (to build value or strip assets) and political positions of individuals are interdependent. "Big bang" privatization may give individuals an interest in taking what they can quickly, rather than waiting for the establishment of property rights protection that would permit them to build more valuable assets. Asset stripping gives some of these individuals an interest in prolonging the absence of the rule of law so that they can enjoy the fruits of stripping without the constraint of government enforcement of property rights. Each individual, in attempting to influence society's choice of the environment, focuses on the impact on himself, not the impact on others. In choosing their economic actions, individuals ignore the effect of their economic decisions on how they themselves vote, how other people believe the system will evolve, and thus how others invest and vote. Thus, two distortions of individual behavior are associated with the public good nature of votes. The authors use this framework to make one further point. Because of the interdependence between individuals' economic and political choices, demand for and opposition to the rule of law cannot be separated from macroeconomic policy. A too stringent macroeconomic policy can lower the returns to building value relative to stripping assets and thereby weaken the equilibrium demand for the rule of law. Macroeconomic policies and institutional evolution are not independent issues
more
fewer
Audience Level
0

1
Kids
General
Special
Audience level: 0.47 (from 0.08 for Poverty tr ... to 0.83 for After the ...)
Related Identities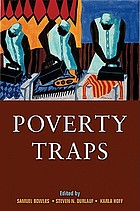 Alternative Names
Hoff, K. 1953-

Hoff, Karla.

Hoff, Karla 1953-

Hoff, Karla Ruth

Languages
Covers