Stafford, Fiona J.
Most widely held works by Fiona J Stafford
The last of the race : the growth of a myth from Milton to Darwin
by
Fiona J Stafford
( Book )
16 editions published between
1994
and 2003 in
English
and held by 371 WorldCat member libraries worldwide
"This is an innovative and wide-ranging study of the myth of 'The Last of the Race' as it develops in a selection of literary and non-literary texts from the late seventeenth to late nineteenth centuries." "The perennial fascination with the end of the world has given rise to many 'last men', from the ancient myths of Noah and Deucalion to contemporary stories of nuclear holocaust. Endangered peoples such as the Maasai or Bush People continue to attract intense interest. Fiona J. Stafford begins with Milton and ends with Darwin, exploring the myth-making of their texts in the light of contemporary literary, scientific, political, and religious views. Chapters on Milton, Burnet, Defoe, Macpherson, Cowper, Wordsworth, Byron, Mary Shelley, Fenimore Cooper, Bulwer-Lytton, and Darwin combine to form an important account of the traces of this most resonant of cultural preoccupations, providing a distinguished contribution to cultural history as well as to literary studies."--Jacket
Jane Austen's Emma : a casebook
by
Fiona J Stafford
( Book )
12 editions published between
2006
and 2007 in
English
and held by 353 WorldCat member libraries worldwide
This collection opens with an introduction encouraging readers to re-read 'Emma', and to find its pleasures magnified by the critical interpretations and scholarship represented in this casebook
The long, long life of trees
by
Fiona J Stafford
( Book )
6 editions published between
2016
and 2017 in
English
and held by 303 WorldCat member libraries worldwide
"Since the beginnings of history trees have served humankind in countless useful ways, but our relationship with trees has many dimensions beyond mere practicality. Trees are so entwined with human experience that diverse species have inspired their own stories, myths, songs, poems, paintings, and spiritual meanings. Some have achieved status as religious, cultural, or national symbols. In this beautifully illustrated volume Fiona Stafford offers intimate, detailed explorations of seventeen common trees, from ash and apple to pine, oak, cypress, and willow. The author also pays homage to particular trees, such as the fabled Ankerwyke Yew, under which Henry VIII courted Anne Boleyn, and the spectacular cherry trees of Washington, D.C. Stafford discusses practical uses of wood past and present, tree diseases and environmental threats, and trees' potential contributions toward slowing global climate change. Brimming with unusual topics and intriguing facts, this book celebrates trees and their long, long lives as our inspiring and beloved natural companions"-- $c Provided by publisher
Local attachments : the province of poetry
by
Fiona J Stafford
( Book )
6 editions published in
2010
in
English
and held by 260 WorldCat member libraries worldwide
"How can poems so firmly attached to particular regions speak to readers far away, who might have no knowledge of the places featuring in the work? Why do writers turn to their own communities for materials? In this thought-provoking and beautifully written book, Fiona Stafford explores the relationship between the local, the national, and the global through the consideration of works by writers whose feeling for place is especially evident. Heaney, Burns, Wordsworth, Scott, Lamb, and Dickens are key figures in the development of a new kind of literature that discovered universal meaning in local truth. Local Attachments begins with Seamus Heaney's Nobel Lecture, 'Crediting Poetry', which is at once a celebration of local work in a global context and a passionate defence of the place of lyric poetry in modern society. The focus then shifts to the Romantic period, when local detail ceased to be regarded as a sign of limitation and the idea that it is essential to art with any aspiration to permanence became established in British and Irish culture. Stafford explores both the presence of the local in literary texts by a wide range of writers and the cultural, philosophical and political contexts that might have contributed to this phenomenon. Wordsworth's creative recovery in the Lake District is an exemplary case, illuminating both Heaney's work and that of his immediate contemporaries and heirs. Since Wordsworth is a foundational figure, the book traces his efforts to achieve a poetry adequate to very difficult contemporary circumstances by returning to his native hills to create work that might live. His own project drew vital inspiration from the poetry of Burns and also found corroboration in the work Scott, so the book examines their independent explorations of the creative benefits - and problems attending - local attachment. It also considers the meaning of Burns and Wordsworth's local poems for those in very different circumstances - London writers such as Keats, Lamb and Dickens, whose works are considered in some detail in their own right and as representative of the implications of the great Romantic discovery of the local. The book concludes by addressing the continuing appeal of the local in modern, urban society and reaffirms the vital importance of poetry as a response to social crises."--Publisher's website
Starting lines in Scottish, Irish, and English poetry : from Burns to Heaney
by
Fiona J Stafford
( Book )
9 editions published in
2000
in
English
and held by 249 WorldCat member libraries worldwide
"Why should a poem begin with a line from another poem? Is an eighteenth-century epigraph working in the same way as a post-modern quotation? And how are the dynamics of the new text and the source affected by issues of nationhood, language, history, and cultural tradition? Are literary ideas of originality and imitation, allusion and influence inherently political if the poems emerge from different sides of a border or of a colonial relationship?" "Taking as a framework the history of relations between Ireland, England, and Scotland since the 1707 Union, the book explores such questions through a series of close readings. Textual encounters singled out for detailed discussion include Burns's use of Shakespeare, Coleridge's reference to 'Sir Patrick Spens', James Clarence Mangan's adaptation of Percy Bysshe Shelly, Ciaran Carson's quotation from John Keats, Seamus Heaney's meditation on Henry Vaughan, and the evolution of 'The Homes of England' from Felicia Hemans to Noel Coward."--Jacket
Jane Austen
by
Fiona J Stafford
( Book )
9 editions published between
2008
and 2017 in
English
and held by 209 WorldCat member libraries worldwide
"In this new biography, leading scholar Fiona Stafford offers a fresh perspective on Jane Austen's life and work, discussing her classic works in the context of the world in which they were published, and offering an informative and enjoyable insight into the life of Austen as both a woman and a writer."--Jacket
Burns and other poets
by
Fiona J Stafford
( Book )
9 editions published between
2012
and 2013 in
English
and held by 152 WorldCat member libraries worldwide
These essays focus on Robert Burns' achievements as a poet, exploring his special place in Scottish, English and Irish literary culture. Close readings of his dialogues with earlier poets such as John Milton, Thomas Gray and Allan Ramsay, sit alongside analyses of the creative responses of his contemporaries and heirs
Lodore
by
Mary Wollstonecraft Shelley
( Book )
9 editions published between
1996
and 2006 in
English
and held by 107 WorldCat member libraries worldwide
more
fewer
Audience Level
0

1
Kids
General
Special
Audience level: 0.56 (from 0.12 for Burns and ... to 0.83 for The novels ...)
Related Identities
Associated Subjects
Allusions in literature
Austen, Jane,
Bards and bardism
Burns, Robert,
Celts
Celts in literature
Courtship
Emma (Austen, Jane)
End of the world
England
English poetry
English poetry--Celtic influences
English poetry--Irish authors
English poetry--Scottish authors
English-speaking countries
Ethnology
Extinction (Biology)
Fantasy literature, American
Fantasy literature, English
Indigenous peoples
Influence (Literary, artistic, etc.)
International relations in literature
Ireland
Literary forgeries and mystifications
Literature
Literature and anthropology
Manners and customs
Medievalism
Middle Ages in literature
Myth
Mythology, Celtic
Mythology, Celtic, in literature
Nationalism in literature
Novelists, English
Openings (Rhetoric)
Ossian,
Ossian (Macpherson, James)
Place (Philosophy) in literature
Quotations in literature
Race
Scotland
Scottish poetry
Setting (Literature)
Sisters
Survival
Trees--Environmental aspects
Trees--Health
Trees--Psychological aspects
Trees--Symbolic aspects
Trees--Varieties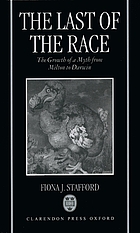 Alternative Names
Stafford Fiona

Stafford, Fiona J.

Languages
Covers