Israel Mosad le-modiʻin ṿe-tafḳidim meyuḥadim
Most widely held works about Israel
more
fewer
Most widely held works by Israel
Audience Level
0

1
Kids
General
Special
Audience level: 0.22 (from 0.01 for Ashraf Mar ... to 0.97 for Vorspiegel ...)
Associated Subjects
Alliances
Arab-Israeli conflict
Assassination
Assassins
Beauty operators
Beauty shops
Egypt
Eichmann, Adolf,
Emigration and immigration
Espionage
Espionage, Israeli
Europe
Germany
Germany--Munich
Great Britain.--Army.--Special Air Service
Halevy, Efraim,
Harel, Isser,
Holocaust survivors
Immigrants
Intelligence officers
Intelligence service
Israel
Israel.--Mosad le-modiʻin ṿe-tafḳidim meyuḥadim
Israel.--Sherut ha-biṭaḥon ha-kelali
Israel.--Tseva haganah le-Yiśra'el
Israel-Arab War (1973)
Jews--Migrations
Marwān, Ashraf,
Middle East
Middle East--Palestine
Military intelligence
Munaẓẓamat Aylūl al-Aswad
Nazi hunters
New York (State)--New York
Olympic Games
Ostrovsky, Victor
Politics and government
Revenge
Scientists
Secret service
Special forces (Military science)
Spies
Targeted killing
Terrorism
Terrorism--Prevention
Undercover operations
United States
United States.--Central Intelligence Agency
War criminals
Women spies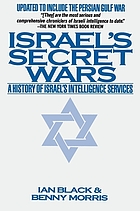 Covers
Alternative Names
HaMwsad

Institute for intelligence and special tasks Israël

Israël Central institute for intelligence and security

Israel. <<ha->>Mosad lemodiin wetafqidim meyuhadim

Israël HaMwsad lmwdiyʿiyn wltapqiydiym mywḥadiym

Israël Institute for intelligence and special operations

Israël. Institute for intelligence and special tasks

Israël Institution for co-operation

Israel M₋os₋ad

Israel Modiʻin ṿe-tafḳidim meyuḥadim, Mosad le-

Israel Modʻin ṿe-tafḳidim meyaḥadim, Mosad le-

Israel Mosad le-modiin ve-tafkidim meyuhadim

Israel Mossad

Israel Mossad le-Modiin ule-Tafkidim Meyuhadim

Israël Secret intelligence service

Izrael Ha-Mosad le-modi'in u-le-tafkidim mejuchadim

Izrael Institut pro výzvědné a tajné operace

Izrael Mosad le-modiʻin ṿe-tafḳidim meyuḥadim

Izrael Mossad

Izrael Mossad le-Modiin ule-Tafkidim Meyuhadim

Izraēla. Institute for Intelligence and Special Tasks

Izraēla. Izlūkošanas dienests

Izraēla. Mossad

Mosad

Mosad agencia de inteligencia de Israel

Mosad Izraelská zpravodajská služba

Mosad tajná spravodajská služba Izraela

Mosado

Mossad

Mossad agenzia di intelligence e servizio segreto dello Stato di Israele

Mossad israelischer Auslandsgeheimdienst

Mossad İsrail istihbarat teşkilatı

Mossad krig

Mossad national intelligence agency of Israel

Mossad servei d'intel·ligència israelià.

Mossad servizo de intelixencia israelí

Moszad Izrael nemzeti hírszerző szolgálata

Mus̄ād

Secret Service

SIS

Specslužba Mossad

Spet︠s︡sluzhba Mossad

Μοσάντ

Масад

Мосад

Моссад

Моссад израильская спецслужба

Մոսադ

<<ה>>מוסד

המוסד למודיעין ולתפקידים מיוחדים ארגון ביון במערכת הביטחון וקהיליית המודיעין הישראלית

ישראל. <<ה>>מוסד

ישראל מוסד למודיעין ותפקידים מיוחדים

מדינת ישראל מוסד למודיעין ותפקידים מיוחדים

מוסד

اسرائيل. موساد

<<ال>>موساد، اسرائيل

موساد سازمان اطلاعات خارجی اسراییل

مۆساد

मोसाद

मोस्साड् इस्राइल् राष्ट्रीय प्राग्या एजेन्सी

मोस्साद इसराइल की राष्ट्रीय खुफीया अजॅंसी

মোসাদ

ਮੋਸਾਦ

மொசாட்

ಮೊಸ್ಸಾದ್ ಇಸ್ರೇಲ್ ದೇಶದ ರಾಷ್ಟ್ರೀಯ ಗುಪ್ತಚರ ಸಂಸ್ಥೆ.

മൊസാദ്

მოსადი

모사드

イスラエル諜報特務庁 イスラエルの情報機関

以色列情報及特殊使命局

以色列秘密情報局

情報及特殊使命局

Languages