Makiya, Kanan
Most widely held works about Kanan Makiya
Most widely held works by Kanan Makiya
Republic of fear : the inside story of Saddam's Iraq
by
Kanan Makiya
( Book )
90 editions published between
1989
and 2003 in 6 languages and held by 3,033 WorldCat member libraries worldwide
A political analysis of Saddam Hussein's violent rise to power in the Baʻth Party and in the Iraqi government
Cruelty and silence : war, tyranny, uprising, and the Arab World
by
Kanan Makiya
( Book )
21 editions published between
1992
and 2002 in 3 languages and held by 1,113 WorldCat member libraries worldwide
The first alarm about the brutality and totalitarian nature of Saddam Husain's regime was sounded eloquently in the widely praised international bestseller, Republic of Fear. Writing then under the pseudonym Samir al-Khalil, Kanan Makiya, an Iraqi dissident in exile, exposed the premise and methodology of Saddam's Ba'ath Party and the power it wields over the state. Now - in Cruelty and Silence, writing for the first time under his own name, Makiya widens his scope to bravely - and certainly controversially - confront the rhetoric of Arab and pro-Arab intellectuals with the realities of political cruelty in the Middle East. Part One, a compelling example of the literature of witness, is a journey through cruelty told in the words of Khalil, Abu Haydar, Omar, Mustafa, and Taimour - the Arab and Kurdish heroes of this book. In a bid to place cruelty at the center of Arab discourse, the author fashions their testimony into stories, or metaphors for occupation, prejudice, revolution, and routinized violence. In 1991 Makiya entered Northern Iraq on a clandestine mission. He was the first person to bring the Ba'ath Party's campaign of mass murder known as the Anfal - a campaign comparable to those perpetrated by the Nazis and the Khmer Rouge - to the attention of the outside world. His account of the Anfal is contained in "Taimour" and it brings the journey through cruelty to a close. In Part Two, "Silence," Makiya links these tales of survival to an examination of the Arab intelligentsia's response to Saddam Husain and the Gulf War, showing that the flood of condemnation of the West for its handling of the crisis was barely matched by a trickle of protest over Saddam's brutal massacres of Arabs and Kurds. The words of intellectuals, he demonstrates, are separated by a gigantic chasm from those of the survivors. Makiya is sharply critical of the Israeli occupation of the West Bank and Gaza and also of the way the Gulf War was conducted and left unfinished by the Allied coalition. But he also argues that "anti-Zionism" and "anti-imperialism" have been turned by the Arab and pro-Arab intelligentsia into a "politics of silence" towards cruelty. In his exploration of these "landscapes of cruelty and silence," Makiya lays out the nationalist mythologies that underpin them. He calls for a new politics in the Arab world - a politics that puts absolute respect for human life, and revulsion at cruelty, above all else
The rock : a tale of seventh-century Jerusalem
by
Kanan Makiya
( Book )
22 editions published between
2001
and 2010 in 3 languages and held by 934 WorldCat member libraries worldwide
"This historically based account of the building of the Dome of the Rock reconstructs the paths of the actual individuals whose spiritual journeys revolved around the seventh-century lore of the Rock."--Jacket
Road to 9/11
( Visual )
4 editions published between
2006
and 2007 in
English
and held by 446 WorldCat member libraries worldwide
" ... this dramatic documentary chronicles the deep historical roots of Al-Qáida, examining the years of political oppression, economic stagnation, religious fanaticism, and violence that gave rise to the attacks of September 11. 2002. It features rare footage, and insightful commentary by leading scholars and journalists including Bernard Lewis, Fareed Zakaria, Thomas Friedman, Irshad Manji, Azar Nafisis, Kanan Makiya, Fawaz Gerges, and David Fromkin."
The rope
by
Kanan Makiya
( Book )
3 editions published in
2016
in
English
and held by 391 WorldCat member libraries worldwide
"From the best-selling author of Republic of Fear, a gritty, unflinching, haunting novel about Iraqi failure in the wake of the 2003 American war. Told from the perspective of a Shi'ite militiaman whose participation in the execution of Saddam Hussein changes his life in ways he could not anticipate, the novel examines the birth of sectarian politics out of a legacy of betrayal and victimhood. A nameless narrator stumbles upon a corpse on the day of the fall of Saddam Hussein. Swept up in the tumultuous politics of the American occupation, he is taken on a journey that concludes with the discovery of what happened to his father who disappeared in the tyrant's Gulag in 1991. His questions about his father, like those surrounding the mysterious corpse outside his house, were ignored by his mother, and by his uncle, in whose house he was raised. But he is older now, and a fighter in his uncle's Army of the Awaited One, which is leading an insurrection against the occupation. Clues accumulate: a letter surreptitiously delivered to his mother during his father's imprisonment; stories told by his dying grandfather. Not until the last hour before the tyrant's execution, is the narrator given the final piece of the puzzle. It comes from Saddam Hussein himself. It is a story about loyalty and betrayal; victims turned victimizers; secrecy and loss. And about identity--the haste with which it is cobbled together, or undone, always at terrible cost. It is a story that will stay with readers long after they finish the final page"--
The monument : art and vulgarity in Saddam Hussein's Iraq
by
Kanan Makiya
( Book )
4 editions published between
2003
and 2004 in
English
and held by 191 WorldCat member libraries worldwide
The Monument is a study of the interplay between art and politics -- of how culture, normally an unquestioned good, can play into the hands of power with devastating effects. Kanan Makiya uses the culture invented by Saddam Hussein as a window into the nature of totalitarianism and shows how art can become the weapon of dictatorship. Under Saddam Hussein, culture connived in his evil -- The Monument explains how. It is essential reading for anyone concerned with the power of culture and the culture of power
Justice and Jihad
( Visual )
4 editions published between
2002
and 2004 in
English
and held by 106 WorldCat member libraries worldwide
Bill Moyers interviews journalists and scholars about the conflicts between Israelis and Palestinians. Their dialogue explores the religious and political roots of these chronic troubles and presents an outline of a viable future accord
Islam vs. Islam special edition of NOW with Bill Moyers
( Visual )
3 editions published between
2002
and 2004 in
English
and held by 105 WorldCat member libraries worldwide
Muslims are a monotheistic people; they believe in one God, Allah, but Muslims around the world are not of one mind. A conference sponsored by the Aspen Institute explored the great collisions of the 21st century, beginning with the collision between Islam and the West. Eight journalists and scholars--among them Muslims, Christians, Jews, and Agnostics--discuss the reactions to September 11 in the Muslim community, and what events since 9/11 reveal about Islam's own contradictions
more
fewer
Audience Level
0

1
Kids
General
Special
Audience level: 0.26 (from 0.14 for Republic o ... to 0.96 for Beiträge ...)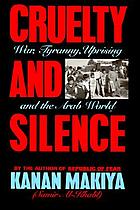 Alternative Names
Al-Khalil, Samer

al-Khalil, Samir

H̲alīl, Samīr al-

Khalil, Samir

Khalil, Samir al-.

Makiya Kanan

Makkīyah, Kinān

Samīr al-H̲alīl

Samir al-Khalil

الخليل، سمير، 1949-

سمير الخليل

سمير الخليل، 1949-

كنعان، مكية، 1949-

مكية، كنان

مكية، كنعان

Languages
Covers