Zheng, Yongnian
Most widely held works about Yongnian Zheng
Most widely held works by Yongnian Zheng
China : development and governance
by
Gungwu Wang
( )
14 editions published between
2012
and 2013 in
English
and held by 1,817 WorldCat member libraries worldwide
China has achieved significant socio-economic progress and has become a key player on the international stage after several decades of open-door and reform policy. Looking beyond China's transformation, this book focuses on the theme of governance which is widely regarded as the next most critical element to ensure that China's growth remains sustainable. Today, China is confronted with a host of pressing challenges that call for urgent attention. These include the need to rebalance and restructure the economy, the widening income gaps, the poor integration of migrant populations in the urban areas, insufficient public housing and healthcare coverage, the seeming lack of political reforms and the degree of environmental degradation. In the foreign policy arena, China is likewise under pressure to do more to address global concerns while not appearing to be overly aggressive. The next steps that China takes would have a great deal to do with governance, in terms of how it tackles or fails to address the myriad of challenges, both domestic and foreign. China: Development and Governance, with 57 short chapters in total, is based on up-to-date scholarly research written in a readable and concise style. Besides China's domestic developments, it also covers China's external relations with the United States, Japan, Korea and Taiwan. Non-specialists, in particular, should find this volume accessible and useful in keeping up with fast-changing developments in East Asia
Reform, legitimacy and dilemmas : China's politics and society
by
Gungwu Wang
( )
16 editions published between
2000
and 2001 in
English
and held by 1,734 WorldCat member libraries worldwide
"How has China's post-Deng leadership governed the country? How have the changing social and political environments shifted the bases of political legitimacy? What strategies has Jiang Zemin adopted to cope with new circumstances in order to strengthen his leadership? What are the challenges these new reform measures have generated for the leadership? And how have domestic concerns constrained the leadership's intention in China's foreign relations? These are some of the questions which this volume attempts to address.The authors agree that Jiang Zemin is not a man without any political initiative. He has struggled to establish his own style of leadership, and to strengthen the legitimacy of his leadership by setting forth new rules and institutions for political games and by finding new measures to cope with new challenges. This collection of articles shows the success Jiang and his colleagues have had in strengthening their leadership; how the different reform measures have strengthened Jiang's rule; and how the ongoing reform has created new challenges for his regime."
China and the global economic crisis
by
Sarah Y Tong
( )
20 editions published in
2010
in
English
and held by 1,687 WorldCat member libraries worldwide
Section one examines the overall impact of the global economic crisis and the responses of the Chinese government. Section two studies the regional aspect of the economy affected by the crisis. Section three explores such economies of the Mainland's southern neighbors as Hong Kong, Macao and Taiwan, and the prospect of China's trade. Section four surveys the impact on the ideological and social aspects of the country. Section five concludes with an assessment of China's external policies. Offers a comprehensive and in-depth assessment of the impact of the crisis and the measures of the Chinese government to overcome the difficulties
De facto federalism in China : reforms and dynamics of central-local relations
by
Yongnian Zheng
( )
19 editions published between
2006
and 2007 in
English
and held by 1,615 WorldCat member libraries worldwide
This text conceptualises China's central-local relations from a behavioural perspective. Although China does not have a federalist system of government, the author believes that, with deepening reform and openness, China's central-local relations is functioning increasingly on federalist principles
The Nanxun legacy and China's development in the post-Deng era
by
Yongnian Zheng
( )
13 editions published in
2001
in
English
and held by 1,611 WorldCat member libraries worldwide
Pt. I. Overview. 1. The political economy of China's post-Nanxun development / John Wong and Zheng Yongnian -- 2. Deng Xiaoping's Nanxun in perspective / Michel Oksenberg -- pt. II. Economic growth and transformation. 3. The economics of the Nanxun / John Wong -- 4. China's institution development for a market economy since Deng Xiaoping's 1992 Nanxun / Lu Ding -- 5. Deng Xiaoping's Nanxun: Impact on China's regional development / Tian Xiaowen -- pt. III. Social dynamism and consequences of economic transition. 6. Rural cadres and the market economy in the Deng era: Evidence from a national survey / Andrew G. Walder -- 7. Income inequality by ethnicity in urban China / Zang Xiaowei -- 8. Employment service and unemployment insurance / Gu Xin -- pt. IV. Ideological decline, party decay, and return to control? -- 9. Ideological decline, the rise of an interest-based social order, and the demise of communism in China / Zheng Yongnian -- 10. Dream on: Communists of the Dengist brand in capitalistic China / Lance L. P. Gore -- 11. The return of ideology? Struggling to organize politics during socio-economic transitions / Wu Guoguang -- pt. V. Legal reforms and the search for more efficient governance. 12. Liberation and control: Deng Xiaoping's Nanxun legacy and the Chinese legal system / Pitman B. Potter -- 13. The developments of intellectual property protection in China since Deng's southern tour / Lo Vai Io -- 14. China's constitutional changes and Deng Xiaoping's legacy / Zou Keyuan
The SARS epidemic : challenges to China's crisis management
( )
14 editions published in
2004
in
English
and held by 1,602 WorldCat member libraries worldwide
In the first half of 2003, severe acute respiratory syndrome (SARS) struck China (including Hong Kong), causing panic and claiming many lives. The unknown nature of SARS at that time also jolted the economic growth of China and Hong Kong, disrupted the social life of their citizens and created much stress and strain for their political systems and governance. Like other major crises, the management of the SARS crisis provides a good opportunity to examine the strengths and weaknesses of the political systems in China and Hong Kong. From the outset, scholars at the East Asian Institute followed closely the unfolding of the disease in China, particularly how each of the two societies coped with this random external shock. SARS may or may not recur in the near future, but the episode has offered a glimpse into the extent of resilience of the two societies, the quality of their political leadership, the effectiveness of their political and institutional mobilization, the crisis-management capability of their respective bureaucracies, and the viability of their governance systems
Globalization and state transformation in China
by
Yongnian Zheng
( )
26 editions published between
2003
and 2009 in
English
and
Chinese
and held by 1,567 WorldCat member libraries worldwide
Globalization has thrown up challenges and opportunities which all countries have to grapple with. In his book, Yongnian Zheng explores how China's leaders have embraced global capitalism and market-oriented modernization. He shows that with reform measures properly implemented, the nation-state can not only survive globalization, but can actually be revitalised through outside influence. To adapt to the globalized age, Chinese leaders have encouraged individual enterprise and the development of the entrepreneurial class. The state bureaucratic system and other important economic institutions have been restructured to accommodate a globalized market economy. In rebuilding the economic system in this way, Zheng observes that Chinese leaders have been open to the importation of Western ideas. By contrast, the same leaders are reluctant to import Western concepts of democracy and the rule of law. The author argues that, ultimately, this selectivity will impede China's progress in becoming a modern nation state
Wang Gungwu : educator & scholar
by
Gungwu Wang
( )
18 editions published between
2012
and 2013 in
English
and held by 1,339 WorldCat member libraries worldwide
This book focuses on Wang Gungwu as an educator and scholar, through the use of essays written about Wang, a biographical sketch of his public and private life, and a list of over 50 books written by Wang as well as those written in honor of him
Hong Kong under Chinese rule : economic integration and political gridlock
by
Yongnian Zheng
( )
15 editions published in
2013
in
English
and held by 1,276 WorldCat member libraries worldwide
This edited volume is a compilation of the analyses written by East Asian Institute experts on Hong Kong since the handover. It covers most, if not all the important events that have taken place in Hong Kong since 1997, including its economic integration and relations with China, its governance conundrums, the Hong Kong identity and nation-building, the implementation of the minimum wage, and the elections from 2011-2012. The book's panoramic view of Hong Kong makes it a useful resource for readers who seek a broad understanding of the city and how it has evolved after its return to China. It also offers some glimpses into the direction Hong Kong is heading in its socio-economic relations with China at both the state and society levels, as well as its domestic political developments and the prospects for democratization
Goh Keng Swee on China : selected essays
by
Yongnian Zheng
( )
16 editions published between
2012
and 2013 in
English
and
Undetermined
and held by 1,239 WorldCat member libraries worldwide
"Touted as one of the main engineers of Singapore's economic growth, Dr. Goh's collection of writings and speeches seek to shed light on the various challenges that China faced in the early 90s. His arguments and analyses were presented clearly and concisely while being firmly established upon economic principles. Covering a broad range of topics from the growth of industries and enterprises to financial reforms and the difficulties of doing business in China, this collection provides a comprehensive view of problems the Chinese government faced while providing possible solutions. Despite being written two decades ago, the issues raised in these papers and speeches are uncannily relevant to the issues that the current Chinese government faces today"--Provided by publisher
more
fewer
Audience Level
0

1
Kids
General
Special
Audience level: 0.08 (from 0.01 for China : de ... to 0.75 for Li san zhe ...)
Related Identities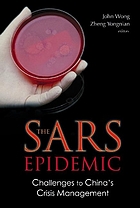 Covers
Alternative Names
Čeng, Jung-nien 1962-

Cheng, Yung-nien

Cheng, Yung-nien 1962-

Yong-Nian Zheng.

Yongnian Zheng.

Yongnian, Zheng 1962-

Yung-nien, Cheng 1962-

Zheng, Yong-Nian.

Zheng Yong-Nian 1962-....

Zheng, Yongnian..

Zheng Yongnian 1962-....

Zheng Yongnian Chinese political scientist

Zheng Yongnian politólogo chino

정영년 1962-

テイ, エイネン

鄭, 永年

鄭, 永年 1962-

鄭永年

郑永年 1962-

郭永年

Languages