Dominant 7 (Firm)
Most widely held works by Dominant 7 (Firm)
The life and times of Sara Baartman : "The Hottentot Venus"
by
Zola Maseko
( Visual )
10 editions published between
1998
and 2016 in
English
and
Creoles and Pidgins, French-based
and held by 529 WorldCat member libraries worldwide
A documentary film of the life a Khoikhoi woman who was taken from South Africa in 1810 and exhibited as a freak across Britain. The image and ideas for "The Hottentot Venus" (particularly the interest in her sexual anatomy) swept through British popular culture. A court battle waged by abolitionists to free her from her exhibitors failed. In 1814, a year before her death, she was taken to France and became the object of scientific research that formed the bedrock of European ideas about black female sexuality
Woubi Cheri
( Visual )
6 editions published between
1998
and 2011 in
French
and held by 243 WorldCat member libraries worldwide
"This documentary shows a few days in the life of various members of Abdijan, Ivory Coast's gay and transgendered community. We get to meet a variety of woubis, yossis, etc. The hero/heroine of the film is a statuesque young man named Barbara who is organizing the annual year-end party of the Ivory Coast Tranvestite Association, to be held December 27, 1997"--Internet movie database summary written by Tim Horrigan, as viewed on July 10, 2007. One of the first films to deal with homosexuality in Africa in a positive light
Gacaca : living together again in Rwanda?
( Visual )
11 editions published between
2002
and 2015 in
English
and
Kinyarwanda
and held by 202 WorldCat member libraries worldwide
In 1994, decades of politically motivated ethnic scapegoating culminated in a wholesale slaughter of the Rwanda's Tutsi minority, along with many Hutu moderates. Today, Rwanda is rebuilding, but its most difficult task is addressing the emotional trauma and fostering reconciliation between the Hutu and Tutsi. This film follows the first steps in one of the world's boldest experiments in reconciliation: the Gacaca Tribunals. These are a form of citizen-based justice based on ancient traditions of judgement, aimed at unifying this scarred nation
The price of aid
by
Jihan El-Tahri
( Visual )
8 editions published between
2003
and 2015 in
English
and held by 175 WorldCat member libraries worldwide
This video discusses U.S. donations of food for famine relief in foreign countries through a case-study in Zambia, and the complex relationships between international aid, international media, American business and politics, and the impact on local agriculture, public health and international trade relations
In Rwanda we say-- : the family that does not speak dies
( Visual )
10 editions published between
2004
and 2015 in
English
and
Kinyarwanda
and held by 162 WorldCat member libraries worldwide
A look at the problem of reconcilliation in a post-genocidal society as killers are returned to their homes to live and work alongside the survivors of their genocide
The perfumed garden
by
Kaikhosru Shapurji Sorabji
( Visual )
5 editions published between
2000
and 2015 in 3 languages and held by 128 WorldCat member libraries worldwide
Through interviews with men and women of all ages and classes this film explores the myths and realities of sensuality and sexuality in Arab society, a world of taboos, of erotic literature and films. It begins looking at a more permissive history, and ends with the experiences of contemporary lovers from mixed backgrounds. The film discusses pre-marital sex, courtship and marriage, familial pressures, social taboos and issues of language. It also demonstrates how the rich legacy of fantasy in the A Thousand and One Arabian Nights still permeates contemporary Arab culture
It's my life
by
Brian Tilley
( Visual )
10 editions published between
2001
and 2017 in
English
and held by 128 WorldCat member libraries worldwide
Zackie Achmat is an AIDS activist who refuses to take anti-retrovirals until they are available in public hospitals and clinics. He leads the court battle against the multi-national drug companies and takes on the South African government for it's confusing policies around HIV/AIDS. As a leader in the campaign for affordable treatment, Zackie's provocative position is not one all his friends and colleagues support
6000 a day : an account of a catastrophe foretold
( Visual )
6 editions published between
2001
and 2017 in
English
and held by 103 WorldCat member libraries worldwide
How the failure of key individuals, prominent NGO's, and governments to act allowed a catastrophe to fester - a catastrophe that undoubtedly could have been avoided. Since it appeared 20 years ago, AIDS has left behind it a trail of destruction. This film answers the question 'why did the world wait so long to react', and dissects the key moments in the global response to the epidemic. By examining this human catastrophe, the film reveals a global rift that helped the disease to spread
Drowning by bullets
( Visual )
4 editions published between
1992
and 2001 in
English
and
French
and held by 50 WorldCat member libraries worldwide
On the evening of October 17, 1961 about 30,000 Algerians, ostensibly French citizens, descended upon the boulevards of central Paris to protest an 8:30 curfew. The curfew was in response to repeated terrorist attacks by Algerian nationalists in Paris and other French cities. They were met by a police force determined to break up the demonstration. Demonstrators were beaten, shot, even drowned in the Seine. This video exposes the massacre, and the cover-up
Madame Satã
by
Karim Aïnouz
( Visual )
6 editions published between
2002
and 2006 in
Portuguese
and held by 43 WorldCat member libraries worldwide
Born to slaves in Northern Brazil and sold at the age of 7 by his mother for the price of a mule, João Francisco dos Santos battled all sterotypes on the mean streets of Lapa, Rio de Janeíro. Jailed for 27 of his 76 years, dos Santos was an explosive figure prone to excessive bouts of violence and moments of extreme tenderness the next. His world was filled with violence and raw desire, while desperate dreams spring from poverty and squalor. João Francisco dos Santos, also known as Madame Satã, is one of the most famous drag queen of 1930s
more
fewer
Audience Level
0

1
Kids
General
Special
Audience level: 0.46 (from 0.31 for Woubi Cher ... to 0.72 for The hackti ...)
Related Identities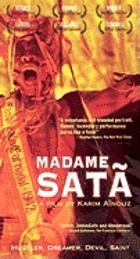 Languages
Covers